Imposing Medicaid Work Requirements Would Be Bad for Children's Health Too
Imposing Medicaid Work Requirements Would Be Bad for Children's Health Too
Imposing work requirements for parents could introduce instability to children's health care coverage and increase stress in homes across America.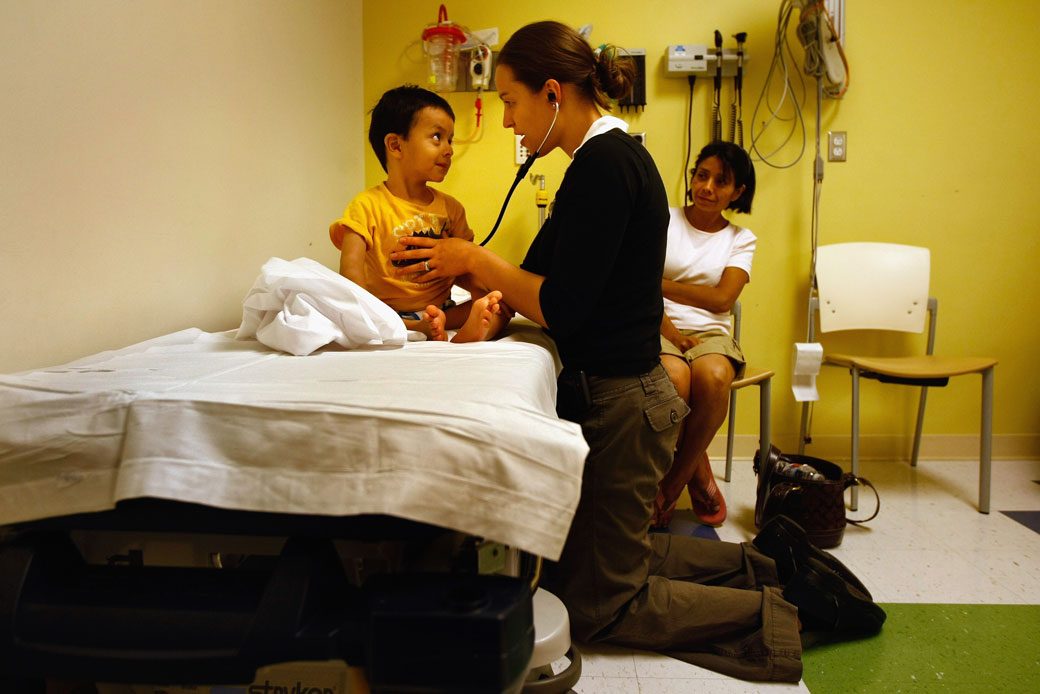 Last week, the Trump administration introduced new guidance that would allow states to take away people's health care if they are unable to find work—all without creating a single job. Imposing work requirements could put at least 6.3 million Americans at risk of losing their health care and would impede—not promote—participation in the workforce.
This new guidance has significant implications for children, not because they would be required to work for their health care, but because a child's health insurance coverage—and well-being—are closely tied with their parents' coverage. Imposing work requirements for parents could introduce instability to children's coverage when they need continuous care and healthy caregivers the most. Furthermore, increasing financial stress in the homes of American families who are struggling to make ends meet would undermine healthy child development.
Most children have working parents, and the vast majority of adult Medicaid recipients are already working. But the nature of low-wage jobs is such that parents may not always have consistent work. For example, parents may work in temporary or seasonal jobs; get laid off if industry jobs are moved overseas; or lose a job if their caregiving responsibilities get in the way of their work. Thirty percent of nonworking adult Medicaid recipients are not working because they are providing care to loved ones. President Donald Trump's new guidance would make already hardworking parents jump through burdensome hoops to verify their work status—barriers that are likely to lead to a decrease in the number of people who are insured, even if they are not subject to work requirements.
Parents losing Medicaid could mean children losing coverage as well
Medicaid and the Children's Health Insurance Program (CHIP) provide health insurance to a substantial portion of young children, covering nearly 45 percent of children under the age of 6, and nearly half of all births. Health insurance coverage has lifelong benefits for children, including better health, improved educational outcomes, and increased economic security down the line.
Taking away Medicaid coverage from parents could trigger the loss of health insurance for their children. Research consistently shows that a child's insurance status is largely determined by whether their parents are insured. Among children from families in which the parents are insured, less than 1 percent do not have coverage, while 21.6 percent of children with uninsured parents lack coverage.
Children whose parents are uninsured are less likely to receive the services they need and more likely to have gaps in their own medical coverage. For a child that is rapidly growing and developing, even a short break in insurance coverage can be incredibly consequential: A lapse in medical care could mean missing a checkup, forgoing a vaccine, or leaving a medical condition untreated.
Creating added barriers to accessing health care—such as work requirements—for parents will likely lead to a decrease in insurance coverage for children as well. In 2012, Maine limited its Medicaid eligibility from 200 percent to 100 percent of the federal poverty level (FPL), causing about 28,500 parents to lose their Medicaid coverage. In the year following this change, enrollment in the state's CHIP and Medicaid programs for children in families between 150 percent and 200 percent of the FPL dropped by 13 percent, even though children's eligibility was not directly affected by the change. It is possible that this significant decrease in enrollment occurred because parents mistakenly thought that when they lost their health insurance coverage, it meant their children did as well.
Introducing additional stress for low-income families will undermine healthy child development
Medicaid serves as a security blanket for families by providing protection from crushing medical debt and often lifting families out of poverty. However, imposing work requirements, thus reducing access to Medicaid, could cause turmoil and financial stress in homes across America, which could have serious consequences for children's development.
Adults with health insurance tend to have better health outcomes and increased work capacity, both of which promote well-being and economic security for the whole family. Moreover, access to Medicaid helps ensure that parents' own health needs are met so that they can provide care that supports the developmental needs of their children. When parents are unable to seek medical treatment or experience financial and physical stress associated with medical debt, children's lives are affected as well.
Taking away health insurance from already struggling parents could introduce significant levels of stress into children's homes and jeopardize parents' health at a time when parenting demands their physical and emotional attention. Children are sensitive to adversity in early childhood, and enduring high levels of persistent stress has been shown to put children at a higher risk for developmental delay, cognitive impairment, and serious health conditions into adulthood.
Custodial parents, of course, are not the only people who are critical to children's development. Often noncustodial parents, aunts, uncles, grandparents, neighbors, and friends provide care and support for children and other loved ones. In addition to affecting parents, these work requirements could also take away health coverage from this network of caregivers: The stressors and hardships that fall on these adults will inherently impact the children in their life.
Work requirements are not the answer for American families
The number of uninsured children in the United States is currently at an all-time low, and keeping children healthy and insured should be a shared priority for every American. Introducing Medicaid work requirements and taking away parents' health insurance is a de facto cut to children's health insurance as well. Rather than support another barrier toward growing healthy families, policymakers must focus their efforts on promoting programs that support healthy child development and help families meet their basic needs.
Leila Schochet is the research and advocacy manager for Early Childhood Policy at the Center for American Progress.
The positions of American Progress, and our policy experts, are independent, and the findings and conclusions presented are those of American Progress alone. A full list of supporters is available here. American Progress would like to acknowledge the many generous supporters who make our work possible.
Authors Leila Schochet
Policy Analyst