Hospital Visitation and Medical Decision Making for Same-Sex Couples
Hospital Visitation and Medical Decision Making for Same-Sex Couples
We must take action to ensure that regulations giving same-sex couples and domestic partners visitation and medical decision-making rights are respected and enforced.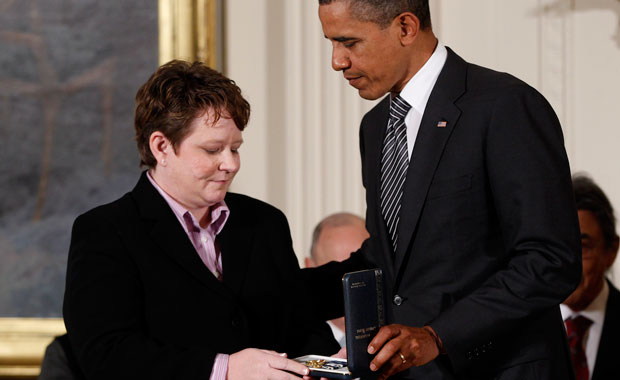 In February 2007, Janice Langbehn was denied the right to visit her same-sex partner in the intensive care unit at Jackson Memorial Hospital in Miami, Florida. Langbehn and her partner, Lisa Pond, were vacationing with their three children when Pond suffered an aneurysm. At the hospital, nurses and doctors refused to let Langbehn or her children see Pond, and they did not provide them with adequate updates on her condition. Pond eventually slipped into a coma and died while her family members were trying to persuade administrators to let them into her room.
Lambda Legal—a nonprofit organization that focuses on the lesbian, gay, bisexual, and transgender, or LGBT, community—then filed a lawsuit against Jackson Memorial on behalf of Langbehn. The case drew national media attention that eventually prompted the White House to address equal visitation and medical decision-making rights for same-sex couples. More hospital personnel are aware of this issue today, but gaps in this awareness still remain, leaving same-sex couples vulnerable to discrimination.
Hospital visitation and medical decision making
President Barack Obama issued a presidential memorandum four years ago on hospital visitation that called for "appropriate rulemaking … to ensure that hospitals that participate in Medicare or Medicaid respect the rights of patients to designate visitors." The memorandum recommended that the U.S. Department of Health and Human Services, or HHS, detail guidelines for hospital visitation that prohibit discrimination based on "race, color, national origin, religion, sex, sexual orientation, gender identity, or disability." HHS issued such regulations in November 2010. The regulations prohibit these types of discrimination in hospital visitation and make it clear that designated visitors should be permitted access to patients regardless of whether they have a legally recognized relationship. These regulations also require hospitals to have written guidelines and inform patients of their visitation rights.
In addition to these policies, HHS charged the Centers for Medicare & Medicaid Services, or CMS, with creating guidelines for adequate advance directives that same-sex couples—and other LGBT people—can use. Advance directives include health care proxies, which are documents that allow patients to designate who will be given visitation priority if they end up in the hospital for any reason. These forms also serve as a medical power of attorney, allowing patients to authorize their partners to make medical decisions on their behalf if they were to become incapacitated. In states where same-sex marriages, domestic partnerships, and/or civil unions are not legal, partners can use these proxies to prove relationship to their injured loved ones so that they can visit them.
Nearly a year after issuing the regulations, HHS released a guidance letter in September 2011 to implement and enforce visitation, health care proxy, and advance-directive requirements. Through this guidance, HHS required State Survey Agencies, which conduct compliance inspections on behalf of CMS, to ensure that hospitals participating in Medicare and Medicaid programs have established written policies to implement the November 2010 regulations. This letter also clarified that the visitation regulations require hospitals to provide visitation rights to domestic partners of incapacitated patients without requiring documentation of those relationships in most circumstances. In those limited circumstances where documentation can be requested, the information required of same-sex couples cannot be more stringent than that which is required of different-sex couples.
Despite these advances, disheartening circumstances continue to arise in which people are denied the right to visit their same-sex partners in the hospital. These complications occur even when couples have proof of their relationships. In Missouri, Roger Gorley was removed from his partner's bedside in April 2013 even though he was in a civil union with the patient, Allen Mansell, and had a health care proxy for visitation. When Mansell's family members objected to Gorley's visit, hospital staff called the police, who arrested Gorley and escorted him out of the hospital.
In Nevada, Terri-Ann Simonelli was denied visitation rights in August 2012 despite being in a domestic partnership with Brittney Leon, who was having pregnancy complications. Although domestic partnerships grant the same state rights as marriage in Nevada—including visitation and medical decision making—Simonelli was told she needed a power of attorney to visit her partner. Simonelli had to sit outside and wait for updates from the doctors while Leon lost their baby. Situations such as these prove that—despite the current regulatory scheme, and even when they have formalized their relationships and completed legal documentation of their wishes—same-sex couples still encounter discrimination when they most need protection.
Although both of these families experienced discrimination, neither pressed charges. Families that endure the trauma and financial burden that often come with hospital visits should not be the ones that have to fight for their rights in court, especially when the federal government already has policies that should prevent this discrimination in the first place. The hospitals that denied visitation rights for Roger Gorley and Terri-Ann Simonelli accept Medicare and Medicaid insurance and are therefore held to all of the visitation and health care proxy standards set forth by CMS.
What can we do to make sure that same-sex couples have their right to hospital visitation on more than just paper? The Affordable Care Act, or ACA, advance directives, and accrediting organizations may provide some answers.
The Affordable Care Act and other nondiscrimination protections
Along with the presidential memorandum and the guidance outlined by HHS, additional nondiscrimination protections can be found in the ACA's nondiscrimination provision, Section 1557. The provision incorporates the sex-based protections of Title IX, which HHS has clearly acknowledged to include protection against discrimination on the basis of gender identity and sex stereotypes. The scope of Section 1557's protections for same-sex couples, however, has been much less clear. Courts are increasingly taking the view that nondiscrimination on the basis of sex includes protections on the basis of sexual orientation, and HHS has the authority to incorporate this interpretation into regulations implementing Section 1557. Section 1557 should thus be used as additional grounds for HHS to investigate hospitals that discriminate against same-sex couples.
As in the cases above, people who have been through this trauma may not want to pursue, or be able to afford, these legal battles on their own. If HHS promulgates regulations implementing Section 1557 that include protections for same-sex couples, these families could instead file a complaint with the Office for Civil Rights at HHS, which is empowered to enforce the ACA's nondiscrimination protections. Many organizations already provide oversight through accreditation or surveys; HHS could employ their services to help achieve the ACA's aim of eliminating unfair discrimination in health care settings. HHS could also use the authority granted under Section 1557 to coordinate oversight efforts between State Survey Agencies and the HHS Office for Civil Rights, whereby health care facilities that violate the ACA's nondiscrimination protections or the previously issued regulations on visitation and health care proxies could be brought into compliance even when vulnerable patients and their families do not come forward with a complaint.
Lastly, HHS has broad regulatory authority, both apart from and under the Affordable Care Act, that it should explicitly use to apply nondiscrimination protections to all programs overseen by CMS, including Medicare and Medicaid. Nondiscrimination protections are a basic component of responsible program administration, and they are unquestionably within the department's authority to ensure that federal funding is used in an efficient and effective manner. CMS also has the authority to adopt these protections under the same authority that it used to promulgate regulations pertaining to hospital visitation. These protections would reinforce the visitation and medical decision-making protections established by HHS in 2010, as well as widen their scope to protect same-sex couples and their families in a more comprehensive manner.
Advance directives
Advance directives are nothing new. Living wills were first put into CMS regulations to address elder care in Section 489.100 of the 1991 Patient Self-Determination Act. President Obama used a memorandum to advertise this 19-year-old law, which is available to everyone but is not frequently put to use by families who encounter unexpected medical emergencies. Thus, more emphasis was placed on gearing advance directives toward the LGBT community, and HHS released rulings to support this use. However, cases such as Simonelli's and Gorley's still arise, indicating that some hospital personnel are confused about the application of health care proxies to same-sex couples. Front-line staff—such as intake staff, administrators, and nurses—should be educated on their use and applicability. In order to encourage such culturally competent hospital environments, HHS should take additional steps to guide hospital administrators on informing these staff members about the importance of advance directives.
Accrediting organizations
Accrediting organizations can also take action to promote more culturally competent services in the facilities they oversee. The Joint Commission, for example, "accredits and certifies more than 20,000 health care organizations and programs in the United States." Its mission to improve public health is aided by its work evaluating health care systems and promoting the high-quality, safe, and effective provision of health services. As a leader in LGBT equity, The Joint Commission could further strengthen its efforts through stronger enforcement of LGBT-inclusive cultural competency requirements in the accreditation process. It has consistently accredited the hospitals that discriminated against Gorley and Simonelli since 2006 and 2004, respectively. While The Joint Commission's accreditation standards have included broad protections against discrimination on the basis of sexual orientation and gender identity since 2012, these standards could be strengthened by explicitly incorporating the more-detailed proposals contained in The Joint Commission's field guide, "Advancing Effective Communication, Cultural Competence, and Patient- and Family-Centered Care for the Lesbian, Gay, Bisexual, and Transgender (LGBT) Community."
By making LGBT health care competency an integral and specified component of accreditation—one that is subject to the same stringent review and compliance processes as other requirements—facilities would be held to a higher standard for serving all patients.
Conclusion
Seven years after Lisa Pond died without her partner or her children by her bedside, same-sex couples still face discrimination in hospital visitation. Her death resulted in heightened national attention and departmental action to address this issue. Unfortunately, despite increased accountability on the part of many health care facilities, discrimination continues to keep same-sex couples apart when they are vulnerable and need each other most. Regulators and accreditation agencies must take action to enforce visitation regulations, protect these families, and ensure that hospital personnel provide responsible services to patients and their loved ones without discrimination.
Garrett Riou is an intern with the LGBT Research and Communications Project at the Center for American Progress.
The positions of American Progress, and our policy experts, are independent, and the findings and conclusions presented are those of American Progress alone. A full list of supporters is available here. American Progress would like to acknowledge the many generous supporters who make our work possible.