Green Your Clean
Safer, alternative products exist for cleaning your home, and many homemade concoctions do the trick as well.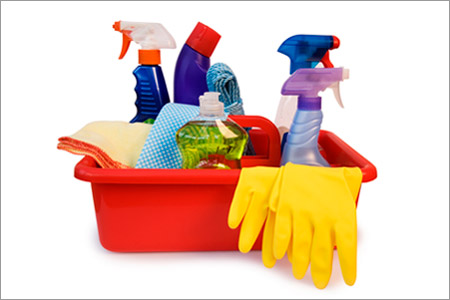 Read more articles from the "It's Easy Being Green" series
When it comes to cleaning your home the green way, sorting through all the labeling lingo can be as difficult as cutting through the grease on last night's lasagna dish. The list of "greenwashing" words that can't be trusted includes non-toxic, biodegradable, environmentally safe, and natural, according to Consumer Reports.
Yet using less toxic cleaning products is more important than ever. The EPA has identified indoor air pollution as a serious health threat to those who are exposed to it for the longest periods of time, namely children, the elderly, and the chronically ill. And although little is known about long-term exposure to volatile organic compounds, the kinds of chemicals found in many home cleaning products that contribute to indoor air pollution have been shown to increase risk of cancers and liver and kidney damage in animals and possibly in humans. In fact, several organic compounds average levels two to five times higher indoors than outdoors, according to the EPA.
Cleaning the air in your home can be as easy as opening the windows and mixing up some homemade cleaning agents. When looking for greener cleaning supplies, it also helps to be a smart consumer. Check the labels of products for plant-based ingredients such as pine, citrus, or plant oils instead of petroleum ones. Disinfectants like eucalyptus or rosemary or lemon are safer than triclosan, which is found in conventional cleaners and is described in more detail below.
To help demystify green cleaning, we've compiled a guide to help get you started at home.
Antibacterial or antimicrobial soaps and kitchen disinfectants
Problem
Triclosan, the active ingredient in many varieties of liquid hand soap, contributes to the increasing problem of drug-resistant bacteria. Many other disinfectants contain chlorine bleach, which can burn eyes and skin and can be fatal if swallowed.
Solution
Washing your hands with regular old soap and warm water is the best defense against microorganisms. Alcohol-based hand sanitizers also kill bacteria, and these products do not contribute to resistance. In the kitchen, white vinegar disinfects and deodorizes surfaces, while a half a lemon dipped in baking soda can scour your counters and sinks clean. Be sure to use hot, soapy water to clean cutting boards and utensils that have come into contact with raw meat or eggs to kill food-borne pathogens such as E. coli or Salmonella. For a commercial alternative, try Seventh Generation sanitizers.
SOURCE: flickr/D'Arcy Norman
Glass cleaners
Problem
Most glass cleaners contain ammonia, a gas with fumes that irritate the eyes, skin, and respiratory tract. In large concentrations, ammonia can also threaten aquatic species.
Solution
Mix up a quarter cup vinegar with 2 cups of water, pour into a spray bottle, and you'll have streak-free windows and mirrors in no time.The actor Ed Begley, Jr. also has a line of eco-friendly cleaning products, Begley's Best—which earned a Cradle to Cradle seal of approval—that produces glass cleaner. BioShield, Earth Friendly, and Seventh Generation all also make less toxic commercial glass cleaners.
Dish soaps, detergents, and all-purpose cleaners
Problem
These products contain a host of chemicals, including the volatile solvent ethanol, which can irritate hands and eyes, and surfactants, such as sodium laurel sulfate and alcohol ethoxylate, which can both release the probable carcinogen 1-4, dioxane. The frangrances in detergent products generally come from phthalates, hormone-disrupting chemicals that are also found in air fresheners. The chemicals from the suds in your kitchen sink will wash down the drain and eventually end up in local rivers, streams, or bays where they threaten wildlife.
Laundry detergents with artificial coloring contain toxic chemicals that may cause cancer or other adverse health effects. Solvents, including propylene glycol ethers and d-limonene, are also a threat both to human health and the environment, while many detergents also contain bleach.
Solution
Look for laundry detergents that are frangrance-free or hypo-allergenic to avoid triggering allergic reactions. For removing stains from clothes without chlorine bleach, try alternatives that contain hydrogen peroxide or sodium percarbonate. Replace fabric softeners with vinegar and baking soda, or products with a vegetable instead of petroleum base, such as those from Seventh Generation and Ecover. For more tips on reducing the environmental impact of your laundry, see our previous It's Easy Being Green on the topic.
Vegetable-oil based detergents and dish soaps are better for the environment and less toxic than petroleum-based products. Powdered products are also preferable to the liquid varieties, as they are more efficient to ship and also require less water for the same cleaning jobs.
Air fresheners
Problem
Many air fresheners contain chemicals, including phthalates, that can affect hormonal and reproductive development, especially in young children and unborn babies. The aerosol variety is also easily flammable, can provoke allergies, and can irritate eyes, noses, and lungs.
Solution
Open the windows and ventilate your dwelling with some good old-fashioned fresh air. House plants can also provide natural air filtration indoors, while an open box of baking soda can remove odors, just like it does for your refrigerator. To replicate the smell of air fresheners, boil some cinnamon sticks or cloves, or look for products with essential plant oils, such as lemon, lavender, or verbena, instead of synthetic chemicals.
Furniture and metal polish
Problem
These products tend to contain ammonia and hydrocarbons, which irritate the eyes, nose, and respiratory tract and can be fatal if swallowed, especially in children.
Solution
Polish up your brass and copper with a simple solution of lemon juice and baking soda mixed to the consistency of toothpaste. Spread it on with a damp rag, then wipe clean with water and dry. For silver, toothpaste itself does the polish trick. Remove rust with a piece of fine steel wool dipped in vegetable oil. For furniture, mix ½ cup vinegar with 1 teaspoon olive oil, and apply with a clean rag. On the commercial side, look for solvent-free products for your polishing needs.
SOURCE: flickr/OneEighteen
Bathroom cleaners
Problem
Surface cleaners, scouring powders, and toilet cleaners come packed with an arsenal of toxic and corrosive chemicals. Chlorine, ammonia, and triclosan are common ingredients, as is d-Limonene, a high-odor volatile organic compound that irritates skin and eyes. Isopropanol, also known as rubbing alcohol, is also a nervous system depressant, while pine oil is irritating to mucus membranes and harmful or even fatal when ingested.
Solution
A paste of washing soda and water will scrub just about anything out of your tub or toilet, but be sure to protect your hands from the abrasive stuff with gloves. A half a lemon dipped in borax will also scour the mildew out of the cracks in your tub and tile. Check out the Green Guide for good commercial alternatives from Bon Ami and Sound Earth.
Drain cleaners
Problem
Drain cleaners, some of the most toxic cleaning products, contain sodium hypochlorite (bleach) and sodium hydroxide, both of which can burn eyes and skin.
Solution
With drains, prevention is key. Avoid a plug by not dumping any kind of grease down the sink, and if you have a garbage disposal, don't dump large amounts of veggie peels or seeds. A mesh or metal drain screen can also prevent bits of food from clogging the plumbing. If you do have a plug, try a small rubber plunger or snake plumbing tool to fetch as much of the gunk as possible. Still won't drain? Try adding 1 cup of baking soda and 1 cup vinegar to a pot of boiled water, then pour it down the drain. Enzyme drain cleaners, instead of caustic chemical ones, are a good option for organic-matter clogs—try Earth Friendly's Natural Earth Enzymes.
The Bottom Line
Switching to green alternatives, whether store-bought or homemade, can help you avoid the dangerous health effects of the arsenal of toxic substances that lurks in most home cleaning cabinets. You can find recipes for home cleaners involving eight ingredients you probably already have—baking soda (sodium bicarbonate), white vinegar, hydrogen peroxide, borax, lemons, olive oil, vegetable-based soap, and washing soda (sodium carbonate)—over at the Green Guide.
Look for products labeled with Green Seal certification, which indicates they've surpassed standards of environmentally responsible production and purchasing, from being biodegradable to not causing air pollution. It also means they've met standards of human health—the products cannot irritate skin or cause injury or illness when inhaled, swallowed or absorbed, nor can they contain a litany of toxic chemicals or known carcinogens.
The positions of American Progress, and our policy experts, are independent, and the findings and conclusions presented are those of American Progress alone. A full list of supporters is available here. American Progress would like to acknowledge the many generous supporters who make our work possible.