For Some, CR Cuts Could Mean the Difference Between Living in Peril or with Some Security
For Some, CR Cuts Could Mean the Difference Between Living in Peril or with Some Security
House Budget Bill Targets Critical Service Programs
Low-income communities of color will be greatly affected by the cuts to service programs in the House continuing resolution, writes Folayemi Agbede.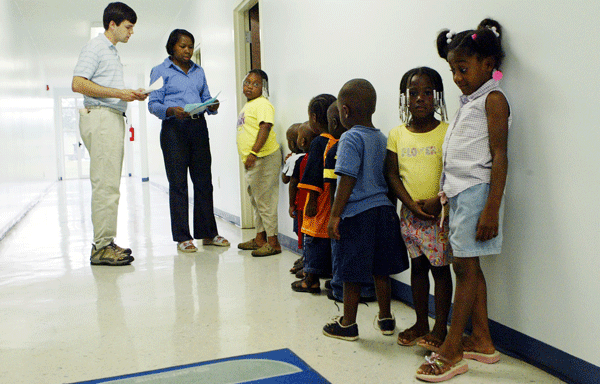 The Continuing Resolution for H.R. 1 to fund the federal government through September will come to the House floor today with dozens of slashed programs and many Americans, particularly communities of color, will be feeling some serious pinches to vital resources when it passes. Disproportionately, people of color will be subjected to the real pain of having their threadbare safety net cut wide open as those who are low-income, facing the high costs of health disparities, and are educationally marginalized will experience essential programming cuts through the CR.
Support systems are on the chopping block. For example, there will be $942 million less in Community Development Block Grants due to cuts to the Community Development Fund. These grants provide decent housing for low- and moderate-income residents, neighborhood revitalization, and disaster assistance for low-income areas.
These disaster assistance cuts paired with cuts to other disaster programs such as FEMA First Responders, the Corps of Engineers, and non-Defense Environmental Clean-up leave communities of color even more vulnerable to being left behind in the case of natural disaster—like what we saw in the Gulf after Katrina and the Deepwater Horizon oil spill.
Urban and rural housing assistance and Native American Housing Block Grants will also take serious hits through cuts to Department of Agriculture and Department of Housing and Urban Development programming. And domestic HIV/AIDS and viral STI prevention programming will be bargained away as one of the largest cuts in the Continuing Resolution, with a cut of over $1 billion.
As Native Americans face extreme poverty and subsequent difficulty in securing quality housing, the reduction of block grants to alleviate the burden of sub-standard housing on Native-American communities will do nothing but distress an already insufficient set of resources. As for HIV/AIDS and STI prevention programming, we know well that communities of color are over-represented in new and untreated cases of sexually transmitted infections and HIV. For some communities, these statistics are at epidemic proportions. For those affected, the pursuit of care plummets when supplementary, cost-mitigating resources are unavailable.
These reductions to public funds mean the government's ability to serve the communities that need its support the most is significantly limited.
It would seem that when those clamoring for cuts use phrases such as "governmental efficiency" they aren't talking about making service-reliant people's lives more efficient or better served. Clearly, demagoguery trumped budget negotiations that actually serve the public. Instead, we're left with the discriminate cutting of programs that support the most socially vulnerable—programs many people of color need.
Below is a list of cuts from the House CR that will directly impact people of color in the short run (i.e., the next five months) and in the long run. It is not yet clear how all of these cuts will trickle through the programs that have been selected for massive budget slashing. But we know that people who rely on them will definitely feel the effects of lengthier wait times, staff reduction, case mismanagement, and lower programming quality immediately, as inefficiency is quickly felt when funding is sparse.
For many people not having these services is the difference between having your immigration paperwork processed so that you may legally work in the United States or not. It's the difference between having a home or living on the street. And it's the difference between eating or going hungry.
Folayemi Agbede is the Special Assistant for Progress 2050 at American Progress.
The positions of American Progress, and our policy experts, are independent, and the findings and conclusions presented are those of American Progress alone. A full list of supporters is available here. American Progress would like to acknowledge the many generous supporters who make our work possible.