Florida's Modern-Day Poll Tax
Florida's Modern-Day Poll Tax
Florida officials are rejecting the will of the people in order to suppress the vote.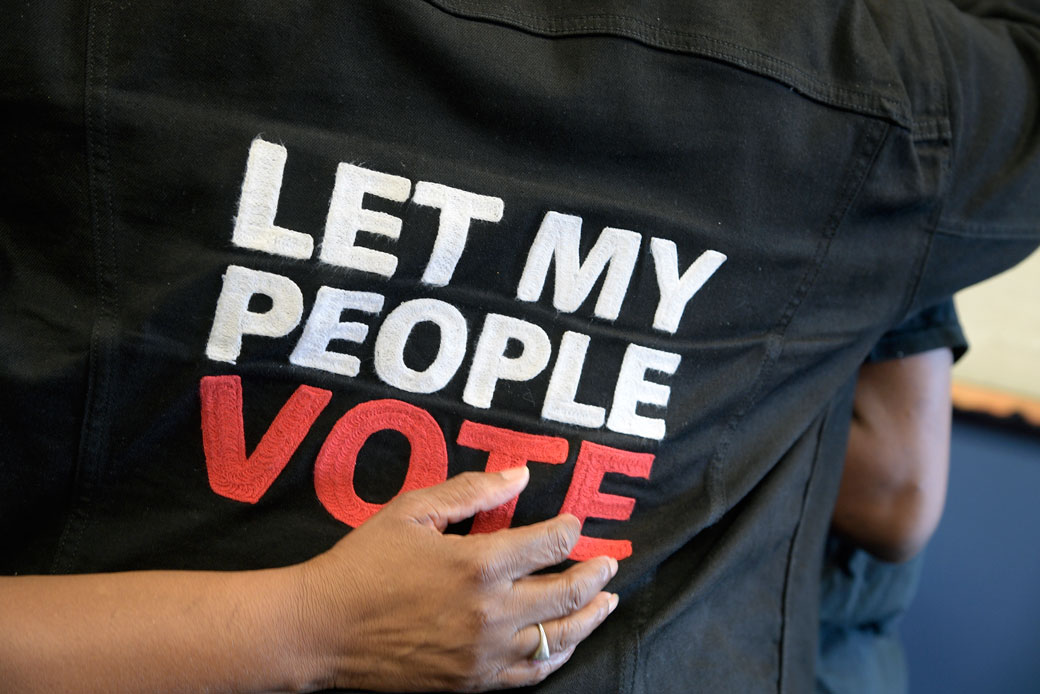 Last November, Florida voters sent a message to the nation: Voting is a fundamental right that is essential for a successful democracy. On election day, 64 percent of Florida voters—5.1 million people—cast their ballots in favor of amending the state's constitution to restore voting rights to U.S. citizens with prior felony convictions after they completed all terms of their sentence, including probation and parole. The amendment, known as "Amendment 4," includes certain exceptions; for instance, it does not apply to individuals convicted of murder or sexual offenses. Still, Amendment 4 restores voting rights for 1.4 million Floridians, making it one of the largest voting rights triumphs since the 1964 Voting Rights Act.
However, this victory is now under threat. Republican legislators in Tallahassee, led by Gov. Ron DeSantis (R), circumvented voters' wishes by imposing new financial restrictions—such as fees unrelated to citizens' sentences—that would undermine the amendment. This blatant disregard of the will of the people could prevent hundreds of thousands of otherwise eligible Floridians from casting their ballots on election day.
Florida has a long and sordid history of voter disenfranchisement
Prior to the passage of Amendment 4, Florida was one of just four states that permanently prevented citizens with a prior felony conviction from voting unless the governor intervened to restore voting rights. The origins of this voter suppression law go back to the Civil War, when racist legislators sought to prevent African Americans from voting by enacting "Black Codes" that criminalized African American residents and amending the state constitution to disenfranchise Floridians with prior convictions.
The effects of these tactics have persisted for more than a century and are particularly harmful today as a result of the war on drugs. Today, the African American incarceration rate in Florida is 3.6 times higher than the white incarceration rate; and while African Americans constitute roughly 17 percent of the state population, they make up nearly 48 percent of the prison and jail population. As a result, in 2016, nearly half a million African American Floridians were disenfranchised due to prior felony convictions.
Unfortunately, Florida's troubled history of voter disenfranchisement does not appear to be ending any time soon, as the state's top lawmakers have expressed their opposition to restoring voting rights. Last September, then-candidate Ron DeSantis stated: "I don't support automatic restoration of voting rights (for felons). I'm going to be very tough on crime, and I'm never going to budge on that." As governor, he has stayed true to his word and rejected the will of Floridians by leading efforts to dismantle Amendment 4.
Amendment 4 clearly stated that Floridians with prior felony convictions would have their rights restored upon completion of all terms of their sentence, including parole or probation. Yet DeSantis still insisted that legislators pass "implementing language" to interpret what it means to complete a sentence. This legislative process produced a partisan bill that, among other things, forces formerly incarcerated individuals to pay steep fees unrelated to their sentence—such as covering the costs of drug tests or electronic monitoring while on probation or parole and covering the costs of medical care received while incarcerated. These restrictions are strikingly similar to the poll tax system pioneered by Florida in the late 1800s, which required U.S. citizens to pay cash in order to exercise their right to vote. While poll taxes appeared to be race-neutral, they disproportionately affected African Americans since many had extremely low incomes and therefore could not afford to pay. Within 20 years of the Florida law coming into effect, all former Confederate states had adopted poll taxes.
Like the poll taxes of the Jim Crow era—which were ultimately declared unconstitutional—this new Florida policy will disproportionately target African Americans. African American Floridians are more likely to have prior felony convictions and thus be saddled with debt unrelated to their sentence. They are also more likely to experience poverty, which makes repayment of debt more difficult.
Florida's new law is administratively burdensome and undermines democratic participation
Countless returning citizens have already registered to vote since their eligibility was restored in January. By proceeding with this legislation, the governor has placed the burden on the state to spend scarce taxpayer resources combing through thousands of voter registrations in order to determine whether citizens' registrations should be canceled. Not only is implementing language for Amendment 4 unwarranted, unfairly punitive, and possibly unconstitutional, it could cause considerable confusion among the electorate, suppress voter turnout, and risk the erroneous cancelation of eligible citizens' voter registration.
Conclusion
Research shows that formerly incarcerated citizens who work, obtain housing, and are accepted back into communities are less likely to recidivate. In 2016, the American Probation and Parole Association (APPA), which supports voter restoration, stated, "Civic participation is an integral part of this transition [back into the community]." Groups like the APPA believe that voting is a transformational experience that can reduce the likelihood that an individual will commit a crime. Therefore, restoring the right to vote can make American communities safer and even save taxpayer dollars in the process. This is why dozens of states permit almost all individuals with prior felony convictions to vote. Yet in 2016, 1 in 5 otherwise eligible African Americans in Florida had a prior felony conviction that prevented them from casting their ballots for president of the United States, even though they had fully completed their sentence.
For democracy to work, citizens—including those who made mistakes in the past but lead productive lives today—must be allowed to vote and fully participate in the electoral process. Floridians clearly agree. It is time for elected officials to listen to and represent the interests of those who put them in office.
Connor Maxwell is a policy analyst for Race and Ethnicity Policy at the Center for American Progress.
The positions of American Progress, and our policy experts, are independent, and the findings and conclusions presented are those of American Progress alone. A full list of supporters is available here. American Progress would like to acknowledge the many generous supporters who make our work possible.
Authors Connor Maxwell
Senior Policy Analyst