Faith Experts Discuss Afghanistan
Faith Experts Discuss Afghanistan
Brian Katulis briefs faith communities on the recent election in Afghanistan and how the United States and faith groups can provide sustainable help to the country.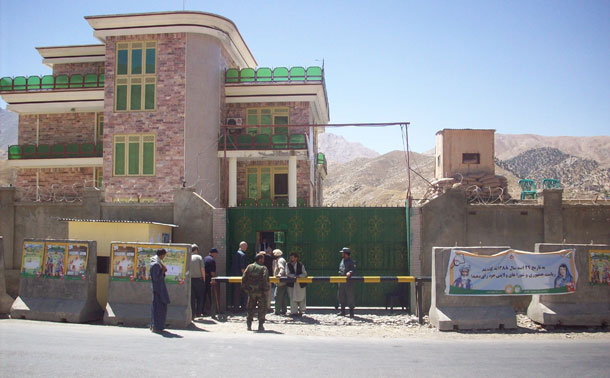 CAP Senior Fellow Brian Katulis called for a more in-depth analysis of Afghanistan's security challenges, election results, and U.S. foreign policy in the region last week in a briefing to a group of faith-based organizations regarding the country's recent elections.
Katulis was an election observer in Afghanistan as part of a U.S.-sponsored delegation organized by Democracy International. Katulis cautioned against simplifying the August elections as a complete success or failure. The situation, he explained, is much more complex than the question of whether or not to add military troops. A holistic approach is needed—one that strengthens governance and civil society, lessens violence and corruption, and increases economic development and regional security.
The briefing was convened by CAP's Faith and Progressive Policy Initiative and was attended by more than a dozen faith-based experts and advocates representing national organizations with expertise in the region.
Approximately 92 percent of the vote was counted by September 9, according to Katulis, and those results showed incumbent Hamid Karzai ahead with 54 percent of the votes and the leading challenger, Abdullah Abdullah, trailing behind with 28 percent of the votes. President Karzai has passed the 50-percent threshold necessary to avoid a runoff election, but the process is not yet complete, since remaining ballots must be tallied and allegations of fraud addressed.
More than 700 "serious" allegations are currently under investigation by the Electoral Complaints Commission, which is comprised of three international U.N. appointees and two Afghan members. Allegations—mainly against the Taliban—include intimidation, violence, ballot box stuffing, "captured" polling stations, and more. Women faced formidable challenges at the polls, from threats of violence to lack of female workers at gender-segregated polling stations.
Also in question is how many Afghans actually voted. Estimates say that approximately 15 million Afghans registered for the August elections, while only 4.3 million voted. Katulis explained that it is difficult to get accurate counts because there is neither a valid voter registry nor a national census.
"This election took place in a war zone," Katulis said, citing 300-400 reported attacks on Election Day. Katulis also noted that while the presidential election has received considerable media coverage, little attention has been paid to the 34 provinces that also held elections. There is significant decentralization of power on the provincial level, which makes these elections very important. More than 3,000 candidates competed for 420 seats.
Going forward, Katulis argued that the United States should work on a holistic development policy with Afghanistan that extends beyond the singular question of troops. He also argued that we must improve the government's capacity and effectiveness, strengthen institutions of law and justice, promote economic development beyond the drug crops, and create a "civilian surge" in which nonmilitary experts can work to strengthen civil society.
The smaller the U.S. footprint in the country, the better, Katulis said. He prioritized strong partnerships with Afghan institutions and other governments and organizations, but added that the alliances cannot be one-sided or unconditional. Instead, the United States must foster relationships where shared goals are clearly outlined and our assistance is offered only as long as clear expectations are met. It is also important to have global support from countries outside of NATO. Pakistan, Iran, India, and China, in particular, should assist in achieving sustainable security for Afghanistan.
In the discussion that followed the presentation, Katulis and faith-based experts addressed details of the civilian surge and its relation to the military presence in Afghanistan, as well as family law and women's rights, and the intricacies of future U.S- Afghanistan partnerships. Participants also discussed ways their organizations could stay involved.
Katulis rejected the notion that certain advancements must be in place before effective democratic elections can be held. Instead, he called for a simultaneous multifaceted developmental program. In the real world, he said, all issues of security, justice, economic development, gender equality, and democracy are interlaced.
Eleni Towns graduated from George Washington University in May. She is an intern with the Faith and Progressive Policy Initiative at the Center for American Progress.
The positions of American Progress, and our policy experts, are independent, and the findings and conclusions presented are those of American Progress alone. A full list of supporters is available here. American Progress would like to acknowledge the many generous supporters who make our work possible.
Authors Eleni Towns
Policy Analyst