Cutting Off Access to Pre-K Education and Child Care
Cutting Off Access to Pre-K Education and Child Care
This week we explore sequestration's effects on the health, welfare, and education of low-income children and their families.
Part of a Series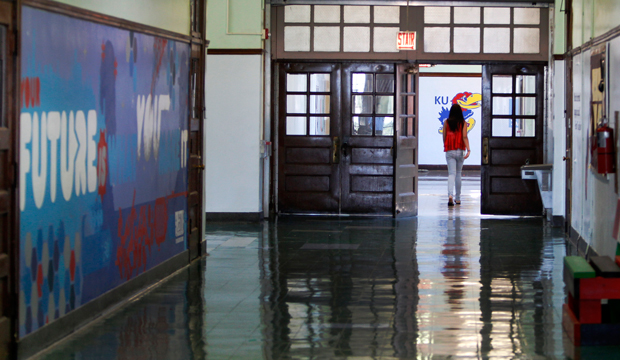 Author's note: On Capitol Hill "sequestration" may mean a percentage point or two in lower GDP growth, but beyond the Beltway it is more than an abstract economic concept. It means real pain for real people.
Each week in our "Sequestration Nation" series, we will highlight examples of the many ways in which the federal budget cuts may hurt you and your neighbors. This week we explore sequestration's effect on the ability of students to afford a college education in the United States. 
Last week the Senate Budget Committee held a hearing, "Investing in our Future: The Impact of Federal Budget Decisions on Children," during which many of the witnesses discussed the positive societal return of investments in early childhood education. Nevertheless, despite reams of data and evidence on the benefits of programs—such as Head Start and the Special Supplemental Nutrition Program for Women, Infants, and Children, commonly known as WIC—that target the youngest and most vulnerable members of society, the programs have not been spared from the sequestration chopping block. Prior to the passage of the continuing budget resolution that funds all government programs through the end of fiscal year 2013, in this year alone sequestration was slated to cut:
$400 million from Head Start
$115 million from the Child Care and Development Block Grant
$333 million from WIC
$9 million from Childhood Immunization Grants
$27 million from the Title V of the Maternal and Child Health Services Block Grant
Fortunately for the beneficiaries of some of these programs, the continuing budget resolution passed by Congress and signed by President Barack Obama provided some modest funding to partially offset the brunt of sequestration through the end of September. The agreement included $34 million for Head Start and $46 million for the Child Care and Development Block Grant, but unfortunately, these increases do not allow the programs to keep up with inflation, let alone address cuts from sequestration.
Unless Congress acts to end sequestration—the Center for American Progress has offered a detailed plan to do so in the next three years—come October 1, 2013, sequestration will once again hit these programs in full force, and the effects will be devastating for low-income children across the country. Though the effect of sequestration on the programs in question is being temporarily mitigated, the cuts that remain are having a negative impact right now on the most vulnerable members of society.
Sequestration cuts to Head Start, a program that provides pre-K education to low-income children, have been highly publicized because cuts to the program will result in 70,000 children being dropped from receiving the benefits of it. In communities across the country, such as Kingman, Kansas, local Head Start officials must choose between dropping students from the program, laying off teachers, or shortening the Head Start school year. Some Head Start programs, such as the ones in Baxter County, Arkansas, are doing all the above.
As with many of sequestration's cuts, the effects of slashing Head Start will have the most significant impact on low-income families. "The children in our community alone need this kind of support. They need this kind of education. Without it, they don't have anything here," said Head Start parent Clifford Stuck of Kansas.
Less publicized but also significant are cuts to the Child Care and Development Block Grant, or CCDBG. This critical program provides child care subsidies to help low-income families pay for child care services. Head Start and CCDBG funds are critical for low-income families because, according to a recent CAP report, among working mothers below the poverty line who pay for child care out of pocket, child care costs take up almost half—42.6 percent—of their wages. If sequestration continues, both the number of low-income families that must pay for child care out of pocket and the amount of their wages that these costs take up will no doubt continue to rise.
In terms of early childhood nutrition and health, sequestration's effects are similarly worrisome. Sequestration's impact on Title V of the Maternal and Child Health Services Block Grant, which enables states to provide a wide range of free or low-cost health services to pregnant women and young children, means that more than 5 million women and children will be dropped from the program if sequestration remains in place. Meanwhile, approximately 200,000 fewer children will have access to immunization as a result of cuts to the Childhood Immunization Grants, potentially impacting public health at large. Sequestration cuts to WIC, which provides nutrition for low-income pregnant women and children under the age of 5, means that approximately 600,000 of the 9 million women and children served will be dropped from the program if sequestration remains in place.
And sequestration is only part of WIC's troubles. Cuts to WIC required by sequestration are in addition to cuts required by the Budget Control Act of 2011 and recently passed appropriations legislation. When all these cuts are factored in, WIC will receive $6.5 billion in funds in FY 2013, compared to $7 billion in FY 2012. These cuts will have a profound effect on mothers such as Melanie Bagnell of Philadelphia, who, according to NBC news affiliate WCAU-10, wouldn't be able to meet the nutritional needs of her two children without the help of WIC. "The WIC program helps all types of women out that have kids because the formula is expensive nowadays," Bagnell said. "One of the main reasons why WIC is so helpful is they try to have you and your kids be healthy." When viewed alongside recent congressional efforts to dramatically cut food stamps, current congressional policy is putting more and more low-income children at risk of going hungry.
Public investments in the health, welfare, and education of young children and their families have significant positive returns on investment. As Sen. Patty Murray (D-WA) stated during last week's hearing, "We should be investing more in our children, but sequestration is taking us in the wrong direction."
Elsewhere around the country, sequestration continues to affect the lives of Americans. Below are just a few of the many examples.
How is sequestration affecting you and your community? Make your voice heard by contacting us at kboadi@americanprogress.org with your stories about the effects of federal budget cuts.
Sequestration cancels days of classes at the U.S. Naval Academy
With more than half of its faculty composed of civilian employees, U.S. Naval Academy staff members will be affected by impending Department of Defense furloughs to a greater extent than their counterparts at West Point and the U.S. Air Force Academy. As a result of sequestration's 11 mandatory furlough days of civilian Defense Department employees, officials at the Naval Academy "anticipate that some classes within course sections may need to be cancelled due to faculty members' scheduled furlough days," according to Academy spokesman Navy Cmdr. John Schofield. According to U.S. News & World Report, the cancellations will be handled in a similar manner to snow-day closures.
Sequestration dampens Fourth of July festivities in Bristol, Rhode Island
According to the Providence Journal, the annual Fourth of July parade in Bristol, Rhode Island, has been happening for more than 200 years. Due to sequestration, however, this year's parade will have to make do with a much smaller contingent. "Military personnel, for example, have always had very prominent place in the parade," said Ray Lavey, vice chairman of the Bristol Fourth of July Committee. "But this year about a third of our contingent had to drop out because of budget-related spending and travel restrictions." Parade-goers will likely also notice the absence of the annual flyover by Air Force jets to kick off the parade. "It won't be the same, but what can you do?" said a resigned Lavey.
The federal government giveth, and sequestration taketh away in St. Augustine, Florida
St. Francis House executive director Renee Morris has become intimately familiar with the devastating effects of sequestration on her community. As head of the only homeless shelter in St. Johns County, Florida, Morris received confirmation on April 1 that St. Francis House had been awarded a federal grant that would cover half the organization's annual budget. According to The St. Augustine Record, however, just more than a month later, Morris learned that St. Francis would lose the grant—and more than half of its budget—as a result of sequestration. In 2012 St. Francis provided shelter to 1,072 people, served 85,000 meals, and provided many essential community services. But without their previously anticipated grant, Morris expects to reduce services and possibly lay off employees. "Our budget really depends a lot on this money," said Morris. "We are a nonprofit but we are a professional business. We have payroll, utilities, staff."
San Diego-area refugees face tougher resettlement odds due to sequestration
Assisting refugees in finding work and establishing households is a critical step in helping them acclimate to and become contributing members of society. Yet sequestration's cuts to the U.S. Office of Refugee Resettlement are making the task of organizations such as the International Rescue Committee in San Diego much more difficult. With the possibility that resettlement services could incur even deeper cuts in the FY 2014 budgets and uncertainty over the possibility that the United States could soon open its doors to tens of thousands of refugees fleeing the Syrian civil war, resettlement officials, such as Michael McKay of Catholic Charities, worry about their ability to effectively integrate refugees into their local communities. "We hope there will be continued support for it, to invest in the folks," said McKay. "Because they become contributing and productive members of the community rather quickly when there is that support."
Kwame Boadi is a Policy Analyst at the Center for American Progress.
The positions of American Progress, and our policy experts, are independent, and the findings and conclusions presented are those of American Progress alone. A full list of supporters is available here. American Progress would like to acknowledge the many generous supporters who make our work possible.
Authors Kwame Boadi
Policy Analyst
Explore The Series
Previous
Kicking Low-Income Americans While They're Down
Kicking Low-Income Americans While They're Down
Next
Defense Department Furloughs Pack a Mean Punch
Defense Department Furloughs Pack a Mean Punch