Defense Department Furloughs Pack a Mean Punch
Defense Department Furloughs Pack a Mean Punch
This week we explore sequestration's effects on the livelihoods of civilian Department of Defense employees and the communities in which they live.
Part of a Series
Author's note: On Capitol Hill "sequestration" may mean a percentage point or two in lower GDP growth, but beyond the Beltway it is more than an abstract economic concept. It means real pain for real people.
Each week in our "Sequestration Nation" series, we will highlight examples of the many ways in which the federal budget cuts may hurt you and your neighbors. This week we explore sequestration's effects on the livelihoods of civilian Department of Defense employees and the communities in which they live.
On and around military bases across the country, sequestration has finally arrived. As of Monday hundreds—and, in some cases, thousands—of civilian employees at these bases are being required to take one day of unpaid leave each week until September 30. This amounts to an approximately 20 percent reduction in pay for more than 650,000 civilian Defense Department employees for the rest of the summer. Although the Pentagon managed to reduce the number of required furlough days by half—from 22 days to 11 days—whether you're at the bottom of the pay scale or the top, a 20 percent reduction in income is a significant financial hit to any household. "I'm sure it's going to hit everybody hard. That kind of pay cut is going to hurt anybody," said Barry Shughart, one of the almost 700 civilian employees being furloughed at the Army War College in Carlisle, Pennsylvania.
The $37 billion in defense cuts this year will negatively affect efforts ranging from fighting wildfires to military preparedness. As a result of civilian furloughs, the Air Force must stand down 17 combat squadrons, a third of its entire force.
Because the United States spends more on defense than the next 19 biggest-spending nations combined, there are many who feel that the Department of Defense budget should be reduced to help decrease the federal deficit. Although a reduction in defense spending may be a worthwhile goal, the trouble with relying on sequestration as a means to that end is that it cuts the defense budget indiscriminately instead of eliminating wasteful spending where fat can be trimmed strategically. While it may make good fiscal sense to scale back billions of dollars in spending on major weapons programs, it makes less sense from the standpoint of the national economy and military preparedness to reduce the workload and pay of contractors and civilian employees under across-the-board cuts.
The Congressional Budget Office anticipates that the Defense Department spending cuts will have significant negative effects on job creation, resulting in 750,000 jobs lost. Continental Maritime, a naval ship repair contractor in San Diego, for example, was forced to lay off 185 employees as a result of sequestration. Moreover, both the CBO and noted economists such as Stephen Fuller of George Mason University predict that half of the anticipated job losses will be borne by small businesses that are contracted out by the Defense Department.
The economic effects of defense cuts are particularly acute in military communities across the country, including in San Diego; Sumter, South Carolina; and Hampton Roads, Virginia, where the people who make up the military and its civilian workforce form the economic anchor of their communities. Slashing paychecks of civilians and canceling contracts creates a residual ripple effect that will be felt in the shops, restaurants, and other small businesses surrounding these bases. Greater Sumter Chamber of Commerce President Grier Blackwelder said, "We definitely feel there could be a significant hit with retail if [furloughed employees] put off major spending on things like cars and furniture." At the Globe and Laurel in Quantico, the restaurant's owners were forced to encourage staff to begin looking for other part-time work since their hours will inevitably be cut if sequestration continues to squeeze military contractors and civilian employees.
One of the dangers of sequestration that went overlooked in a recent Washington Post column is that some of sequestration's most enduring and insidious effects will be felt over time rather than immediately. Sequestration means that contracts will have to be reworked, maintenance will have to be deferred, and military readiness could be diminished. The costs of accounting for these cuts in the future could prove to be high. The same can be said of the effects on small businesses and local economies. Setting aside the immediate impacts of civilian employees losing portions of their salaries and contractors laying off their employees, the ripple effects felt by small businesses not directly tied to the military could be significant and long lasting.
With even greater cuts in defense spending set to begin on October 1, Congress should act now to find a deficit-reduction replacement for sequestration for the next three years—as detailed in a recent Center for American Progress report—and go back to the drawing board to reduce military spending in a more strategic and thought-out manner.
Elsewhere around the country, sequestration continues to affect the lives of Americans. Below are just a few of the many examples.
How is sequestration affecting you and your community? Make your voice heard by contacting us at kboadi@americanprogress.org with your stories about the effects of federal budget cuts.
Sequestration strains Surry County, North Carolina's social services
"There is no more fat," said Harry Maney, North Carolina's Surry County interim director of the Department of Social Services, referring to the county's attempts to compensate for sequestration-induced budget cuts. "We're cutting into muscle now," Maney said. According to the Mount Airy News, federal cuts to the Social Services Block Grant have resulted in less money for the county to pay for "protective services, foster care social workers, and social workers serving the county's elderly." As the county's federal funding is decreasing, however, its social services caseload is increasing. While the county has done its best to cope with the cuts initially, Maney predicts that if sequestration remains in place, "we may end up having to eliminate services to some citizens."
Ohio public schools take a big hit
Sequestration will cost Ohio's school districts about $66 million in federal funding this coming school year, according to the Ohio Department of Education. As is the case with many sequestration funding cuts, sequestration cuts to Ohio schools will disproportionately impact low-income and vulnerable student populations. Of the $66 million in statewide reductions, cuts to both Title I grants—which support low-income students—and Individuals with Disabilities Education Act grants will account for $53 million in cuts. "We know that schools will feel the pinch and the decrease will be unpleasant," said state superintendent Richard Ross.
Families in Berkeley, California, lose housing vouchers
Thanks to sequestration cuts to the Department of Housing and Urban Development's Housing Choice Voucher program, at least 14 Berkeley families are having their housing subsidies suspended indefinitely. These families received their housing vouchers on April 12, only to be notified two months later that the vouchers were being suspended. Additionally, the $1.7 million in annual funding that the Berkeley Housing Authority is losing due to sequestration has resulted in 200 families in the final stages of the application process having their applications suspended indefinitely.
A nonprofit in Congers, New York, faces possible closure
According to The Journal News, Together Our Unity Can Heal, or TOUCH—a nonprofit in Congers serving people that have HIV as well as other chronic illnesses—is facing the risk of closure as a result of sequestration. Federal funding accounts for 87 percent of TOUCH's $692,000 annual budget, which makes the nonprofit particularly vulnerable to federal cuts. Sequestration has led Executive Director Robert Maher to appeal to the local community for volunteers and donations to help cope with the loss in funding. "What we need now is community support to carry us for a few months till the federal government gets this sequestration resolved, or it may cause TOUCH to close after 24 years," said Maher.
Seniors lose vital nutrition services in Pinellas County, Florida
Marsha Coke, who directs the adult day care and nutrition services for the Neighborly Care Network in Pinellas County, believes that sequestration cuts to the senior services provided by the nonprofit will cost taxpayers more in the long run. "A lot of these people won't be able to remain independent," said Coke. "If they go into a nursing home, the taxpayer will pay for that." As a result of sequestration, the nonprofit's senior dining program is being cut by 16 percent. The organization's Meals on Wheels program is being cut by 4 percent, and its budget for adult day care, which helps keep seniors out of nursing homes, is being cut by 3 percent. The budget cuts have forced the nonprofit to tell 90 seniors they can no long participate in the senior dining program, which provides daily lunch and activities.
Kwame Boadi is a Policy Analyst at the Center for American Progress.
The positions of American Progress, and our policy experts, are independent, and the findings and conclusions presented are those of American Progress alone. A full list of supporters is available here. American Progress would like to acknowledge the many generous supporters who make our work possible.
Authors Kwame Boadi
Policy Analyst
Explore The Series
Previous
Cutting Off Access to Pre-K Education and Child Care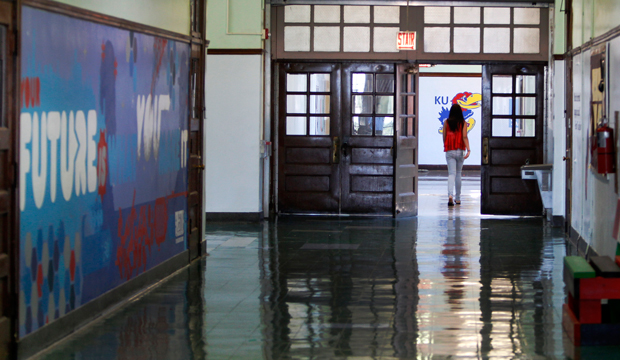 Cutting Off Access to Pre-K Education and Child Care