Countering the Effects of Trump's Immigration Policies in Schools
Countering the Effects of Trump's Immigration Policies in Schools
Increased immigration enforcement under the Trump administration is disrupting learning and stability in schools.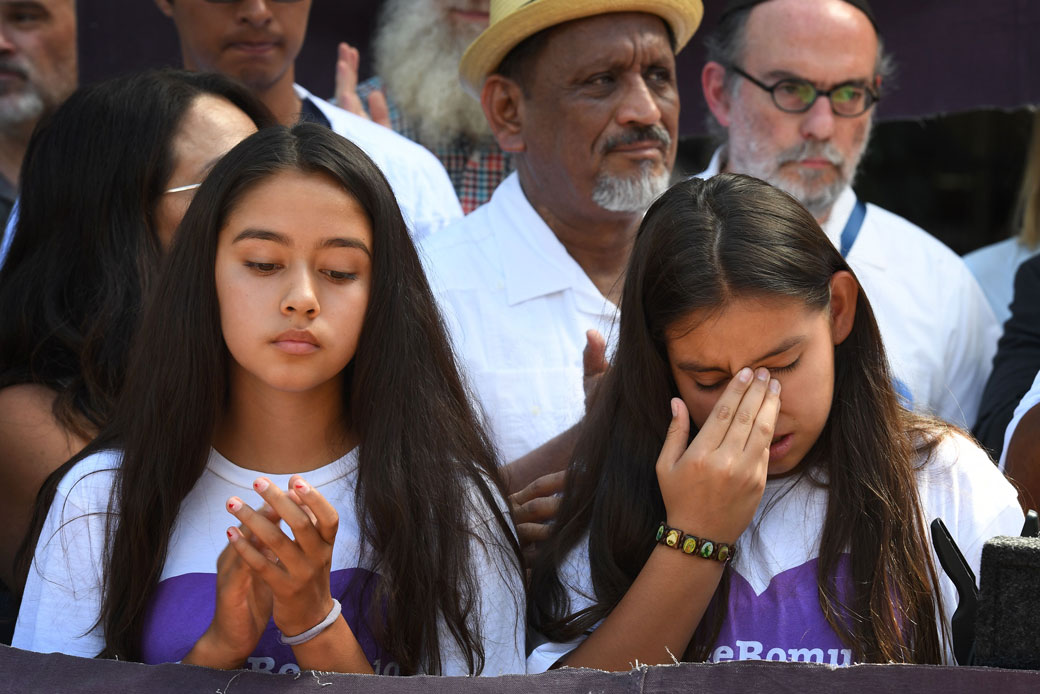 When Immigration and Customs Enforcement (ICE) officers raided a meatpacking plant in rural Tennessee on April 5, they arrested 97 workers in the largest workplace raid in a decade. One hundred and sixty children had a parent arrested in the raid. The following day, 550 children were absent from school in nearby Hamblen County—including 20 percent of the county's Hispanic students—and 177 were still absent the following Monday. Immigrant parents reported that they were afraid to go to work or let their children go to school for fear that they and their children would be arrested as well.
Teachers and administrators from the affected schools have come together to support students torn from their parents and family members. The Tennessee Immigrant and Refugee Rights Coalition, a Tennessee immigration advocacy group coordinating assistance for those affected, reported that 120 teachers volunteered immediately after receiving a request for help. This incident exemplifies how the Trump administration's immigration enforcement policy has spread fear in immigrant communities and disrupted learning environments for students across the United States.
The Trump administration's approach to immigration enforcement—including prioritizing all unauthorized immigrants for detention and deportation and rescinding the Deferred Action for Childhood Arrivals (DACA) program—has wreaked havoc on schools, teachers, and students across the country.
For the roughly 600,000 undocumented youth under 18; the nearly 6 million U.S. citizen children living in mixed-status families; and the 9,000 educators who are DACA recipients working in schools around the country, the Trump administration's immigration policies have been especially devastating. Schools serve as community centers, provide stability to families, and employ millions of teachers. In the 1982 case Plyler v. Doe, the Supreme Court ruled that students' access to a public education cannot be denied based on their immigration status. Yet ramped-up immigration enforcement disrupts the integral stability and resources that schools provide.
Policymakers at the district, state, and federal levels should do more to help restore stability to schools affected by enforcement overdrive. By protecting schools from immigration enforcement; supplying resources and stability for immigrant students and their peers; and providing qualified young people with a pathway to legal residence, these policies benefit all stakeholders in the school community.
Fear of immigration enforcement disrupts learning
The Trump administration's immigration policies have created widespread fear and stress that interfere with students' learning. Unauthorized students and those from mixed-status families may stay home from school, fearing that they or their family members will be deported. A UCLA Civil Rights Project study found that 57.4 percent of teachers and school administrators surveyed reported increased absenteeism when students had concerns about immigration enforcement affecting them and their families. Schools often provide these students with necessary meals, stability, and supports; when they stay home from school due to deportation-related concerns, these students are deprived of key resources.
In addition, fear of deportation often causes performance issues in school. A 2013 Human Impact Partners study found that 33 percent of unauthorized parents reported that their child was withdrawn, compared with 24 percent of parents with legal status. In the UCLA survey, 84 percent of educators reported that students expressed worries about the effects of immigration enforcement, and more than 60 percent of educators observed a downturn in academic performance for students affected by immigration enforcement. These issues contribute to a school climate of stress and anxiety.
These disruptions have impacts beyond those felt by the students who are directly affected. When a classmate misses school or behaves unusually due to fears about immigration enforcement, it can destabilize a classroom and interrupt learning for all students. Many educators report that younger students do not understand the processes underlying immigration policy and enforcement, so even students with legal residency or citizenship may mistakenly worry about deportation.
Immigration policies also disrupt the recruitment and retention of teachers. Research demonstrates that there is already a growing Latinx teacher-student gap in states with large numbers of Latinx students, which has been made worse by rescinding DACA. In addition, new research finds that teachers who work with immigrant students, regardless of the teachers' personal immigration status, feel anxious and overworked. Teachers who witness students experiencing trauma from immigration enforcement, but feel helpless to support students, may experience symptoms of traumatic stress themselves. In order to meet these students' needs, many teachers have taken on new roles as social workers and advocates, because outside concerns distract students from learning. This has the potential to affect not just the current generation of schools and students but also generations to come.
Policy recommendations
Policymakers can use a variety of strategies to support immigrant students and their families. More than 18 states have passed their own Dream Act legislation that allows undocumented immigrants to access in-state tuition at state universities; some also allow undocumented students to apply for financial aid. These policies are integral in providing students with pathways to higher education and career success. The following recommendations focus specifically on countering the effects of immigration enforcement in schools to support students and provide safety and stability in school communities.
Federal policy
Pass the Dream Act. Without the Dream Act, which would provide permanent protections for unauthorized immigrants brought to the United States as children, an estimated 2.1 million eligible students and employees remain in limbo, many of them at risk of detention and deportation. Although more than 80 percent of Americans support a pathway to citizenship for DACA recipients, President Donald Trump has repeatedly rejected bipartisan proposals, insisting that any immigration reform legislation must also include hard-line efforts to secure the southern border and increase enforcement. Congress should pass a Dream Act that offers these immigrants a path to citizenship without these additional extreme provisions.
Enforce existing regulations that protect unauthorized immigrants. Without proper oversight of existing legal framework such as Plyler that protects unauthorized immigrants and their families, states and districts can indirectly or openly violate these regulations. In 2014, then-U.S. Education Secretary Arne Duncan and then-U.S. Attorney General Eric Holder issued guidance clarifying how schools can ensure that their enrollment processes follow the Plyler decision. The current U.S. Department of Education should reaffirm this guidance to ensure that immigrant students have equal access to public schooling.
The Family Education Rights and Privacy Act (FERPA), for example, mandates that schools protect the confidentiality of student records. Additionally, schools are only required to disclose student data when presented with a subpoena, court order, or warrant. The Department of Education should reiterate previous guidance on privacy regulations and clarify that schools may not share student information with school resource officers, local police officers, or federal immigration officers, without a warrant. Schools should make every effort to inform immigrant parents and students how their data and privacy will be protected.
ICE and the Department of Education should also confirm their support for the 2011 ICE memorandum prohibiting immigration enforcement actions in and near schools. Recent high-profile incidents, such as the arrest of Romulo Avelica-Gonzalez outside his daughter's school in Los Angeles, show that even the simple act of arriving at school can lead to detainment. If parents do not feel safe from arrest while bringing their children to school, students may be held back from attending.
State policy
Support state Dream Acts. States can help alleviate instability for immigrant students and school communities by passing state Dream Acts allowing immigrants to qualify for in-state tuition or financial aid. Sixteen states have enacted these policies, which help unauthorized students access state universities and upward mobility. States can also pass legislation increasing access to public resources such as state insurance coverage and driver's licenses. California has led the way in pushing state policy to provide unauthorized children with health care coverage through bills introduced in the last two legislative cycles. Although these efforts have not yet passed, they provide an innovative model for states looking to support their unauthorized residents.
Strengthen state student-privacy laws. States should supplement federal regulations with privacy laws that strengthen protections around student data. The Education Privacy Resource Center notes that FERPA only applies to institutions receiving federal funds and does not hold third parties such as educational technology services accountable. In response to the Trump administration's ramped-up enforcement, individual school districts such as the Los Angeles Unified School District have proactively resisted providing student data as much as legally possible. States should codify these policies so that immigrant students can provide necessary information to schools without fear of enforcement retribution.
Pass statewide sanctuary policies. Only five states have passed sanctuary polices that limit entanglement with federal immigration enforcement. In 2017, California passed several laws preventing local jails and prisons; employers; and detainment centers from cooperating with ICE officers without a warrant in order to protect the more than 2.3 million unauthorized immigrants living in the state. Connecticut, Illinois, Oregon, and Vermont have similar laws in place. The U.S. Department of Justice is suing California, claiming that these laws violate the supremacy clause of the Constitution and impede ICE from carrying out its job. But these policies only require that federal officers follow full due process procedures in enforcing immigration and do not prohibit lawful cooperation when federal officials present a warrant.
District and school policy
Limit local entanglement with federal enforcement officers. The Trump administration has poured resources into training and authorizing local law enforcement to act as federal immigration officers; a December 2016 report found that a large number of counties surveyed were already cooperating with ICE efforts voluntarily, despite not having signed agreements. In August 2017, the American Civil Liberties Union filed a lawsuit against the federal government for arresting students on unsubstantiated claims of gang violence and then detaining the students due to their immigration status before the original claims were processed. Limiting this entanglement is especially important at the school level, where advocates caution that police officers stationed in schools as school resource officers can funnel student information to ICE officers and assist with detainments and arrests. Districts and schools should strictly regulate school resource officers' access to student data and prohibit them from enforcing federal immigration law. These policies will clearly delineate that unauthorized students will not be handed over to immigration officers by school authorities and will build trust between parents and school leaders.
Invest in resources for immigrant students and families. Teachers who are worried about their students' or their own immigration status may feel unprepared and under-resourced to act. School districts should provide funding for student supports such as transitional programs, bilingual curricula, and counseling. Districts should also train teachers, counselors, and administrators how to teach immigrant students and their families about their rights, including the right to enroll, to keep data confidential, and to attend school safely.
Conclusion
President Trump claims that immigration officers are cracking down on criminals and making American communities safer. The research clearly shows that the targets of immigration enforcement are increasingly noncriminal immigrants with deep family and business ties in the United States. Moreover, the fear created by this enforcement disrupts schools and makes life more dangerous and unstable for all students. Reducing the stress of deportation for students can help decrease behavioral problems in the classroom, increase test scores, and improve school climate. These effects have compounding positive influences on other students and the larger community. It is imperative that lawmakers use these policy levers to counter immigration enforcement and help all students thrive.
Caroline Scown is a former intern for Education Policy at the Center for American Progress.
The positions of American Progress, and our policy experts, are independent, and the findings and conclusions presented are those of American Progress alone. A full list of supporters is available here. American Progress would like to acknowledge the many generous supporters who make our work possible.
Authors Caroline Scown