Conservative Lawmakers Are Suppressing Voters—Here's What You Can Do to Fight Back
Conservative Lawmakers Are Suppressing Voters—Here's What You Can Do to Fight Back
Despite conservative lawmakers' unwavering attempts to keep people from voting, Americans remain resilient.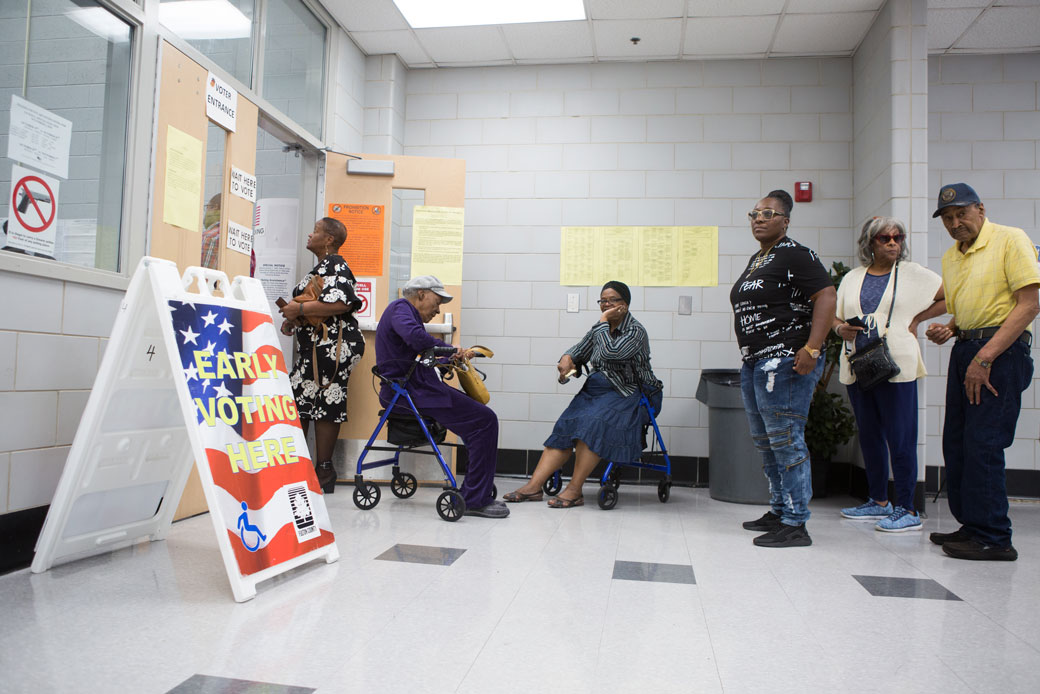 Another election year, more voter suppression. Every election, eligible Americans—particularly people of color, young people, and Americans with disabilities—are forced to fight for their fundamental right to vote.
For years, conservative lawmakers have systematically excluded and actively prevented these groups from making their voices heard in the democratic process. Suppressing the vote of people of color, for example, dates to the origins of America, when voting was reserved for white male property owners. Even with the 15th Amendment, racially motivated disenfranchisement—such as poll taxes, felon disenfranchisement laws, issuance of English-only voting materials, and discriminatory voter purges—has become a horrific and shameful electoral tradition in the United States. Young Americans and Americans with disabilities have also historically been targeted by voter suppression measures, such as strict voter ID laws that exclude student IDs as acceptable forms of identification and polling places that are noncompliant with requirements in the Americans with Disabilities Act (ADA).
The disenfranchisement of eligible Americans is not by accident. Instead, conservative lawmakers are making a concerted effort to restrict ballot access to white, nondisabled voters. And this year is no different.
From North Dakota to Texas, lawmakers are making it more difficult to vote
In North Dakota, lawmakers recently received approval from conservative justices on the U.S. Supreme Court to enforce a strict voter ID law that could disenfranchise thousands of American Indian voters. The law contains a devious provision requiring voters to present ID with a residential street address. But many people living on Indian reservations do not have a residential street address. Despite possessing tribal documents and other forms of ID, almost 1 in 5 otherwise eligible Native American voters may be unable to prove state residency under this discriminatory law. The Native American Rights Fund is now working in conjunction with five North Dakota tribes to provide updated ID cards and address verification documents to tribal citizens to prevent lawmakers from successfully suppressing Native American voters.
In Georgia, Secretary of State Brian Kemp's (R) office has frozen 53,000 voter registrations under the guise of preventing voter fraud. Approximately 80 percent of the "pending" registrations are from African American, Latino, and Asian American voters. The state contends that these registrations are being held because information on the applications do not exactly match Social Security and state driver records. Now, multiple civil rights organizations have filed a lawsuit to block this voter suppression scheme, alleging that the state is violating the Voting Rights Act, National Voter Registration Act, and the First and 14th amendments. In the meantime, organizations are encouraging Georgians to check their registration status. Even if their applications are on the "pending" list for "exact match" issues, Georgians can still vote in person if they have a valid Georgia voter ID. On October 24, a federal judge in a separate lawsuit temporarily blocked Georgia from throwing away absentee ballots and applications without notice simply because a voter's signature does not match the signature on their ID card.
In Texas, a group of Prairie View A&M University students in Waller County are suing county officials for failing to provide an early voting site on campus or in the city of Prairie View, denying them the right to vote early. Prairie View has a majority-black population and Prairie View A&M University is comprised primarily of black students. The nearby city of Waller, which has two early voting locations, is largely white. The students, who are being represented by the NAACP Legal Defense and Educational Fund, have asked a federal judge to establish an early voting site on campus and require weekend voting hours. Earlier this month, a local election official told thousands Prairie View A&M students who had already registered to vote that they would have to fill out additional paperwork in order to maintain their voter registration status because they had been incorrectly told to register using an address in a different precinct. After significant public outcry, Texas Secretary of State Rolando Pablos announced that the additional paperwork was not necessary. However, events like these create confusion among voters and ultimately discourage citizens from participating in elections.
American citizens in North Dakota, Georgia, and Texas are not the only voters who will face barriers to ballot box this November. In August, students in Michigan filed a lawsuit against a Michigan law requiring a voter's place of residence to match the address on his or her drivers' license, a requirement that negatively affects young people. Michigan has been under heavy scrutiny due to the office of the secretary state's alleged failure to update tens of thousands of voter registration addresses in the state's voter database. Progress Michigan has filed a Freedom of Information Act (FOIA) request to learn more about how the error occurred, while the secretary of state's office says it is in the process of fixing the mistake.
Americans with disabilities will face their own obstacles in November. A Government Accountability Office (GAO) study of the 2016 election found that 60 percent of 178 observed polling places across the country had at least one or more accessibility impediment, such as inadequate signage indicating accessible pathways. This number has been relatively unchanged for the last three election cycles. And although some jurisdictions have made efforts to improve accessibility for voters with disabilities, concerns over the accessibility of voting locations remain present elsewhere. Earlier this year, an outside consultant hired by officials in Georgia recommended closing two-thirds of polling places in Randolph County—a predominately black community—citing noncompliance with the ADA. Disability advocates opposed the closures, arguing that instead of eliminating voting sites and making it harder to vote, officials should simply improve the accessibility of existing polling places. The outside consultant was ultimately fired.
Moreover, in 2012, then-U.S. Circuit Judge Brett Kavanaugh upheld a strict South Carolina voter ID law, despite evidence that it could prevent tens of thousands of people of color from voting. States such as Wisconsin and Texas have pursued similar measures to keep people of color from the polls. In 2018, conservative justices on the U.S. Supreme Court gave all states the green light to strike inactive voters from the rolls—a practice that resulted in approximately 846,000 cancellations in Ohio alone. And across the country, states with a history of voter suppression have shuttered hundreds of polling places, which may contribute to longer wait times for Latino and black voters.
Americans can take steps to ensure they are able to cast a ballot that counts on Election Day
Voter suppression is a persistent problem in the United States. Since its inception, lawmakers have attempted to restrict participation in America's democratic institutions to white, able-bodied voters. But all U.S. citizens have a fundamental right to vote. Even in states with widespread voter suppression, Americans can take the following steps to ensure their voices are heard on election day:
Don't get discouraged. In addition to actively removing voter registrants from voter rolls or passing discriminatory laws that physically prevent people from voting, some conservative lawmakers want to discourage would-be voters from showing up in the first place. The act of voting is powerful. Don't give that up by sitting at home and letting the voter suppressors win.
Double-check your voter registration. Check to ensure your voter registration information is accurate and up to date using Common Cause's "Check Your Registration" tool to prevent being turned away when you show up to the polls.
Once you get in line, stay in line. Remain in line even if a poll worker tells you (incorrectly) that the polling place will close before you reach the front. If you get in line prior to the time of closing, you can vote. Check what time your polling place closes so you don't end up in line too late.
Check what materials (if any) are required to vote. Check your state's election website or the U.S. Vote Foundation's "State Voting Requirements and Information" tool to determine whether you need to bring certain materials with you—such as a photo ID—to vote. If your state offers same day or Election Day registration, be familiar with the documentation required to establish eligibility, such as residency.
Make a plan to vote. People who make plans to vote—such as going with a friend, identifying the fastest route to a polling place, and determining what time they will vote—are more likely to do so. Setting a plan to vote will also help you to identify your proper polling place ahead of time, which reduces confusion on Election Day.
Know your rights: Nonprofit Vote's "Voting in Your State" tool provides state-specific voting information for people with disabilities; survivors of intimate-partner violence; individuals who are homeless; criminal justice involved people; and overseas and military voters.
Use a paper ballot to vote, if possible. Some jurisdictions offer voters the option of using electronic voting machines or paper ballots to cast their votes. Under the current threat environment—specifically foreign attempts at election interference—a paper ballot is the most hackproof way of protecting your vote, as it provides a written record of the voter's intent.
Call one of the voter hotlines. Led by the nonpartisan Election Protection network, voting advocates and lawyers across the country stand ready to take calls and questions about voting on Election Day and during the days and weeks leading up to it. They are here to help and offer assistance in many languages. The numbers are:

English: 866-OUR-VOTE or (866-687-8683)
Spanish: 888-Ve-Y-Vota
Mandarin, Cantonese, Korean, Vietnamese, Tagalog, Urdu, Hindi, and Bengali: 888-API-VOTE
Arabic: 844-Yalla-US
American Sign Language (ASL): 301-818-VOTE
Text option: Text OUR VOTE to 97779
Cast a provisional ballot. You may find yourself in a situation where poll workers do not allow you to cast a regular ballot but let you to vote provisionally. If—even after asserting your right to vote and calling the voter hotline for assistance—you are still barred from casting a regular ballot, vote provisionally. After doing so, you will have to show proof of eligibility—including proof of residency—by a certain date at designated location for your provisional ballot to be counted. Make sure you get accurate information about where and by when evidence of eligibility must be presented.
Conclusion
Despite conservative lawmakers' unwavering attempts to keep people of color, young people, and Americans with disabilities from voting, these communities remain resilient and motivated to make their voices heard. With any luck, lawmakers will be elected in November who are committed to protecting the right to vote for all eligible Americans. Until then, people and groups targeted by voter suppression measures will keep fighting to have their say in our democracy.
Danielle Root is the voting rights manager for the Democracy and Government team at the Center for American Progress. Connor Maxwell is a research associate for the Race and Ethnicity Policy team at the Center.
The positions of American Progress, and our policy experts, are independent, and the findings and conclusions presented are those of American Progress alone. A full list of supporters is available here. American Progress would like to acknowledge the many generous supporters who make our work possible.
Authors Danielle Root
Former Director, Voting Rights and Access to Justice Connor Maxwell
Senior Policy Analyst