Congress Could Help 'Quantitative Easing' Reach Main Street
Congress Could Help 'Quantitative Easing' Reach Main Street
Three plans to help millions of families take advantage of low interest rates through mortgage refinancing are now before Congress, but Congress is slow to act.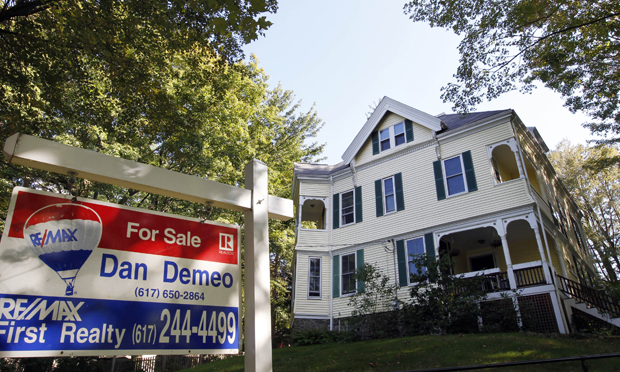 The Federal Reserve last week announced plans to expand its monthly purchases of mortgage-backed securities—a process known as "quantitative easing"—until the unemployment situation "improve(s) substantially." These purchases are expected to push mortgage rates below today's already-record-low of around 3.6 percent, which in turn should spur families to lower their monthly mortgage payments, boost their disposable income, and pump more money into the economy.
But in order for the Fed's actions to have a meaningful effect on our economic recovery, families need to actually take advantage of those low rates. Most U.S. households are not in the market for a new home, so the hope is they will access low interest rates by refinancing their mortgages. Yet mortgage rates have been well below historic norms for more than a year, and most eligible homeowners who want to refinance have already done so—more than 16 million households have refinanced since the spring of 2009, according to new data from the Obama administration.
Still, millions of other creditworthy homeowners are unable to refinance today, many due to insufficient equity in their homes. Lenders and mortgage investors are often reluctant to refinance borrowers who are "underwater"—owing more on their mortgage than their home is worth—because borrowers without equity have a higher risk of default. As a result, homeowners who have continued making payments despite plummeting home prices, waves of foreclosures, and a persistently weak economy are stuck in unnecessarily expensive mortgages, blunting the macroeconomic impact of the Fed's recent policies.
While the Federal Reserve takes unprecedented steps to keep interest rates low, some Republicans in Congress are threatening to block legislation that would help millions of families take advantage of those rates through refinancing. Democrats have similarly been slow to support the legislation. With a little help from Congress, these families could instantly lower their mortgage payments by an average of almost $3,000 a year, decrease their chance of foreclosure, improve their spending power, and give a boost to our economic recovery.
Here are three options on the table in Congress, which if embraced as a bipartisan solution to the lingering housing crisis and tepid economic recovery would go a long way to making the Fed's quantitative easing more effective:
Expand a government refinancing program for mortgages backed by the two government-controlled mortgage finance giants Fannie Mae and Freddie Mac.
Establish a new government program to refinance underwater mortgages not backed by the federal government.
Consolidate and improve existing refinancing and foreclosure mitigation programs to establish a large-scale refinancing initiative.
Let's look at each of these options in turn. Then ask yourself why Congress is yet to act.
Expand a government refinancing program for mortgages backed by Fannie Mae and Freddie Mac
In 2009 the Obama administration established the Home Affordable Refinance Program to streamline refinancing of underwater loans owned or guaranteed by the government-controlled mortgage financiers Fannie Mae and Freddie Mac. Then, in October 2011, the administration instituted major changes to the program to boost participation. More than 1.5 million families have refinanced through the program so far.
But more can be done to expand the program and reach more of the 13 million Fannie- or Freddie-backed borrowers who are current on their monthly payments and pay unnecessarily high interest rates. Sens. Robert Menendez (D-NJ) and Barbara Boxer (D-CA) introduced a bill in May that would mandate key changes to the Home Affordable Refinance Program, including installing new incentives that increase competition among lenders and eliminating unnecessary fees. According to estimates from Mark Zandi, chief economist at Moody's Analytics, the proposed legislation would result in nearly 3 million more refinancings, helping borrowers save a combined $7 billion annually in mortgage payments.
The Menendez-Boxer bill is expected to come to a vote in the Senate soon, perhaps during the lame duck session following the 2012 election. But even if it passes, few expect it to go far in the Republican-controlled House of Representatives.
Establish a new government program to refinance underwater mortgages not backed by the federal government
Since taking office the Obama administration has helped millions of underwater and nearly underwater borrowers with government-backed mortgages refinance through a series of new or recently expanded government programs. Still, most borrowers with purely private loans (those not backed by the federal government) are left without options for refinancing, locking an estimated 3 million families in above-market rates.
President Obama has offered one possible solution: a new program within the Federal Housing Administration to help certain underwater borrowers with private mortgages refinance into new government-insured loans. Sen. Diane Feinstein (D-CA) has since proposed legislation as a helpful jumping-off point for debate, but both Republicans and Democrats have shown little interest in the bill.
Consolidate and improve existing refinancing and foreclosure mitigation programs to establish a large-scale refinancing initiative
Call it the "going big" approach. In July Sen. Jeff Merkley (D-OR) released an ambitious plan to help up to 8 million underwater borrowers refinance their homes into government-backed loans. The plan would leverage unspent money from existing foreclosure prevention programs—namely the Home Affordable Modification Program, the Treasury Department's Hardest Hit Fund, and the Federal Housing Administration's Short Refinance Program—to establish a temporary trust to purchase mortgages from private lenders and investors. Homeowners would then have the opportunity to refinance into new low-cost, long-term, and sustainable loans.
According to Sen. Merkley's analysis, the trust would pay for itself and likely generate a profit for taxpayers over time. Since it uses funds already allocated to existing housing programs, it's unclear whether the Merkley plan would require legislation. But such a large-scale undertaking would surely benefit from bipartisan support in Congress—unfortunately, the chances of that are slim.
Doing nothing is not an option
During a February speech in Orlando, Florida, Federal Reserve Chairman Ben Bernanke said that "because some creditworthy households are finding it difficult to obtain mortgage credit or to refinance, the strong actions taken by the Federal Reserve … have had less effect on the housing sector and overall economic activity than they otherwise would have had."
This is not the result of unfortunate circumstance but of deliberate obstructionism by certain congressional Republicans and congressional Democrats dragging their feet. Even with growing consensus that the weakness of the housing market is holding back larger economic growth and job creation, meaningful refinancing housing reforms sit in legislative limbo, leaving millions of families in unnecessarily expensive mortgages, dulling the impact of the Fed's unprecedented actions, and weakening our economic recovery.
John Griffith is a Policy Analyst with the Housing team at the Center for American Progress.
The positions of American Progress, and our policy experts, are independent, and the findings and conclusions presented are those of American Progress alone. A full list of supporters is available here. American Progress would like to acknowledge the many generous supporters who make our work possible.
Authors John Griffith
Policy Analyst