Combating Child Smugglers in Central America
Combating Child Smugglers in Central America
The U.S. and Central American governments need to do more to combat the root causes behind child smuggling and violence in the Northern Triangle region.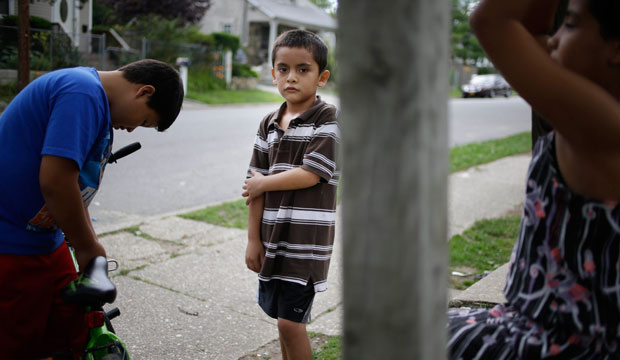 Guatemala, Honduras, and El Salvador—which make up Central America's Northern Triangle region—are three of the most dangerous countries in the world. San Pedro Sula, Honduras, for example, has been the world's deadliest city since 2011: It has an annual rate of 169 murders per every 100,000 people. Honduras has as many people as Virginia with a population of just 8 million people, but its annual homicide rate means that about 19 people are murdered there every day. Violence, murder, rape, and extortion are facets of everyday life in the Northern Triangle and have forced children to look for safety wherever they can. Drug cartels increasingly target children, often giving them the option to join gangs or be killed. With such dire choices, many children have no option but to flee their home countries. The number of children seeking refuge in the United States has doubled every year since 2011; other nations in the region have seen similar numbers. The U.N. High Commissioner for Refugees noted a 1,185 percent increase in asylum applications from the Northern Triangle to Mexico, Panama, Costa Rica, Belize, and Nicaragua alone from 2008 to 2014.
Central American smuggling networks have capitalized on this violence by telling families and children that they can offer a way out. Cecilia, a 16-year-old from Guatemala, is one of these children. Her passage to the United States turned into a full month of fear and abuse. After making the difficult trip, Cecilia was held in a stash house in Brooks County, Texas, while her smugglers extorted her family for money. The journey culminated when she was held at gunpoint at a Fort Myers, Florida, gas station until a family friend paid for her release.
Cecilia is just one of many unaccompanied minors who trust the increasingly powerful Central American smuggling networks to provide safe passage to the United States—but who instead fall victim to extortion. While U.S. policymakers have responded to this trend by cracking down on border crossings and prosecuting smugglers, they have not done enough to address the root causes of violence that force children and their families to turn to smugglers in the first place.
The human smuggling industry
Latin American human smugglers operate a $6.6 billion industry that is often overlooked as a major facilitator in the movement of children out of the Northern Triangle. Its networks are so vast that White House officials estimate that 75 percent to 80 percent of the unaccompanied minors who crossed the U.S. border in June 2014 traveled with smugglers.
As subsets of organized crime rings that often have close ties to drug cartels, smugglers are neither respected nor trusted by those who engage their services. According to Salvadorian journalist Óscar Martínez, Central American parents simply see smugglers as the lesser of two evils given the intense violence in their home countries. A recent survey of Central American migrants in seven migrant shelters in Mexico found that 52 percent of the migrants were robbed during their journey to the United States, and 33 percent were extorted by criminal groups and cartels. Traveling alone through Mexico is dangerous because cartels control migratory routes and work with smugglers to gain extra profit. The cartels hold children for ransom and will even massacre migrants if their demands for money are not met. With so many threats along the way, parents often think that having a smuggler accompany their child is safer than the alternative.
In 2014, smugglers seized upon the violence in the Northern Triangle region to increase their client base and profits. First, they developed door-to-door services in remote Central American villages, offering money-back guarantees if children were not safely delivered to family in the United States. Most of these guarantees are not honored, and smugglers often extort clients for more money even if their children do not arrive safely in the United States. Second, they increased the cost of their services in response to increased border security in the United States and at Mexico's southern border. Today, it can cost anywhere from $3,000 to $12,000 to smuggle a child from Central America to the United States.
How the United States has responded to smugglers
On July 22, 2014, the U.S. Department of Homeland Security, or DHS, and Department of Justice launched Operation Coyote, a 90-day surge that targeted human smuggling networks in the Rio Grande Valley of Texas. By 2015, Operation Coyote identified 15 human smuggling networks in Mexico and Central America, 6 of which have since been prosecuted and dismantled. U.S. Department of State and DHS officials based in El Salvador, Guatemala, and Honduras also created new programs and modified existing ones in order to combat in-country smuggling networks. These efforts included investing in task forces to intercept smugglers, and, in all three countries, DHS helped train transnational criminal investigative units to target smuggling networks across the region. Additionally, in July 2014, DHS helped launch the Dangers of the Journey campaign to stop children from attempting the trip and to expose the threats of smuggling networks.
DHS also launched the Central American Minors, or CAM, Refugee/Parole Program on December 1, 2014, to offer a safe alternative to children facing violence. Under this program, children in El Salvador, Guatemala, and Honduras who have parents legally present in the United States can apply and be screened for protection in their home countries. While CAM is a good start, it cannot offer children immediate protection. Bill Frelick of Human Rights Watch noted that children applying for the program are often fleeing Central American gangs who target young children as new recruits. Because the CAM application process can take many months to complete—as it includes interviews and a DNA test—these children are left waiting in dangerous situations.
Although the federal government has focused a surge of resources on dismantling smuggling networks, it still needs to offer a long-term solution to the violence in the Northern Triangle and help the children who are forced to flee.
Future aid
In March 2015, the Obama administration requested $1 billion in federal assistance to be spread throughout Mexico, El Salvador, Guatemala, and Honduras during fiscal year 2016. Money provided through the U.S. Strategy for Engagement in Central America would address the root causes of the violence by decreasing organized crime, increasing economic opportunity, and strengthening government institutions through many of the anti-smuggling and public relations programs previously mentioned. Congress, however, has yet to approve this funding.
The strategy builds upon the Alliance for Prosperity, an agreement announced by Vice President Joe Biden and the presidents of El Salvador, Guatemala, and Honduras in November 2014. That plan includes expanding at-risk youth centers in high-crime areas of the Northern Triangle and creating independent governmental auditing mechanisms in the region, as well as recruiting and deploying additional domestic police forces, developing education investment plans, and holding regional security dialogues. Both strategies are meant to establish long-term infrastructure that will allow Central American nations to protect and support the lives of their own citizens.
Conclusion
The number of unaccompanied minors who have arrived at the southern border so far in 2015 is a substantial decrease from 2014 numbers. But this decrease has occurred despite the fact that conditions in the Northern Triangle have not improved. While some ongoing efforts have focused on assisting children in their home countries, they do little to address the root causes of the violence and poor conditions that cause children to seek refuge in the first place. Ultimately, children and families with legitimate asylum claims deserve safe access to freedom. Until their home countries become more viable, children like Cecilia will continue to be manipulated by smugglers who offer the dim hope of a better life in the United States.
Liamarie Quinde is a former intern with the Immigration Policy team at the Center for American Progress.
The positions of American Progress, and our policy experts, are independent, and the findings and conclusions presented are those of American Progress alone. A full list of supporters is available here. American Progress would like to acknowledge the many generous supporters who make our work possible.
Authors Liamarie Quinde