Chemical Security 101
What You Don't Have Can't Leak, or Be Blown Up by Terrorists
Report from Paul Orum outlines how to make the most dangerous chemical facilities less attractive targets for terrorists.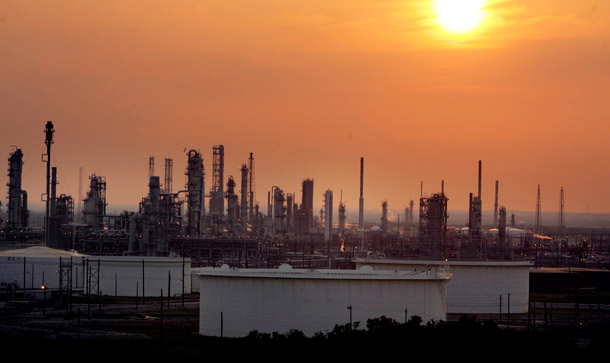 Read the full report (pdf)
Interactive Map: The 101 Most Dangerous Chemical Facilities
Press Call:
Most of the nation's 101 most dangerous chemical facilities could become less attractive terrorist targets by converting to alternative chemicals or processes. Doing so would improve the safety and security of more than 80 million Americans living within range of a worst-case toxic gas release from one of these facilities, according to data compiled for this report. Millions more living near railroads and highways used for transporting hazardous chemicals would also be safer and more secure.
The Department of Homeland Security and numerous security experts have repeatedly warned that terrorists could use industrial chemicals as improvised weapons of mass destruction. Current chemical security efforts, however, are inadequate to protect workplaces and communities.
Indeed, temporary standards enacted two years ago (and set to expire in 2009) focus almost entirely on physical security measures, such as adding gates and guards. These measures, however worthy, cannot assure protection against a concerted attack, insider sabotage, or catastrophic release. Nor do they protect communities along chemical delivery routes. More than 90 percent of the 101 most dangerous facilities ship or receive their highest-hazard chemical by railcar or truck.
The only certain way to protect our communities is to remove the possibility of a toxic gas release by converting facilities to safer, more secure alternative technologies. This report identifies opportunities for conversions at the 101 most dangerous facilities, each of which threaten roughly 1 million people or more in surrounding areas. The chemicals most often posing the greatest danger at the top 101 facilities are chlorine—almost always in railcars—followed by hydrofluoric acid and sulfur chemicals.
Most of the top 101 facilities could convert to safer and more secure chemicals or processes already being used by similar facilities that do not endanger large numbers of people. In particular:
Thirty bleach plants could remove danger to some 50 million Americans by generating chlorine on-site without rail shipment and bulk storage. This includes the Clorox Company in Los Angeles, which puts over 5.5 million people in danger.
Fifteen water utilities could remove danger to 17 million people by converting from chlorine gas (and sometimes sulfur dioxide gas) to alternatives that include liquid bleach or ultraviolet light. This includes the Howard F. Curren wastewater plant in Tampa, Fla., which puts more than a million people in danger.
Eight petroleum refineries could remove danger to 11 million Americans by substituting toxic hydrofluoric acid, used in refining crude oil, with sulfuric acid or emerging solid acid catalysts. This includes the ExxonMobil Corp. refinery in Chalmette, La., which puts over 1 million people in danger.
A variety of safer, more secure alternatives are available to 21 facilities that receive chemicals by rail or truck for use in making such diverse products as oil additives, water treatment chemicals, and materials for bulletproof vests. This includes Stepan Company in Elwood, Ill., which puts 1.2 million people in danger in producing industrial and household cleaners with sulfur trioxide. Using on-site sulfur burning equipment would eliminate this danger.
In addition to the top 101, the report also identifies 202 additional high-hazard facilities that could make similar changes. Each of these facilities has some 100,000 people or more living within range of a worst-case toxic gas release (commonly called a "vulnerability zone"). Together these 303 facilities are found in 41 states and endanger a total of 110 million people.
Previous reports by the Center for American Progress show such conversions are possible. In fact, many chemical facilities have already switched to safer, more secure alternatives, and frequently they saved money doing so. While gates and guards always cost money, facilities that remove hazardous chemicals reduce their need for costly physical security. They also may reduce regulatory burdens, improve efficiency, upgrade production, and better protect workers.
Despite this opportunity, the federal government currently has no plan, program, or authority to spur removal of unnecessary catastrophic chemical hazards—or even to require chemical facilities to examine safer and more secure alternatives. To address these deficiencies, Congress should establish a comprehensive chemical security program rooted in identifying, developing, and leveraging the use of safer and more secure tech- nologies. In particular, this program should:
Require chemical facilities to assess and use feasible alternatives that reduce the potential harm of a terrorist attack
Create financial incentives for facilities to convert by requiring liability insurance and targeting conversion funding to publicly owned facilities and first-adopters of innovative technologies
Invest in collaborative research to identify safer, more secure alternatives
Utilize the experience and knowledge of facility employees in security assessments, plans, and inspections
Build the oversight capacity of government agencies and require administrative transparency to hold those agencies accountable
Ensure equal enforcement of standards without special treatment for facilities in voluntary industry security programs
Include all relevant industries, in particular currently exempted water utilities
Respect the right of states to set more protective standards if federal actions won't protect communities
Safer and more secure technologies fix the root of the problem. What you don't have can't leak, or be blown up by terrorists.
Major findings
Safer and more secure chemicals or processes could remove the worst chemical release scenario at most of the nation's 101 highest-hazard chemical facilities (See Appendix A on page 29 for the details)
At least 90 percent of the 101 most dangerous facilities ship or receive their highest-hazard chemical in indefensible railroad tank cars or trucks
More than 80 million Americans live within range of a catastrophic chemical release from at least one of the 101 most hazardous chemical facilities
Solutions applicable to the top 101 facilities could improve safety and security at many other high-hazard facilities, including an additional 202 listed in this report (See Appendix B on page 35 for the details)
Read the full report (pdf)
The positions of American Progress, and our policy experts, are independent, and the findings and conclusions presented are those of American Progress alone. A full list of supporters is available here. American Progress would like to acknowledge the many generous supporters who make our work possible.