Big Oil's Lust for Tax Loopholes
Big Oil's Lust for Tax Loopholes
Oil Prices and Profits Rise While Big Oil Defends Its Tax Loopholes
With rising oil prices, Big Oil is awash in profits, but they are still mobilizing against President Obama's proposal to close unneeded tax loopholes, writes Daniel J. Weiss.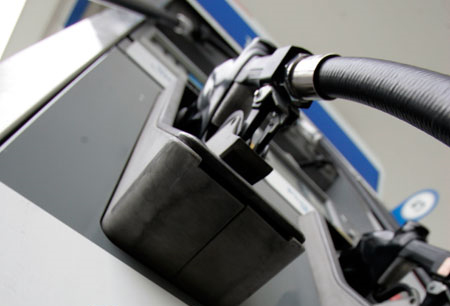 Oil prices are high and rising at an alarming pace. After hitting a low of $38 per barrel in January 2009, the price of oil doubled to $76 per barrel just a year later. By January 2011, prices rose another 14 percent, and the average barrel now costs around $87. And there is little reason to believe this will change anytime soon, as political instability in the Middle East may cause prices to rise even further. As oil prices rise, so do Big Oil company profits. But even with their cash registers overflowing with dollars from struggling families, Big Oil is mobilizing to defeat President Obama's proposal to invest $4 billion annually in clean energy programs by ending unnecessary tax loopholes for this highly profitable industry.
The big five oil companies—BP, Chevron, ConocoPhillips, ExxonMobil, and Shell—made a total profit of nearly $1 trillion over the past decade. The three oil companies that have reported their 2010 profits nearly doubled their profits compared to 2009. (see chart)
Their profits closely follow the rise in oil prices from 2005 to 2008, when the average price rose from $55 to $95 per barrel. Profits for the major oil producers rose from $13 to $21 per barrel. ExxonMobil did much better than its competitors, with profits rising from $16 to $25 per barrel.
These profits are likely to grow as oil prices continue to rise. CNN reported on January 31 that "Exxon Mobil posted quarterly earnings Monday that topped Wall Street expectations, thanks to rising oil prices and increased production." Its 2010 profit of $31 billion is nearly two-thirds higher than its 2009 profit.
And we can expect oil prices and profits to rise even more as a result of instability in the Middle East. AP reported that "growing political unrest in Egypt drove oil prices higher over the weekend, pushing benchmark crude up $3.70 to $89.34 a barrel on the New York Mercantile Exchange." This provides nearly a $4 per barrel windfall to oil companies because the oil is worth more though the cost of producing oil remains stable and relatively low. The Energy Information Administration estimates that production costs:
… can range from as little as $2 per barrel in the Middle East to more than $15 per barrel in some fields in the United States, including capital recovery. … technological advances in finding and producing oil have made it possible to bring once-expensive deepwater Gulf of Mexico oil into production for less than $10 per barrel.
ExxonMobil, for instance, will make nearly $9 million more every day that the oil price includes Friday's spike. Prices will rise further if this instability spreads to other oil-producing nations such as Iran, Libya, or Algeria—all of which produce much more oil than Egypt.
Rising oil prices aren't the only factor driving bigger profits. Big Oil companies have invested a huge percentage of their profits into buying back shares of their own stock over the last few years, which helps drive up the price of the remaining shares. ExxonMobil, for instance, spent $35 billon—the equivalent of nearly 80 percent of its 2008 profits—on common stock purchases that year. It spent $700 million more on common stock purchases in 2009 than its profits of $19.2 billion. Meanwhile, ExxonMobil invested less than 1 percent in clean energy technologies the year of its record 2008 profit of $45 billion.
While Big Oil is busy raking in profits, American families are struggling with the worst economy in 80 years. One way to spur more job growth is to invest in energy efficiency and renewable energy technologies. President Obama proposed during his State of the Union address that Congress eliminate unnecessary tax breaks for Big Oil companies to pay for these investments.
"To help pay for [clean energy investments], I'm asking Congress to eliminate the billions in taxpayer dollars we currently give to oil companies. … I don't know if you've noticed, but they're doing just fine on their own. So instead of subsidizing yesterday's energy, let's invest in tomorrow's."
The administration estimates closing these Big Oil tax loopholes would save "approximately $4 billion per year in tax subsidies to oil, gas, and other fossil fuel producers." These tax giveaways include the "domestic manufacturing tax deduction" that creates an incentive to keep manufacturing plants in the United States. Former CAP Senior Policy Analyst Sima Gandhi described the absurdity of extending this special tax break to Big Oil and gas companies since they cannot move an onshore or offshore oil field to another nation.
"Companies that manufacture, produce, or extract oil and gas or any primary derivative receive a manufacturing subsidy provided that the product was made in the United States. But since removing this subsidy does not affect the production of oil [in the U.S.], the subsidy does not significantly affect business decisions."
The Congressional Joint Economic Committee determined that excluding Big Oil companies from this provision "will not increase consumer energy prices." Oil prices rose from $42 to $90 per barrel since this tax break was created in 2004, so it did nothing to keep prices down.
The oil and gas industry argues its tax breaks are essential to its ability to create jobs, but the evidence indicates that clean energy investments are a more cost-effective job creator. A University of Massachusetts study found that investment in clean energy creates anywhere from two to four times more direct and indirect jobs compared to the same investment in oil and gas production. Investing $1 million to retrofit buildings to make them more energy efficient creates three times more jobs than a $1 million investment in oil and gas. An investment in wind energy creates two and a half times more jobs compared to the same investment in oil and gas. At a time when the federal government must reduce its spending while creating more jobs, it makes much more sense to invest tax dollars in the most cost-effective programs to increase employment.
Taxpayer handouts for oil companies have proven to be ineffective. Domestic oil production has continued to decline since the early 1970s in spite of multiple, generous tax subsidies. Gandhi reports that "the Treasury Department estimates that ending subsidies will affect domestic production by less than one half of 1 percent."
President George W. Bush, a former oil man, noted in 2005 that high oil prices have eliminated any remaining reason for tax breaks. "With $55 oil we don't need incentives to the oil and gas companies to explore. There are plenty of incentives."
Oil and gas production can be a risky, dangerous business that provides an essential fuel for the American economy. The Big Oil companies deserve to make a profit. But it makes little economic sense for these same companies to receive billions of dollars in tax breaks while they benefit from rising oil prices that take a huge bite from families' wallets.
President Obama noted in his State of the Union that "the first step in winning the future is encouraging American innovation." Some special interests such as the U.S. Chamber of Commerce believe that America cannot meet this challenge, saying the "administration has [an] unrealistic approach on energy."
We believe that we can innovate, compete, and grow if we make investments in the clean energy technologies of the future. Eliminating tax loopholes for enormously profitable oil companies to provide incentives and seed capital for investors in this $2 trillion industry is essential to our economic recovery and competitiveness.
Daniel J. Weiss is a Senior Fellow and the Director of Climate Strategy at American Progress. Thanks to Junayd Mahmood, Noreen Nielsen, Richard Caperton, and Seth Hanlon.
The positions of American Progress, and our policy experts, are independent, and the findings and conclusions presented are those of American Progress alone. A full list of supporters is available here. American Progress would like to acknowledge the many generous supporters who make our work possible.
Authors Daniel J. Weiss
Senior Fellow