An Economy that Serves
Pope Francis has repeatedly highlighted the importance of work and his concern that the current economy values profit over people, urging people of faith and conscience to champion changes in business and the labor market that protect workers.
Part of a Series
Throughout his papacy, Pope Francis has highlighted the importance of dignified work and an economy that protects workers. He has spoken about it in solidarity with employees, as a plea against factory layoffs, in loving challenge to business owners, in recognition that workplaces are sometimes unsafe for the most vulnerable employees, and in concern that high unemployment is eroding the fabric of communities.
"I make a heartfelt appeal, that a logic of profit does not prevail, but one of solidarity and justice," Pope Francis said in September in support of striking steel workers in Italy. "At the center of every question, even those dealing with work, we should put the human person and his dignity." The pope has touched on several of those questions specifically, including unemployment and underemployment, wages, work conditions, and the place of work in a full life that respects the need for time with family and community, as well as leisure to rejuvenate the soul.
However, Pope Francis's critique of work goes beyond specific concerns about employment and labor conditions. He also criticizes the broader economic system for its misplaced priorities where profits and corporate power are seen as more important than workers' rights and dignity. According to Pope Francis, we should reject an economy of exclusion and inequality that idolizes money and a financial system that rules rather than serves.
The pope's ongoing call to put workers at the center of economic decision making has been, at times, controversial in a global economy that prizes unrestrained growth and rising corporate profits over sharing those profits with employees. But the pope remains committed to reminding the world that work is the most important vehicle to affirm human dignity.
The dignity of work
Although Pope Francis's belief in the dignity of work is rooted in his faith's teachings, his messages about labor, dignity, and workers' rights resonate far beyond the Catholic Church. A call to protect workers and affirm their dignity is an essential component of virtually all faith traditions—and a core part of nonreligious organizations and movements throughout history as well. Take, as a recent example, the International Labour Conference, or ILO, a specialized agency of the United Nations. Even though its work is not faith based, the ILO has engaged the interfaith community on shared values such as solidarity, workplace security, the right to employment, and the need for basic social and income protections.
In 2012, the ILO published the handbook "Convergences: decent work and social justice in religious traditions" to showcase the many values it shares with Catholicism, Protestantism, Judaism, Islam, and Buddhism. Mutually supported by the ILO, the World Council of Churches, the Pontifical Council for Justice and Peace, and the Islamic Educational Scientific and Cultural Organizations, the handbook's introduction points out that "spirituality and values are essential in the quest for a fair globalization" and "human dignity, solidarity, and above all the connection between work, social justice and peace put us on common ground."
This common ground is clearly shared by Pope Francis. His belief that work is elemental to human dignity, while supported by centuries of Catholic teaching, is ultimately steeped in a spiritual belief about the origins of humankind, in which people are created in God's image, which gives them inherent dignity and worth. In his 2014 World Labor Day address the pope said, "Work, to use an image, 'anoints' us with dignity, fills us with dignity, makes us like God, who has worked and still works, who always acts."
Addressing the International Labour Conference in May, Pope Francis shared this belief with hundreds of delegates representing international governments, employers, and workers. "At the dawn of creation, God made man the steward of his handiwork and charged him to cultivate and protect it," Pope Francis said. The work of humankind participates in and continues the work of God and therefore labor "is not a mere commodity but has its own inherent dignity and worth."
Respect for workers begins with a fundamental understanding of work as a natural outlet for a person's gifts and talents. Speaking to factory workers and managers in Italy earlier this year, Pope Francis remarked, "The primary value of work is the good of the human person since it fulfills him as such, with his inner talents and his intellectual, creative and physical abilities."
Pope Francis also understands that working creates social and economic stability, giving workers the means to purchase the goods and services—food, shelter, and transportation, among others—that all families need to thrive. Marking the Feast of St. Joseph the Worker in May, Pope Francis noted that work offers "the ability to maintain ourselves, our family, to contribute to the growth of our nation." And he is not speaking theoretically. Pope Francis is saying that a job is necessary because wages give workers access to material goods, which he believes "are destined for our common use."
The pope's emphasis on the importance of work is accompanied by his cry against pervasive unemployment. If human dignity is affirmed by work, it is wounded by unemployment and underemployment, which not only prevent the full use and sharing of a person's inherent abilities but also can create instability for workers and their families. Anyone who is unemployed or underemployed, Pope Francis said in March, "is likely, in fact, to be placed on the margins of society, becoming a victim of social exclusion."
Of his many statements on unemployment—including mentions that unemployment among young people is a particularly grave concern—his address to the owners of a steel plant and their employees in Italy after management announced huge layoffs was particularly poignant. "Once again, I make a heartfelt appeal, that a logic of profit does not prevail, but one of solidarity and justice," Pope Francis said. He even strayed from his written remarks to decry the layoffs, saying "With work, it's not a game! … And who—for the sake of money, or business, or to earn even more—takes away work, know he takes away the dignity of the person."
Additionally, Pope Francis has clarified that not all work is dignified work. In a September 2013 meeting with unemployed workers, including miners, he said that employees need "dignified work" because "unfortunately, especially when there is a crisis and the need is pressing, inhumane work increases, slave-labour, work without the proper security or respect for creation, or without respect for rest, celebrations and the family and work on Sundays when it isn't necessary." Pope Francis even included the importance of leisure time and taking a day of rest to spend time with family in a recent interview that revealed his 10 secrets for a happy life.
A more just economy
Pope Francis has contrasted an economy that cherishes the dignity of all people with the existing system, which is built on a "throwaway culture" that prioritizes freedom for corporations and limitless wealth accumulation by the already rich over workers' rights. Profit-driven decision making in today's global economy tends to treat people as objects to be used and discarded with little respect for their inherent dignity or the meaning that work can give their lives.
In his November 2013 papal exhortation, Evangelii Gaudium, Pope Francis leveled a clear challenge to the existing economic system. He denounced trickle-down economics, saying that such theories have "never been confirmed by the facts" and show "a crude and naïve trust in the goodness of those wielding economic power and in the sacra­lized workings of the prevailing economic system."
The pope also specifically called for structural fixes to these injustices because welfare programs and charitable organizations alone are not sufficient to prevent the scourge of poverty within the current system. According to the pope, while welfare is necessary to meet certain urgent needs, "the need to resolve the structural causes of poverty cannot be delayed, not only for the pragmatic reason of its urgency for the good order of society, but because society needs to be cured of a sickness which is weakening and frustrating it, and which can only lead to new crises."
Although he is a spiritual leader, Pope Francis is also grounded in reality. In fact, he titled a section of his papal exhortation, "Realities are more important than ideas." In it, he noted the danger of political leaders promoting ideas without assessing if those ideas can make meaningful changes in peoples' lives.
As we approach the November mid-term elections, we would do well to consider the values embedded in the pope's exhortations. Having a clear sense of the elemental truths and priorities in various policies can help guide us as we go to the polls. Which policies can help reinstate values of worker dignity, social inclusion, and economic justice into our economy? Which policies reflect an economy that works for all of us, not just a few? And which policies seek an economy that serves workers rather than enlists workers to serve a wealthy and powerful elite? Voting this November offers an opportunity to support such policies, as well as candidates who connect good ideas with reality—the lived experience of workers.
Policies to protect workers: Bringing Pope Francis's values to the U.S. economy
The labor market in the United States is plagued by conditions that Pope Francis has decried: long-term unemployment, underemployment, an uneven economic recovery in which job growth is occurring primarily in low-wage industries, while real wages decline. These economic realities disproportionately affect already marginalized groups, including young people, communities of color, and low- and middle-income families, who are seeing a smaller share of returns on their productivity while corporations log record profits. If the dignity of work and of workers rightfully belong at the center of our economy, we should seek policies to promote stability and humanize employee experiences, as Pope Francis implores. Policies that promote robust employment, just wages, and safe work environments, and that value employees and their families, for example, can help the U.S. economy resist the "throwaway culture" condemned by Pope Francis.
Long-term unemployment—which remains at historic levels in the sixth year of our nation's economic recovery—dehumanizes workers and destabilizes families. Renewing emergency unemployment compensation, which Congress failed to do earlier this year, is an effective way to prevent further catastrophe for already struggling long-term unemployed workers and their families. Not only does this financial assistance help see families through the financial instability of lost income, renewing this funding can also stimulate job creation—perhaps has many as 200,000 jobs in 2014 if Congress had extended benefits—improving job prospects for unemployed and underemployed workers.
Considering the disproportionately high rate of unemployment among young people, particularly young people of color, it is also time to consider policies that can help young adults enter the workforce. Subsidized jobs programs—where the government pays all or some of an employee's wages—can help incentivize hiring and stimulate local economies. Supporting training and apprenticeship programs can also help improve relevant skills among young adults entering the workforce while alleviating pressures to accumulate student debt for four year degrees that may not lead to employment.
A higher minimum wage is another basic and overdue change that supports the dignity of workers. As the cost of living continues to rise, wages have remained stagnant, making minimum-wage incomes insufficient for many full-time workers. The current federal minimum wage also exacerbates racial and gender pay gaps, preventing necessary solutions to growing inequality. A legislative fix for the unjust federal minimum wage is especially important, given that lower paying jobs are replacing the jobs that were lost in the recent economic downturn.
Not only would a raise in the minimum wage help workers, it would improve the overall health of their families. Nearly one in five children would be better off if a minimum-wage earning parent saw their hourly wages rise to $10.10 an hour. And a recent look at state- and local-level minimum-wage raises shows that boosting the minimum wage reduces poverty and increases wages across the labor spectrum. Recent collaborations between government, labor, businesses, and faith groups to raise the minimum wage to $15 an hour in Seattle stands as an excellent example of how communities can raise the minimum wage to demonstrate a shared appreciation for the value of workers.
In addition to employment and just compensation, workers need policies that respect families and allow time and energy for workers to be family and community members, as well as employees. This is particularly important with low-wage workers, who are disproportionately affected by the stresses of overwork, but is relevant even to people in the highest income brackets.
Scheduling and time off are two areas where policies can restore respect for workers. Low-wage jobs often have unpredictable and erratic scheduling, which increases the stress on a family trying to plan child care, medical appointments, or volunteer and other family commitments. Requiring employers to give two weeks advance notice of a worker's schedule, as would be required by the Schedules That Work Act, is one policy that would add stability to worker's lives.
Workers also need to be able to take time off without fear that they will lose much-needed income or even their job when they are sick, need to care for a sick family member, or have a child. As the only developed nation with no national paid family leave or paid sick day policies, the United States is exacerbating the challenges we all face with our families and lives. Having a baby is a leading cause of economic hardship, and 7 in 10 low-wage workers do not receive a single paid sick day. These are unacceptable realities if the economy is going to value workers and their families. The Family and Medical Insurance Leave Act, or FAMILY Act, would provide paid leave for employees who are sick or need to care for a sick relative, and the Healthy Families Act would help workers accrue job protected sick days, building on recent successes passing paid sick time legislation at local and state levels.
Values in the voting booth
To build an economy that puts people, rather than profits, at the center of economic decision making requires changes to our labor policies. Seattle Mayor Ed Murray and Market Basket grocery chain owner Arthur T. Demoulas are showing that it is possible to bring concern for employees to the forefront in government and business. But there is still work to do if we wish to, as Pope Francis hopes, "say 'thou shalt not' to an economy of exclusion and inequality."
Today's global economy is a complex inter-related system that can be daunting to understand, let alone seek to change. Even so, at the heart of our economic system are policies, priorities, and values. When these are out of alignment, the economy becomes distorted in who it serves. Elections provide opportunities for voters to act on their values and to determine where candidates stand on issues of economic fairness and worker dignity. We know from experience that an economy that serves workers is one that promotes robust economic growth, economic and social stability, and human dignity. It is important this November to vote our values—and connect our conscience with our obligation to support policies that benefit everyone.
In the weeks leading up to the election, the Faith and Progressive Policy Initiative will examine three issues that Pope Francis is highlighting in his papacy—work, education, and health care. We will use his statements—and the moral philosophy in which they are grounded—as a lens that reflects on voters' opportunities to, as Pope Francis says, "be builders of the world, to work for a better world."
Claire Markham is the Outreach Manager for the Faith and Progressive Policy Initiative at the Center for American Progress.
The positions of American Progress, and our policy experts, are independent, and the findings and conclusions presented are those of American Progress alone. A full list of supporters is available here. American Progress would like to acknowledge the many generous supporters who make our work possible.
Authors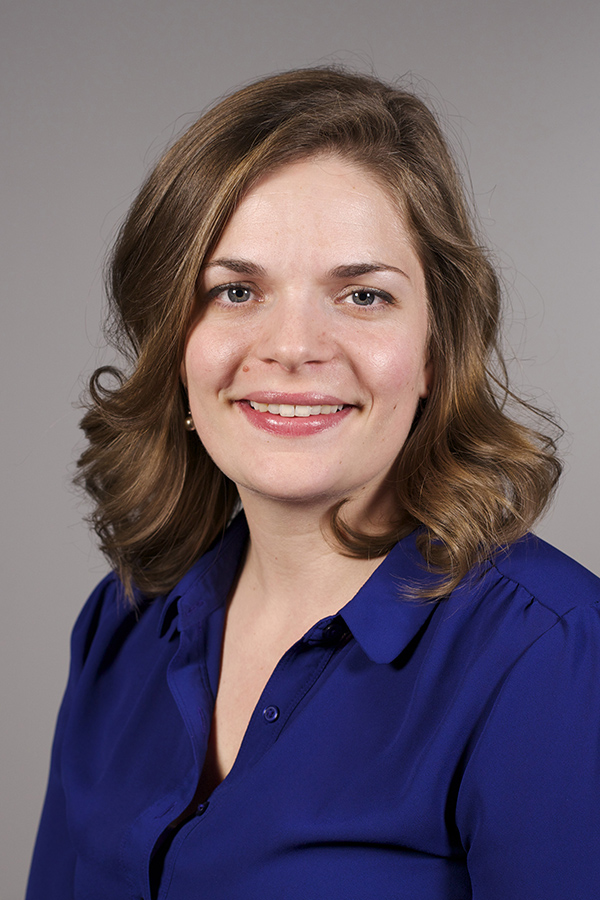 Claire Markham
Associate Director, Faith and Progressive Policy Initiative
Explore The Series
Previous
How Would Francis Vote?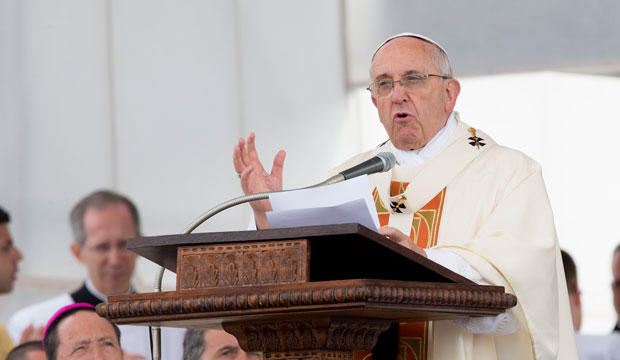 Next
Education that Empowers