A Nobel Prize for China
The Nation's First Award Illustrates the Challenges Ahead
Dissident Liu Xiaobo's Nobel Peace Prize shows how Beijing's leaders must measure up in the 21st century.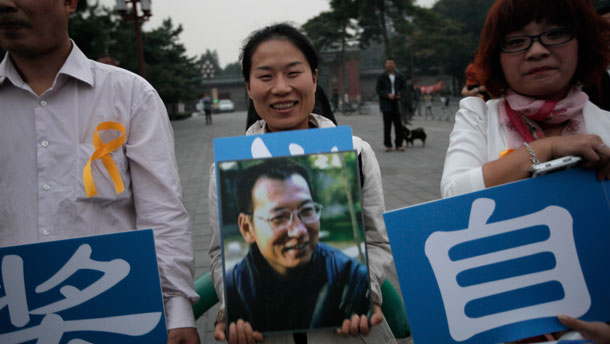 It must be hard to be one of China's leaders sometimes. The country has been so wildly successful by 19th century standards—the economy is booming, its military more powerful each day, and its global reach on the rise—yet just when China has fully mastered these feats, the rules change. In the 21st century, the world demands more from pivotal powers than domestic success and hefty militaries. Emerging powers have an increasing responsibility to solve global problems and a duty to accord their people the human rights that the international community deem universal.
This message couldn't have been echoed more clearly than in the Nobel committee's awarding of its Peace Prize to dissident Liu Xiaobo. The committee's announcement recognized Liu's two decades of courageous work in fighting peacefully for human rights and political reform in China, from his participation in Tiananmen Square to authoring Charter 08, a manifesto calling for individual rights and political reform. The committee statement contained a pointed rebuke of China's authorities:
China's new status must entail increased responsibility. China is in breach of several international agreements to which it is a signatory, as well as of its own provisions concerning political rights. Article 35 of China's Constitution lays down that "Citizens of the People's Republic of China enjoy freedom of speech, of the press, of assembly, of association, of procession and of demonstration." In practice, these freedoms have proved to be distinctly curtailed for China's citizens.
Shortly after the announcement was made, China's Ministry of Foreign Affairs released a scathing response, calling Liu a "criminal who broke China's laws," and warned that the committee's selection "will damage China-Norway relations." The Global Times, a newspaper published under the auspices of the People's Daily, the official Chinese Communist Party newspaper, wrote that Chinese "have reason to question whether the Nobel Peace Prize has been degraded to a political tool that serves an anti-China purpose. It seems that instead of peace and unity in China, the Nobel committee would like to see the country split by an ideological rift, or better yet, collapse like the Soviet Union.
This goes beyond a rhetorical food fight. The committee's decision stung Beijing. The leadership made no secret of its desire to secure a Nobel Prize, an international accolade to accompany the Olympics and the World Expo. That the first and only Nobel Prize awarded to a Chinese person living in China went to a dissident serving an 11-year sentence for "inciting subversion to state power" is quite an embarrassment.
More worrisome for Beijing is that the uproar surrounding the prize will certainly prompt many in China to ask "who [Liu Xiaobo] is, what he has written, and why he is in prison." Up until now, hardly anyone in China, even educated city dwellers, knew who Liu Xiaobo was or what Charter 08 as all about. As a result of the Nobel selection, party cadres, students, and ordinary Chinese will come to learn of Liu and of the charter, which now has been signed by thousands of Chinese—none of whom think that individual rights are a Western imposition. They agree to Charter 08's strong stance on universal human rights:
The Chinese people, who have endured human rights disasters and uncountable struggles across these same years, now include many who see clearly that freedom, equality, and human rights are universal values of humankind and that democracy and constitutional government are the fundamental framework for protecting these values.
China's authorities will try their best to stop the news from spreading. With the exception of foreign media outlets and a smattering of stories reporting the government's denouncement of the Nobel selection, the local Chinese media has been forbidden from covering the story. The government also updated their already notorious firewall, blocking or erasing all search results for "Liu Xiaobo" and the "Nobel Peace Prize." But the opinion pieces denouncing the prize in official Chinese publications only beg the question of what it's all about. And the local Chinese blogosphere went crazy with the news. Word will leak out.
Nobel Peace Prize laureate and U.S. President Barack Obama called on China to release Liu, saying that the basic human rights of every man, woman and child must be respected." It is frustrating that Washington cannot do more, but joining the U.N. Human Rights Council—where China's conduct can be brought to light—restarting the bilateral dialogue with Beijing on human rights, supporting civil society on the ground, supporting technologies to avoid censorship, and acting ourselves as good role models are important steps that the United States must continue to pursue.
Unfortunately, it is unlikely that Liu's Nobel will have a noticeable impact on the progression of human rights and political reform in China anytime soon. The authoritarian leadership in Beijing is exceedingly unlikely to embrace fully this aspect of the 21st century, though they have been taking a good game recently. Still, according to Twitter, when Liu's wife delivered the news to him, he cried and said it belonged to all those who died on June 4, 1989. Giving succor to a jailed hero is no small feat.
Nina Hachigian is a Senior Fellow at American Progress. Based in Los Angeles, she is the co-author of The Next American Century: How the U.S. Can Thrive as Other Powers Rise (Simon & Schuster, 2008). She focuses on great power relationships, international institutions, the U.S.-China relationship, and U.S. foreign policy.
Winny Chen is a Policy Analyst and Manager of China Studies for the National Security and International Policy Team at American Progress.
The positions of American Progress, and our policy experts, are independent, and the findings and conclusions presented are those of American Progress alone. A full list of supporters is available here. American Progress would like to acknowledge the many generous supporters who make our work possible.
Authors Nina Hachigian
Senior Fellow