20 Ideas for Job Creation
20 Ideas for Job Creation
CAP outlines 20 steps policymakers can take to create jobs.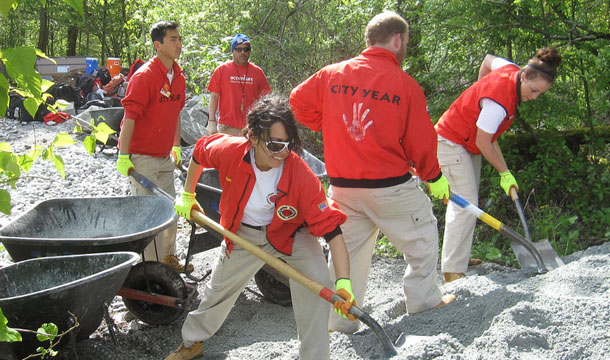 Here are 20 recent ideas from CAP's policy teams to create middle-class jobs and promote an economy that works for everyone, not just the privileged few. Many of these ideas build on the ideas presented in our "Meeting the Jobs Challenge" initiative launched in 2009. Click on the links below to learn more about each proposal.
20 ways to create jobs
1. Upgrade our nation's roads, bridges, and other basic infrastructure: 18,000 new jobs for every $1 billion invested.
2. Launch a rehab-to-rent program to turn tens of thousands of government-owned foreclosed homes into affordable rental housing, stabilize neighborhoods, and put construction workers back on the job: 20,000 new jobs a year.
3. Implement new EPA rules governing toxic emissions from power plants: 40,000 new direct jobs.
4. Protect health care reform, which will reduce health insurance premiums, expand coverage, and create jobs: 250,000 to 400,000 new jobs a year for the next decade.
5. Retrofit for energy efficiency just 40 percent of the nation's residential and commercial building stock and unleash massive demand for domestic labor: more than 625,000 new jobs over a decade.
6. Extend emergency unemployment benefits to long-term unemployed workers hurt by the economic downturn: more than 700,000 jobs.
7. Expand the payroll tax cut for employees and extend it to employers through 2012: more than 1 million jobs.
8. Extend national service programs to provide young people with full-time positions in AmeriCorps, VISTA, YouthBuild, and the youth service and conservation corps: 60,000 new jobs.
9. Pass Home Star, Building Star, and Rural Star legislation to make homes and buildings energy efficient while supporting the hard-hit construction industry: 250,000 new jobs a year.
10. Reduce the nation's dropout rate by half to add $9.6 billion in economic growth and $713 million in increased tax revenue: 54,000 new jobs.
11. Convert offshore wind power to electricity: 20 direct jobs for each megawatt produced in the United States.
12. Protect funding for community health centers over the next five years to provide health and related services at clinics and in the local business communities: 300,000 new jobs.
13. Protect the National Park Service from budget cuts, corporate interests, and antigovernment rhetoric to support jobs in outdoor recreation across the country: 247,000 jobs.
14. Increase freight rail capital investment: 7,800 direct and indirect jobs for every $1 billion invested.
15. Create a $10 billion trial-employment program with potential to help an estimated 1 million small businesses and startups hire long-term unemployed workers: 2 million new job opportunities.
16. Construct new power transmission lines to reshape our electric transmission grid and create new employment: Generating 20 percent of power with wind can create more than 500,000 jobs.
17. Expand the federal "jobs accelerator" program: Just $200 million in funding could result in 1,800 new businesses employing thousands of workers.
18. Reject a federal proposal to mandate employer use of the E-Verify eligibility verification system and protect 770,000 American jobs.
19. Revamp small-business financial assistance programs to better serve the needs of innovative, high-growth potential startup firms.
20. Create a "common application" for federal programs that foster the growth of small businesses.
The positions of American Progress, and our policy experts, are independent, and the findings and conclusions presented are those of American Progress alone. A full list of supporters is available here. American Progress would like to acknowledge the many generous supporters who make our work possible.