10 Essential Pollution Reduction and Public Health Measures in President Obama's Climate Plan
10 Essential Pollution Reduction and Public Health Measures in President Obama's Climate Plan
The president's comprehensive plan outlines steps to reduce U.S. pollution, better coordinate international efforts to solve the problem of climate change, and provide additional protection from the effects of climate change.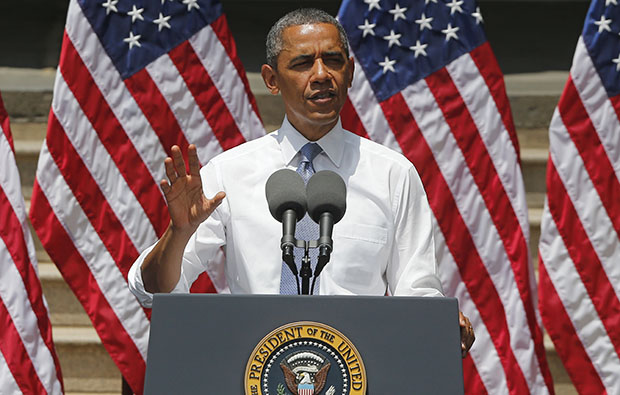 In a speech on climate change at Georgetown University today, President Barack Obama announced a comprehensive "Climate Action Plan" to reduce U.S. pollution responsible for climate change, better coordinate international efforts to solve the problem of climate change, and provide additional protection from the effects of climate change that have already begun. This plan comes not a moment too soon, since the effects of climate change are already being felt across the United States and the rest of the world.
In 2011 and 2012 the United States experienced 25 extreme weather events—storms, floods, droughts, heat waves, and wildfires—that each caused at least $1 billion in damages, with a total price tag of $188 billion. These events also claimed more than 1,100 lives. What's more, the federal government has spent $136 billion over the past three years to help communities recover from these disasters—about $400 per household annually. Around the world, extreme weather events displaced 32 million people in 2012, causing not only tremendous human suffering but exacerbating global security concerns as well.
High temperatures continue to shatter records. 2012 was the 10th-hottest year on record for the entire planet since recordkeeping began in 1880, and it was the hottest year ever in the contiguous United States. Moreover, 10 of the hottest years globally have occurred over the past dozen years. Last year, for example, more than 40,000 daily heat records had been broken around the country by July 3.
According to the Centers for Disease Control, "an analysis of 2012 data indicates that [heat-related] deaths are on the rise [in the United States]." But climate change also threatens our health in other ways:
Pollen counts are growing, which makes asthma attacks more common.
Heat waves can increase urban smog, which also triggers asthma attacks and causes other respiratory ailments.
Ongoing drought is making food sources less secure, triggering human suffering and security concerns.
In sum, dealing with climate change is an opportunity to improve Americans' lives and the overall economy. That's why the president has proposed a comprehensive suite of tools to deal with this challenge. These tools are all based on years of research—both inside and outside government—and the evidence indicates that they will help reduce carbon pollution.
The following are some of the most important aspects of the president's plan:
Reduce carbon pollution from power plants. Electricity production at power plants is the single-largest domestic source of climate pollution, and this reduction measure is the most critical one in the president's plan. Although there are limits on mercury and toxic pollution from these plants, there are no such limits for carbon pollution. The president's plan directs the Environmental Protection Agency, or EPA, "to work expeditiously to complete carbon pollution standards for both new and existing power plants." Completion (or promulgation) of the carbon-pollution standard for existing plans should occur by 2015 so that implementation can begin during this administration.
Double renewable electricity on public lands, "which will provide enough electricity to power 4.4 million homes." The administration permitted 10,000 megawatts of electricity on public lands during its first term, enough to power 3 million homes.
Install 100 megawatts of renewable energy in federally assisted housing. This is a unique opportunity to learn best practices in developing distributed-generation resources—small renewable power sources such as rooftop solar—while also making sure that the benefits of distributed generation are available to all Americans.
Reduce the use of super pollutants both at home and abroad, including hydrofluorocarbons, or HFCs, soot, and methane. HFCs, used primarily in air-conditioning units, yield much more warming than an equivalent amount of carbon dioxide and are the fastest-growing type of greenhouse gas. A global agreement on phasing down HFCs under the Montreal Protocol, including in China and India, can avoid 0.5 degrees Celsius of warming by the end of this century. Accelerating global measures to reduce soot and methane through the U.S.-led Climate and Clean Air Coalition could prevent another 0.5 degrees Celsius of warming by 2050 and up to 4 million annual premature deaths. It could also increase annual crop yields up to 135 million metric tons by 2030.
Make the United States run on less energy. The president's plan modernizes fuel-economy standards for heavy-duty vehicles built after 2018, which would also cut carbon pollution. This would build on the new standards for trucks built between 2014 and 2018. The plan also adopts efficiency standards for appliances and federal buildings, which will cut carbon pollution by 3 billion metric tons cumulatively by 2030 when combined with the standards set in the first term.
Deny the Keystone XL pipeline if it "significantly exacerbates the problem of carbon pollution." This proposed pipeline would carry tar sands oil from Alberta, Canada, to the United States. In today's speech, President Obama clearly stated for the first time that the climate change impacts of tar sands oil are inextricably linked to America's national interest, setting a new standard for the pipeline's approval.
Require the federal government to "consume 20 percent of its electricity from renewable sources by 2020," nearly three times the current goal of 7.5 percent. This would put the purchasing power of the federal government—the largest energy user in the country—behind the transition to a cleaner future.
Help communities become more resilient to extreme weather via research and technical assistance, and assist the communities most vulnerable to drought, wildfires, and floods with technical assistance to better prepare for these events. Over the past three years, the federal government has spent only $1 on resilience efforts for every $6 spent on disaster recovery. On the other hand, every $1 invested in resilience efforts reduces disaster damages by $4, according to analysis for the Federal Emergency Management Agency.
Continue to lead on creating a set of comprehensive global climate agreements to avoid an increase in global temperature that is more than 2 degrees Celsius higher than pre-industrial levels. These agreements should also be equally applicable to all the world's largest greenhouse-gas polluters. The United States successfully pushed for the creation of a new U.N. treaty track in 2012, which will move beyond the firewall that had been created between developed and developing countries. While that process continues through the remainder of this decade, we should continue to use every other multilateral and bilateral tool available, including the Major Economies Forum, the Arctic Council, the Montreal Protocol, and other platforms for lowering emissions by 2020 to make it possible to meet this global mitigation goal.
Provide financing for innovative low-carbon technologies at home and abroad and use public resources to ramp-up private investment in both global mitigation and adaptation efforts. The Department of Energy will use $8 billion in loan guarantees to jump-start industries that will help reduce carbon pollution, including energy efficiency, carbon capture and sequestration, and smart grids. Moreover, the United States already contributed $7.5 billion to global efforts to improve resilience and reduce emissions abroad between 2009 and 2012. Innovative finance efforts should continue, including leading an effort in the World Trade Organization toward global free trade in environmental goods, including clean energy technologies. In turn, the United States will oppose using domestic and global public funds to finance new coal plants overseas.
President Obama established a goal in 2009 of reducing greenhouse-gas emissions by 17 percent below 2005 levels by 2020. EPA reports, however, that we produced 7 percent less climate pollution in 2011. No single action can reduce carbon pollution sufficiently to meet the president's goal.
As such, the president's plan rightly includes many additional measures to reduce pollution, invest in energy efficiency and clean renewable sources of energy, and make our cities more resilient to future extreme weather events both at home and abroad. All of these actions can occur under existing law and without additional funds. But congressional support for providing additional revenue for investments in efficiency, renewable energy, and community resilience would yield less pollution, more health protection, and safer communities for all Americans and their children.
This plan is ambitious and will surely draw criticism from detractors. Addressing climate change, however, is the critical issue of our time. This plan begins to deal with the climate challenge and should move forward uninterrupted.
Richard W. Caperton is the Managing Director for Energy at the Center for American Progress. Daniel J. Weiss is a Senior Fellow and Director of Climate Strategy at the Center. Andrew Light is a Senior Fellow and Director of International Climate Policy at the Center.
See also:
The positions of American Progress, and our policy experts, are independent, and the findings and conclusions presented are those of American Progress alone. A full list of supporters is available here. American Progress would like to acknowledge the many generous supporters who make our work possible.
Authors Richard W. Caperton
Managing Director, Energy Daniel J. Weiss
Senior Fellow Andrew Light
Senior Fellow