RELEASE: New Poll on the Legacy of the War on Poverty and American Attitudes About Work, Economic Opportunity, and the Safety Net
RELEASE: New Poll on the Legacy of the War on Poverty and American Attitudes About Work, Economic Opportunity, and the Safety Net
Washington, D.C. — Fifty years after President Lyndon B. Johnson declared an "unconditional War on Poverty," a new poll released on a press call today by Half in Ten and the Center for American Progress finds that Americans strongly believe that poverty is primarily the result of a failed economy and strongly support the federal government setting a national goal to cut poverty in half over the next 10 years.
"The message is clear: the War on Poverty hasn't failed; rather, our economy has failed. Rising inequality, unequal economic growth, insufficient access to education and jobs, and low wages are preventing the United States from having a vibrant economy in which all have a fair shot to get ahead," said Melissa Boteach, Director of Half in Ten and of the Poverty and of the Prosperity Program at CAP. "We have an economic and moral obligation to help raise people out of poverty, and it starts by enacting realistic policies that invest in job creation, increase wages, and expand educational opportunities for all people."
The poll  found that nearly two in three Americans—64 percent—agree that most people who live in poverty are poor because their jobs do not pay enough, they lack quality health insurance and education, and things cost too much for them to save and get ahead, underscoring the current economy's failings in the areas of wages, health care, education, and cost of living. This outlook prevailed across demographic and ideological lines, further dispelling the narrative that poverty is the result of personal decisions and lack of effort.
In addition to the poll findings, the Center for American Progress also issued a report calling for a renewed national commitment to reduce poverty, as well as an investment agenda that addresses the needs of a 21st century economy. Highlighting the many successes of numerous War on Poverty programs in lifting tens of millions of Americans out of poverty—including the Supplemental Nutrition Assistance Program, or SNAP, formerly known as food stamps; Head Start; Pell Grants; Medicaid; and Social Security—the report demonstrates that without these safety nets, the poverty rate today would be nearly double what it currently is.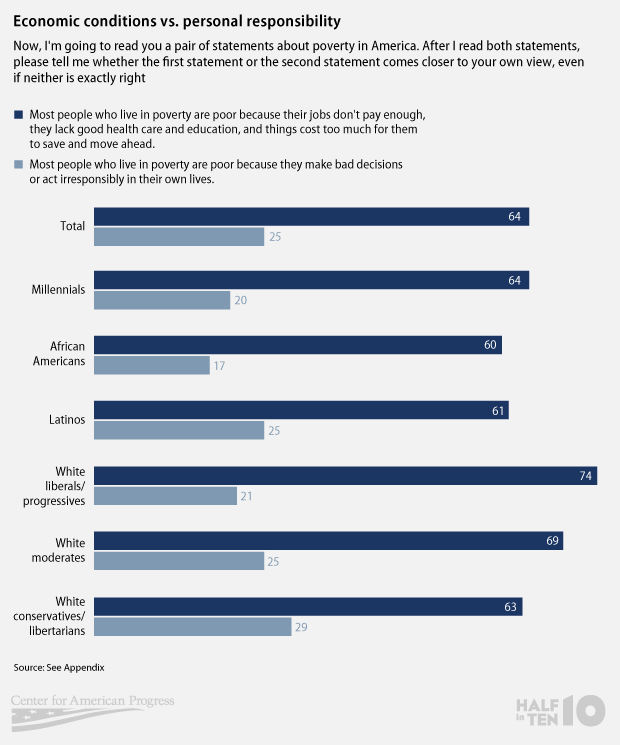 "There is no question that the War on Poverty has worked for millions of Americans. And as these polling results demonstrate, the American consensus is that we need to stick with what's worked while adopting new solutions for today's problems," said Wade Henderson, President and CEO of the Leadership Conference on Civil and Human Rights. "Americans agree that we need to keep programs like Medicare, Medicaid, and SNAP but that we must also build an economy that works for everyone by investing in job creation, education, infrastructure, and policies that provide greater opportunity and a hand up to struggling families. It is now up to Congress to follow popular opinion and get to work."
Despite these successes, the report also identifies modern-day challenges, such as rising income inequality and unequal economic growth, that threaten to stifle further advances in alleviating poverty. Furthermore, we mark the 50th anniversary of the War on Poverty at a time when the very programs that have been so successful are under threat, including Congress's recent failure to renew unemployment insurance for long-term jobless workers. To move forward in cutting poverty, we must not only defend effective programs such as SNAP and unemployment insurance but also set forth a proactive vision to meet our economy's greatest challenges including raising the minimum wage and investing in jobs, education and work and income supports to pave a pathway to the middle-class.
According to the poll findings, an overwhelming majority of Americans—86 percent—believe the government has a responsibility to use its resources to fight poverty, and 7 in 10 Americans support the president and Congress setting a national goal to cut poverty in the United States in half within 10 years. Furthermore, American are very clear about which areas they believe state and federal governments should invest in to help reduce poverty: jobs, wages, and education.
"Fifty years ago, through a comprehensive commitment to improve nutrition, medical care, education and income supports our nation significantly reduced poverty, infant mortality and racial disparities," said Deborah Weinstein, Executive Director of the Coalition on Human Needs.  "Now, rising inequality is denying millions the chance to escape poverty.  We can achieve the progress we need by  renewing our commitment to end poverty and make our economy work for all."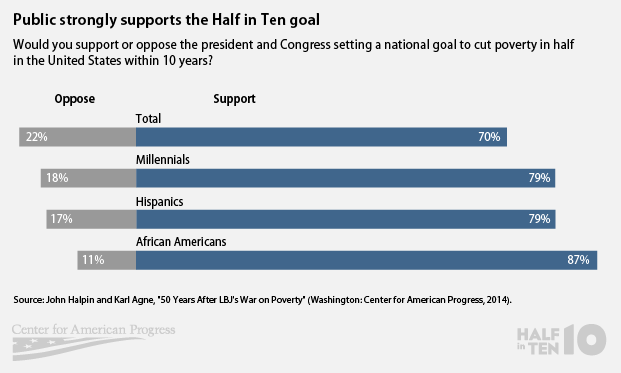 Listen to today's press call here.
Read "50 Years After LBJ's War on Poverty: A Study of American Attitudes About Work, Economic Opportunity, and the Social Safety Net."
Read "The War on Poverty: Then and Now"
For more information or to speak to an expert on this topic, contract Madeline Meth at mmeth@americanprogress.org or 202.741.6277.
###