: Beasts of the Southern Wild

Beasts of the Southern Wild
A Reel Progress Screening and Discussion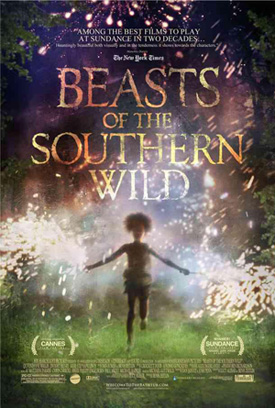 In a forgotten but defiant bayou community cut off from the rest of the world by a sprawling levee, a six-year-old girl exists on the brink of orphanhood. Buoyed by her childish optimism and extraordinary imagination, she believes that the natural world is in balance with the universe until a fierce storm changes her reality. Desperate to repair the structure of her world in order to save her ailing father and sinking home, this tiny hero must learn to survive unstoppable catastrophes of epic proportions.
Nominated for four Academy Awards – Best Picture, Best Director, Best Actress, and Best Adapted Screenplay – Beasts of the Southern Wild has been hailed as one of the top films of the year, and one whose fantastical setting is not all that far from reality.
Please join the Center for American Progress's Reel Progress film series for a screening of Beasts of the Southern Wild, followed by a panel discussion with the film's Oscar-nominated director/writer, producers, and breakout star.
This event is free and open to the public.
Introductory Remarks:
Daniella Gibbs Léger, Vice President, American Values & New Communities, Center for American Progress
Academy Award-Nominated Panelists:
Quvenzhané Wallis, "Hushpuppy", Beasts of the Southern Wild
Dan Janvey, Producer, Beasts of the Southern Wild
Josh Penn, Producer, Beasts of the Southern Wild
Michael Gottwald, Producer, Beasts of the Southern Wild
Moderator:
Michele Norris, Host/Special Correspondent, NPR