World AIDS Day 2011
The disease remains an epidemic and a pressing problem for the United States and the world.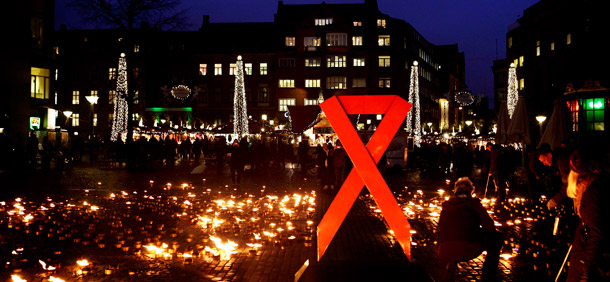 See also: Issue Pulse: Imagining a World Without AIDS
"We are winning this fight. But the fight is not over, not by a long shot," said President Barack Obama in a December 1 speech at George Washington University marking World AIDS Day.
As we mark World AIDS Day, HIV/AIDS remains an epidemic and a pressing problem for not only the United States but the world.
This by-the-numbers approach illustrates the worldwide prevalence of HIV/AIDS and touches upon what needs to be done for both its prevention and its treatment.
People living with HIV/AIDS
33.3 million: The number of people estimated to have HIV/AIDS in 2009.
15.9 million: The number of these people who were women.
2.5 million: The number of these people who were children.
At least 3 percent: The number of people infected with HIV/AIDS in Washington, D.C. One percent is considered an epidemic.
The leading cause of death for African American women ages 25 to 34 is AIDS.
49 percent: The percentage of people living with HIV in the United States who are gay or bisexual men.
4 percent: The percentage of the U.S. population made up of gay and bisexual men.
Up to 30 percent: The number of transgender Americans, mostly transgender women of color, who are living with HIV.
What has been done?
In fiscal year 2011 the President's Emergency Plan for AIDS Relief, or PEPFAR, provided more than 3.9 million people worldwide with antiretroviral treatments, more than 9.8 million pregnant women with HIV tests and counseling, and more than 660,000 pregnant women with HIV antiretroviral prophylaxis.
An estimated 200,000 infants were prevented from contracting HIV, and almost 13 million people were given some kind of treatment and support.
What else can be done?
Secretary of State Hillary Clinton called for continued dedication to the fight against HIV and AIDS in a speech at the National Institutes of Health on November 8.
"I want the American people to understand the irreplaceable role the United States has played in the fight against HIV/AIDS," she said. "It is their tax dollars, our tax dollars, that have made this possible, and we need to keep going."
She talked about the possibility of an "AIDS-free generation," defining that as "one where first, virtually no children are born with the virus; second, as these children become teenagers and adults, they are at far lower risk of becoming infected than they would be today, thanks to a wide range of prevention tools; and third, if they do acquire HIV, they have access to treatment that helps prevent them from developing AIDS and passing the virus on to others."
President Obama believes that the spread of HIV/AIDS can be staggered through the prevention of mother-to-child transmission, voluntary medical male circumcision, and consistent condom use. Treating those with HIV with antiretroviral drugs is also known to prevent the spread of the disease by 96 percent.
"We just have to keep at it, steady, persistent, today, tomorrow, and every day until we get to zero," said the president. "And as long as I have the honor of being your president, that's what this administration is going to do. That's my pledge—my commitment—to you. And that has to be our promise to each other—because we have come so far; we have saved so many lives. We might as well finish the fight."
See also:
The positions of American Progress, and our policy experts, are independent, and the findings and conclusions presented are those of American Progress alone. A full list of supporters is available here. American Progress would like to acknowledge the many generous supporters who make our work possible.