Working Toward Shared Prosperity Through Just Jobs: 6 Points of Action
Working Toward Shared Prosperity Through Just Jobs: 6 Points of Action
A recent conference organized by the Just Jobs Network in New Delhi focused on one of the most pressing challenges of our time: how to create good jobs to drive employment-based, inclusive, and sustainable economic growth.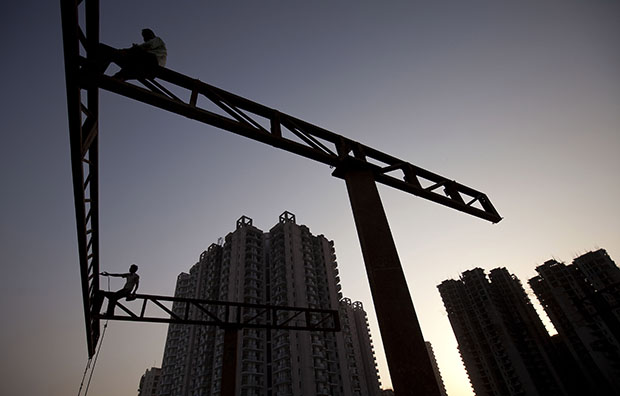 "Working Toward Shared Prosperity Through Just Jobs"—a conference organized by the Just Jobs Network and co-hosted by the Norwegian Embassy in New Delhi, India, Friedrich Ebert Stiftung, and SAATH—focused on one of the most pressing challenges of our time: how to create good jobs to drive employment-based, inclusive, and sustainable economic growth. This conference, held on April 20 to 21, 2013, was an important step toward building dialogue among a global cohort of high-level policymakers, academics, grassroots practitioners, and private-sector and workers' representatives.
The two days of discussions culminated in the six conclusions outlined in this column. In the coming months the Just Jobs Network will work with partners across the globe to conduct research and advocacy around these themes to capitalize on the momentum that this conference generated.
Employment-based economic growth strategies
Policymakers, academics, and practitioners must reconsider the prevailing attitude that economic growth will automatically lead to job creation. It may not be possible to create jobs without economic growth, but it is possible to have economic growth without creating enough new jobs or improving working conditions. "Jobless growth" in many countries, even in the years preceding the Great Recession, widened the chasm between the rich and the poor that ignited the political and social upheaval extending from the Arab Spring to the wave of Occupy Wall Street protests.
India is one nation experiencing jobless growth. Dr. Santosh Mehrotra, director general of the Institute of Applied Manpower Research, shared data in the first hour of the conference that sparked a national discussion in India over the following days. From 2000 to 2005, he said, India's economy added 60 million jobs. But from 2005 to 2010, the economy only added 2 million jobs despite high levels of gross domestic product, or GDP, growth that averaged more than 8 percent per year, nearly 2 percentage points higher than during the first half of the decade.
Countries around the world must emphasize employment-based growth that provides more people with the opportunity, incentive, and ability to create better lives for themselves and their families. Creating more and better employment will, in turn, stimulate inclusive, stable, and sustainable economic growth.
The value disconnect
As more countries integrate into the global economy and competition intensifies, countries are tempted to exploit low production costs in pursuit of higher profits and growth. In many cases, workers toil for long hours in factories but see little more than subsistence wages, even when there is rising productivity.
Poor working conditions, discrimination, and exploitation, for instance, frequently mark the new jobs that accompany more open trade. These precarious jobs saddle workers with poorly defined employment contracts—if there is any contract at all—and a high level of insecurity.
A Just Jobs Network and Worker Rights Consortium study previewed at the conference, "Global Wage Trends for Apparel Workers, 2001–2011,"[1] discusses the prevalence of declining real wages and persistent poverty for garment workers in a majority of the world's leading apparel-exporting countries. These poor conditions cast doubt that export-led development strategies that start with lower-value-added manufacturing necessarily create a rising tide that lifts all boats in countries pursuing these strategies. Poor-quality jobs and bad working conditions erode worker productivity, which ultimately also reduces business profits.
The study notes that garment workers in many of the leading apparel-exporting countries earn little more than subsistence wages for their long hours of labor. And in many of these countries, the buying power of these wages is going down, not up: The average pay for garment workers in apparel-exporting countries is just 36.8 percent of a living wage.[2]
There is an urgent need for policies and programs that will ensure that more people can benefit from an expanding economic pie. Protections for workers, ranging from the implementation of existing labor, health, and safety regulations to ensuring that workers are appropriately compensated for their work and production, are essential to rectifying the current imbalance.
At the same time, measures to foster increased job creation through incentives for the private sector must be complemented with investments in education, skills training, and job-search assistance, especially for youth. But this isn't a task for government alone. The private sector must also do its share to help create jobs and equip workers with the skills and protections they need to be productive.
Responsible capitalism and corporate social responsibility
Corporations must take on the idea of responsible and sustainable capitalism—the alternative is a world with depleted natural resources, where workers lack both the skills for a 21st century economy and the purchasing power to create new sources of demand.
Adopting socially responsible practices where corporations invest in training workers, ensure appropriate remuneration to boost purchasing power, and therefore create new markets will drive more business opportunity and create more dynamic economies.
Companies must mainstream corporate social responsibility, or CSR, strategies throughout their operations, and they must work with the public sector and civil society to this end. Mainstreaming CSR means embedding values and foresight into every business decision. It means thinking and planning for the long run. It leads to considering positive and negative externalities from actions in the present that will affect profits and strategies in the future. It is about "making the business case" for moral and sustainable practices.
Fostering more and better employment opportunities and more equitable outcomes in trade
The multilateral trading regime will have to reinvent itself to keep pace with changes in the global economy. As a new leader, Roberto Azevedo, prepares to take the helm of the World Trade Organization in September, this will hopefully prompt a fresh look at the multilateral trading regime and new ways of updating it to meet the needs of a more closely integrated global economy. A discussion on the quantity and quality of employment in the context of multilateral trade must be part of this discussion.
Three key questions emerged from this conference:
Are the linkages between trade and employment and labor better dealt with in the multilateral arena, or do multilateral rules restrict the national space to deal with these issues effectively?
If one concedes that multilateral rules on trade and employment and labor are necessary, then what is the right forum in which to deal with these issues—the World Trade Organization or the International Labour Organization?
Are there lessons in how trade can be harnessed to generate more and better employment?
In the coming months, the Just Jobs Network, in partnership with other organizations, hopes to undertake research to answer these questions.
Finding a new balance between livelihood generation and markets
Globalization, urbanization, and technological advancement are all upending traditional employment models. Rural workers face pressure from automation. Rural-to-urban migration changes social networks, frequently leads to overcrowding in cities, and can fuel informality even in the organized sector. As more workers flood an already-saturated urban labor market, workers become inclined to accept work without a contract or benefits—or they choose to be self-employed, often in the informal sector, bypassing the traditional employer-employee relationship.
These trends, along with a new set of challenges confronting the globe—the voyeuristic consumption of energy and natural resources, free riders willing to take advantage of a closely integrated global economy without sharing the costs, strain on infrastructure, and the production and distribution of food—call for new regulations and institutions to govern the 21st century economy. These new regulations and institutions must be geared toward creating jobs and skilled workers in new sectors such as clean energy. They must safeguard the rights, health and safety, productivity, and consumption power of workers so that they can fuel a 21st century global economy.
The Just Jobs Index
The conference featured the launch of the Just Jobs Index, which identifies and ranks the countries that are the best in providing employment opportunities, income and employment security, safety at work and healthy working conditions, and equality of treatment and opportunity.
The Just Jobs Index is a comprehensive, data-driven approach to measuring the quantity and quality of jobs around the world. It provides an aggregate measure of one of the most important questions facing global economic policymakers: Are we creating enough just jobs? The Just Jobs Index will help researchers and practitioners evaluate the effectiveness of countries in providing just jobs.
The Just Jobs Index will be valuable to policymakers, researchers, and field practitioners. Currently, there is no single measure of just jobs. Other global economic indices—such as the World Bank's Doing Business project or the World Economic Forum's Global Competitiveness Report—tend to focus on the corporate side of the global economy. The Just Jobs Index fills a gap, allowing researchers to address labor and employment along with the business side.
The top five performers in 2009, the latest year for which data were most available, were Iceland, the Netherlands, Norway, Australia, and Denmark. Why? Because these countries put workers first, a paradigm not often pushed at the International Monetary Fund, the World Bank, or the G20, where profits, donors, and shareholders often come first.
The Just Jobs Network and Fafo Institute are humble about our approach to the Just Jobs Index.  We acknowledge that this is Version 0.1 of the index and that it will be improved upon. At this point, however, the current version of the index goes a long way in laying out the methodology for constructing this innovative index, highlighting existing data gaps, and recognizing the immense value of creating such a tool for comparison.
Conclusion
Our hope at the Just Jobs Network is that by working with a diversity of stakeholders to address these issues in greater detail over the coming months, we can together build a new doctrine of inclusive and sustainable economic growth with quality employment at its heart.
The diversity of attendees was one of the most powerful contributions of this conference. Those engaged in policymaking in parliaments and central governments had the opportunity to hear from grassroots activists and entrepreneurs who are crafting livelihood opportunities at the community level. And those working on the ground were able to situate their community-based work within a platform seeking change at the national and international level. Fresh research gave both groups new information to guide their agendas.
The impact of these two days in New Delhi will be determined by our collective ability to maintain this dialogue and communicate between the grassroots and policy horizons.
Sabina Dewan is Director of Globalization and International Employment at the Center for American Progress, where she also directs the Just Jobs Network.
Endnotes
[1] Worker Rights Consortium and Just Jobs Network: "Global Wage Trends for Apparel Workers, 2001–2011" (forthcoming).
[2] A living wage is the wage necessary to support a minimally decent standard of living for an average-size family. This wage should provide for adequate nutrition, decent housing, and other necessities. The wage should also be attainable in a regular workweek without resorting to overtime or bonus pay.
The positions of American Progress, and our policy experts, are independent, and the findings and conclusions presented are those of American Progress alone. A full list of supporters is available here. American Progress would like to acknowledge the many generous supporters who make our work possible.
Authors Sabina Dewan
Senior Fellow