The White House Immigration Framework Hurts Women
The White House Immigration Framework Hurts Women
The White House's immigration proposal-put into legislation by Sen. Chuck Grassley-would particularly disadvantage women seeking to come to the United States.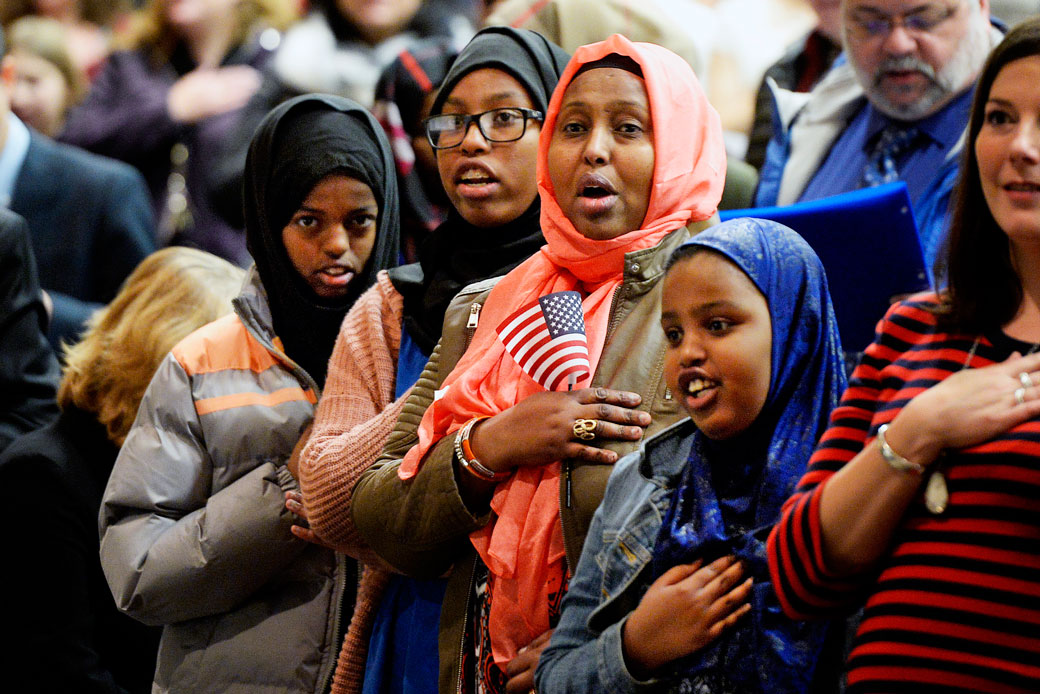 As part of the debate over how to provide protection to Dreamers—immigrants without status who came to the country at a young age—the Trump administration has proposed a draconian "framework" on immigration that would, among other things, significantly increase border and interior immigration enforcement; make it harder for children and other asylum seekers to find safety in the United States; and radically reshape future immigration. This framework has now been turned into legislation by Sen. Chuck Grassley (R-IA), in the Secure and Succeed Act, and the Senate will likely be voting on the Grassley bill soon.
Previous Center for American Progress analysis has found that the cuts to family reunification and the diversity visa program in the Trump-Grassley framework would significantly impact immigration from Latin America, Africa, and Asia. In all, these cuts alone would reduce future immigration by 35 percent.
What is less known is the impact that this proposal will have on immigrants broken out by age and gender. New analysis finds that the Trump-Grassley legislation will significantly reduce opportunities for women to immigrate to the United States and will disproportionately affect immigrant women in their prime working age.
Fewer women will be allowed in under the Trump-Grassley proposal
Women will be adversely affected by cuts to family migration and the diversity visa program. In 2016, 81 percent of women—more than 460,000 people—who immigrated to the United States did so through family sponsorship or via an immediate relative who was a U.S. citizen.
But, with the cuts suggested by the Trump-Grassley legislation, nearly 200,000 fewer women would be allowed to immigrate annually. These women are parents, spouses, and siblings to U.S. citizens and are the primary drivers of their families' integration.
Even harder for working-age women to immigrate
Cuts to family migration and the diversity visa target mostly adults and, not surprisingly, that is where the biggest reductions of immigrants are concentrated. What's more, slashing the family migration and the diversity visa program will result in significantly reduce immigrants between the ages of 25 and 54, what economists call the prime working ages.
By eliminating opportunities for U.S. citizens to reunite with their parents, adult children, and siblings, and lawful permanent residents to reunite with their adult unmarried children, the Trump-Grassley proposal would significantly curtail opportunities for women in the prime working ages.
Figure 1 shows the reductions in prime working age immigrants for both men and women. In total, the number of prime working age immigrant women would drop by more than 110,000 per year.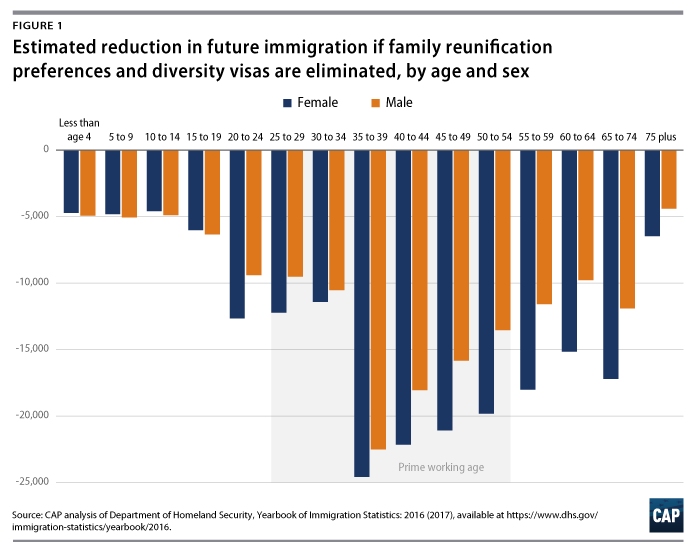 But these numbers alone do not tell the whole story: The employment-based immigration system is already stacked against women.
Only 12 percent of women immigrants who came to the United States in 2016 entered through employment-based preferences. Though separate from the Trump-Grassley framework, President Donald Trump has repeatedly called for moving to a "merit-based system," which is all too often code for slashing future immigration to the United States. But removing entire categories of family-based immigration and the diversity visa program, as in the Trump-Grassley framework—and, in general, pushing to reshape immigration around employment-based visas—will only further shut America's doors to immigrant women.
Conclusion
As Congress debates the Trump-Grassley proposal, it is important to keep in mind the disproportionate impact the legislation would have on women immigrants. Beyond just being anti-family, this proposal is anti-women. Rather than attempting to radically reshape immigration policy, Congress should focus on the task at hand: protecting Dreamers.
Nicole Prchal Svajlenka is a senior policy analyst. Philip E. Wolgin is the managing director for Immigration Policy at the Center for American Progress.
Methodological note
This analysis is based on Tables 7, 8, and 9 of the Department of Homeland Security's (DHS) "2016 Yearbook of Immigration Statistics" as well as the White House's Framework on Immigration Reform and Border Security. The White House framework does not discuss changes to refugee and asylee admissions, thus they are excluded from the analysis.
The analysis includes the following assumptions: Gender distribution across admissions categories is consistent within each five-year age bracket but varies between brackets.
For family reunification preferences, immigrants younger than 21 are considered children eligible for the four preferences; immigrants 21 and older are considered spouses, adult children, or siblings. Using DHS data on broad age categories, immigrants in the 20- to 24-year-old bracket are able to be separated into 20-year-olds and 21- to 24-year-olds.
In addition, there are three categories of admissions outside of preference limitations for immediate relatives of U.S. citizens—children under 21, spouses, and parents. All immediate relatives under the age of 21 are allocated to the children category. Citizens must be 21 to sponsor a parent; the analysis assumes a generational length of 16 years of age; and, thus, allocates immigrants between the ages of 21 and 34 (given age brackets) as spouses. The remainder of immigrants over the age of 35 are allocated, proportionately, to spouses and parents of U.S. citizens.
The positions of American Progress, and our policy experts, are independent, and the findings and conclusions presented are those of American Progress alone. A full list of supporters is available here. American Progress would like to acknowledge the many generous supporters who make our work possible.
Authors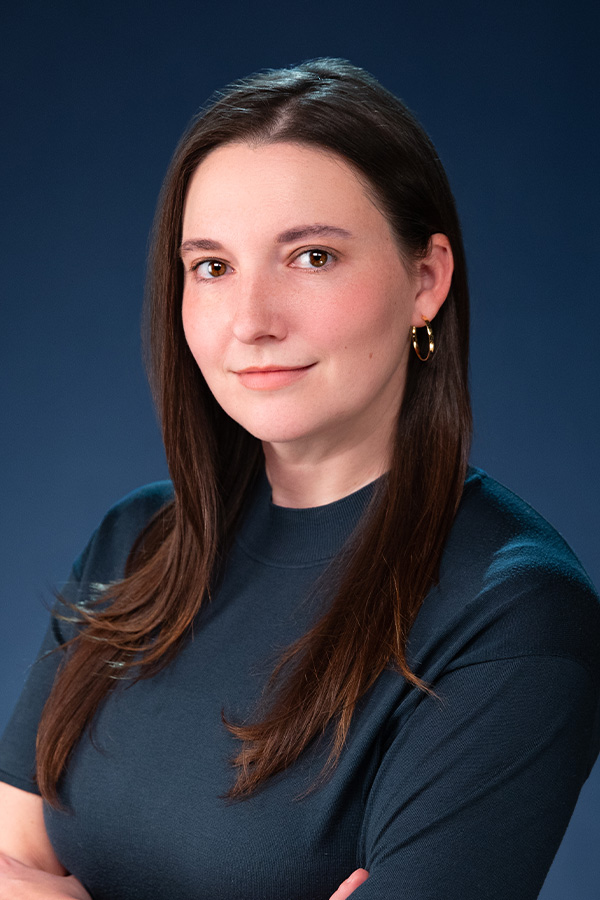 Director of Research, Rights and Justice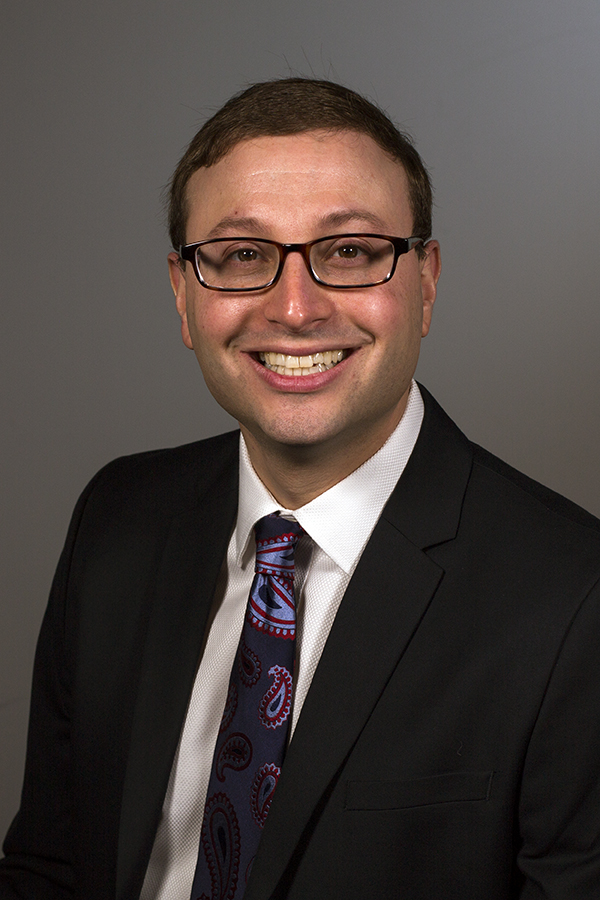 Philip E. Wolgin
Former Managing Director, Immigration Policy