Where the War on Voting Meets the War on Women
Where the War on Voting Meets the War on Women
This election season women voters of color may face a dual disenfranchisement when the war on women meets the war on voters.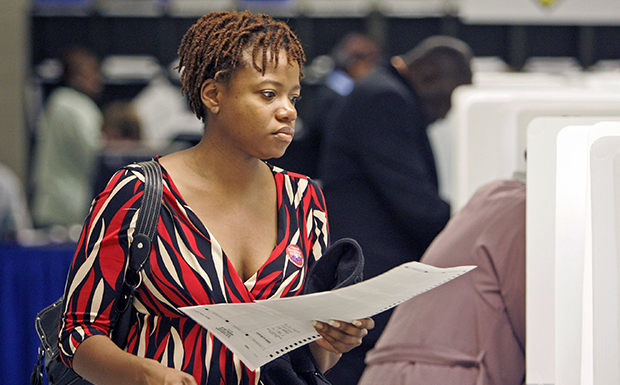 It is well documented that voter suppression disproportionately impacts people of color. A substantial amount of analysis has also been devoted to the increasing ferocity and number of attacks on women's reproductive rights. But almost nothing has been said about how these issues tie together to affect women of color.
Women of color stand at the center of this dual disenfranchisement. Through voter suppression efforts, they are being denied the opportunity to participate in civic life—nearly 1 million women of color may be turned away from the ballot box this week—and with it, the ability to voice their opinions and hold their representatives accountable on the reproductive health issues about which they care the most.
This is particularly true in Florida, where the state's new voter identification law may disenfranchise up to 341,203 women of color this Tuesday. When these women are turned away from the polls, not only will they be denied the opportunity to vote for elected officials, but they also will lose the opportunity to weigh in on ballot initiatives such as Amendment 6, which would withhold state funds from abortion care or coverage and would narrow privacy protections in the state constitution.
By 2050 there will no longer be a clear racial or ethnic majority in the United States; the majority of people eligible to vote will be people of color. Women of color have been voting at rising rates over the past 12 years, and they are now more likely to vote than men of color. Currently, women of color make up 18 percent of the United States population, and by 2050 the Census Bureau estimates that they will comprise 27 percent of the population.
Against this backdrop, voter identification laws in other states have been enacted with both discriminatory intent and impact. A recent study from the University of Delaware Center for Political Communication finds that those who express the strongest support for voter identification laws also harbor racial resentment toward African Americans. Indeed, voter suppression efforts have been spearheaded by officials who seek to combat the "urban—read African American—voter-turnout machine."
Beyond the discriminatory intent is the clear racial impact. The Brennan Center for Justice has found that 25 percent of black voters and 16 percent of Latino voters lack photo identification. In sharp contrast, a mere 8 percent of white voters lack such identification. When one takes gender into account, the situation may be even worse: Because women are more likely to have experienced name changes due to marriage and divorce, they are less likely to have current identification documents.
In this upcoming election alone, between 596,000 and 959,000 women of color stand to be disenfranchised. Moreover, there are a number of laws that have been temporarily suspended for Election Day 2012, but they will go into effect for future elections, bringing the total number of women of color who could lose the right to vote to between 1.05 million and 1.86 million.
These numbers could make or break a race in several states. In Florida, President Barack Obama won in 2008 by a margin of 236,450 votes, but, as mentioned above, 341,203 women of color in the state could be disenfranchised in this week's election.
Recent attacks on reproductive health care have likewise had both a discriminatory intent toward and a disparate impact on women of color. Congress, for example, voted earlier this year on the "Prenatal Nondiscrimination Act," which if passed would have increased scrutiny of abortion decisions by women of East and South Asian descent due to a stereotype that these women select their children based on sex.
Moreover, because women of color face numerous health disparities—including higher rates of maternal mortality, unplanned pregnancy, and abortion—restrictions on reproductive health services affect women of color more acutely. These include laws that deny funding for family planning services to Planned Parenthood and other clinics because they also provide abortion care, as well as measures that make abortion more costly by forcing women to undergo an invasive ultrasound procedure before having an abortion; limiting insurance coverage of abortion; and requiring outpatient abortion clinics to conform to burdensome and unnecessary hospital standards.
These attacks have been increasing with alarming frequency. Indeed, 22 states have passed 61 new measures restricting reproductive health services so far this year, and Congress has taken 55 antiwoman votes in the current session alone.
Women of color are highly invested in their right to vote and their right to reproductive justice. We must ensure that their voices are heard.
Elizabeth Chen is a Policy Analyst at the Center for American Progress and a Law Students for Reproductive Justice Law Fellow. She is the author of a new Center for American Progress report, "A Dual Disenfranchisement: How Voter Suppression Denies Reproductive Justice to Women of Color." Jessica Arons is the Director of the Women's Health and Rights Program at the Center for American Progress.
The positions of American Progress, and our policy experts, are independent, and the findings and conclusions presented are those of American Progress alone. A full list of supporters is available here. American Progress would like to acknowledge the many generous supporters who make our work possible.
Authors Liz Chen
Policy Analyst Jessica Arons
Director, Women\'s Health & Rights Program