Welcoming the Newcomer: How Faith Groups Are Rallying the Religious Behind Immigration Reform
Welcoming the Newcomer: How Faith Groups Are Rallying the Religious Behind Immigration Reform
Religious institutions and faith-based activists continue to be influential forces behind the push for sensible immigration legislation.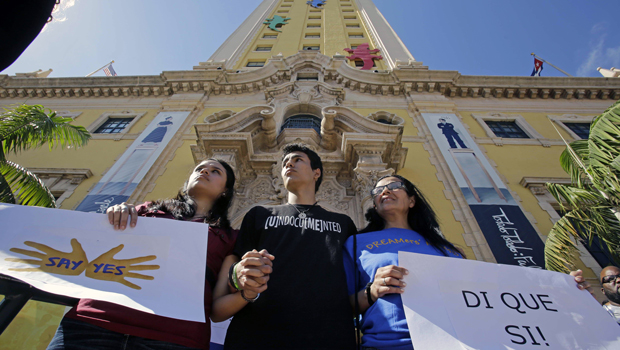 Advocacy around immigration reform continues to gain momentum, with bipartisan groups in Congress and President Barack Obama pushing to fix our nation's immigration system and provide a road map to citizenship for the 11 million undocumented immigrants living in our country. But while many discuss the shifting political winds on this issue, less has been said about one of the more influential forces behind the push for sensible immigration legislation: faith groups.
Although religious institutions and faith-based activists are sometimes the unsung heroes of the immigration reform movement, religious organizations have been calling for repairs to America's broken immigration system for decades. Faith groups, after all, are the so-called spiritual first responders to those affected by immigration issues: When members of congregations or communities are deported, detained, or torn from their families, faith leaders and their organizations are often the ones left with the painful task of helping those left behind pick up the pieces.
But religious activists aren't just vocalizing their frustration with the current immigration system—they're also putting their faith into action. Faith-based advocacy around the issue has grown substantially in recent years, with religious groups drawing upon deep institutional resources to develop increasingly complex—and increasingly influential—methods for rallying Americans behind the cause. Faith-based activists have forged powerful coalitions and orchestrated unusually sophisticated campaigns ahead of this year's debate and now stand ready to make a compelling moral case for creating a viable road map to citizenship for America's 11 million undocumented immigrants.
Here's a look at how faith groups are playing a key role in the fight for common-sense immigration reform.
A history of advocacy
Faith-based advocacy around immigration is anything but new. On the contrary, much of today's faith-based push for reform is built on a decades-long history of religious support for those seeking to find a new home in the United States.
When thousands of Central Americans fled to the United States in the 1980s to escape oppressive government regimes, for example, American houses of worship near the U.S.-Mexico border defied federal law and created an Underground Railroad-style network of churches that provided a safe haven for refugees. This network came to be known as the Sanctuary Movement and eventually grew to include more than 500 congregations nationwide. What started as a small act of mercy eventually proved to have lasting effects: The Sanctuary Movement helped pressure the Reagan administration into passing the Immigration Reform and Control Act of 1986, a landmark piece of legislation that extended temporary worker visa programs and provided legal status for more than 3 million undocumented immigrants.
Faith groups also played a key role in several immigration reform efforts during the early to mid-2000s. When the McCain-Kennedy immigration reform bill began to garner national attention in 2006, local faith groups in Pennsylvania and other states held press conferences urging representatives in Congress to pass the bill. National-level representatives of religious institutions such as the United States Conference of Catholic Bishops issued statements publicly backing the bill as well, highlighting immigration reform as a moral issue that cut across religious lines.
Although that bill and subsequent attempts at comprehensive immigration reform failed in the late 2000s, the work of faith groups helped lay the organizational groundwork for future faith-based campaigns. Religious groups, for instance, were a driving force behind attempts to pass the DREAM Act, a bill that would provide a pathway to legal status for eligible young people who complete high school and some college or military service. As energy around the DREAM Act grew after 2010, advocates from across the religious spectrum fired up America's faithful and pressured the Obama administration to take action, encouraging faith leaders to speak out in the press and holding coordinated, headline-grabbing events such as the "DREAM Sabbath" in 2011. United by cause and belief, religious voices bolstered the work of thousands of DREAMers and secular groups that were already calling for immigration reform, broadening the movement's reach and grounding the issue in values-based language.
The persistence paid off. The Obama administration announced in June 2012 that it would allow an estimated 800,000 undocumented youth who were brought to the United States at a young age to apply for the Deferred Action for Childhood Arrival program, which allows those who qualify to remain in the United States without fear of deportation and makes beneficiaries eligible for work permits. When conservatives cried foul, it was religious groups—including the United States Conference of Catholic Bishops and several evangelical Christians—who provided political support for President Obama and his administration. Even Leith Anderson, a theological conservative and president of the National Association of Evangelicals, called the program "the right thing to do."
The sophistication and potency of these and other coordinated faith-based campaigns is proof that religious support for immigration reform can affect change in both sanctuary halls and the halls of power. Indeed, the longstanding efforts of these groups served to create a dynamic network of passionate activists whose faith informs their support for America's undocumented, and ultimately set the stage for an even stronger push for reform in 2013.
Religious institutions ramp up support for immigration reform
Fast forward to this year, where energy around immigration reform is growing in the wake of the 2012 presidential election. Exit polls from November found that voters of all political flavors exhibited record support for immigration reform, sparking a new wave of enthusiasm and activism that is spilling into the 2013 legislative cycle. This includes the work of religious denominations, many of which are dedicating unprecedented levels of institutional support to the cause. The United Methodists' Council of Bishops, for instance, prioritized immigration as a key issue for their denomination this year, and published official statements championing a viable pathway to citizenship for the nation's 11 million undocumented immigrants. Meanwhile, dynamic Methodist leaders such as Bishop Minerva G. Carcaño are filling pulpits and podiums across the country, passionately articulating the Christian case for immigration reform at churches, denominational gatherings, and even at the White House.
"Certainly the fact that I am the daughter of immigrants informs my perspective on this issue of immigration and the need for comprehensive immigration reform, but truly I stand before you because I'm a Christian and Christian faith calls us to stand with the sojourner," Carcaño told attendees at an immigration vigil at the Claremont School of Theology last month.
United Methodists are also amassing a sizable grassroots operation, preparing volunteer teams across the country to hold immigration-themed "public witness events" such as prayer vigils, potlucks, congregational gatherings, and marches. According to Bill Mefford, director of civil and human rights at the United Methodist General Board of Church and Society, Methodists have held more than 900 of these kinds of events over the past four years and plan on convening another 250 during February and March of 2013. The grassroots efforts, he says, are starting to yield results in Washington, D.C.
"We've been building for many years now with an eye toward 2013," said Mefford in a personal interview. "Now when we go to have meetings with elected officials, we talk about what United Methodists in their state are doing [around immigration reform]. It strengthens our advocacy."
The Methodists are not alone. Other mainline protestant denominations such as the Presbyterian Church (U.S.A.) and the United Church of Christ have also issued statements in support of America's undocumented immigrants in recent weeks, drawing attention to issues such as family reunification and agreeing to partner with other religious groups to help pressure Congress to pass meaningful legislation.
Not to be outdone, Catholics are redoubling their already-sizable advocacy efforts around issues of immigration. The United States Conference of Catholic Bishops urged President Obama and Congress to prioritize immigration reform in 2013, with Catholic leaders such as Archbishop Thomas Wenski publishing op-eds and speaking out at public gatherings in support of undocumented immigrants. The annual Catholic Social Ministry Gathering brought hundreds of Catholic leaders to Washington, D.C., in February, fronting immigration reform as a key concern for the church. And Catholic nuns are building on the success of last year's budget-related "Nuns on the Bus" campaign, when a group of nuns toured through several states and publicly decried the 2012 House Republican budget as "immoral." This year the sisters are organizing a similarly themed "Nuns on the Border" campaign that will send activists to the U.S.-Mexico border and hold events that draw attention to immigration issues.
In addition to Catholics and mainline Protestants, this year's immigration reform push is garnering surprising levels of support from another religious community: evangelical Christians, including many theological conservatives. The Evangelical Immigration Table, a newly formed consortium of prominent evangelical Christians, recently gathered business heads, law-enforcement officials, and religious leaders to form the "Bibles, Badges and Business" coalition for immigration reform. Members of the coalition include conservative evangelical leaders such as Richard Land, president of the Ethics & Religious Liberty Commission of the Southern Baptist Convention, and Samuel Rodriquez, president of the National Hispanic Christian Leadership Conference, as well as more progressive evangelicals such as Rev. Gabriel Salguero, president of the National Latino Evangelical Coalition.
The Evangelical Immigration Table also recently announced a sweeping "I Was a Stranger" campaign, complete with a website stoked with online resources tailored for use in churches, college campuses, and homes. The effort, which has garnered the public support of numerous conservative Christian voices, revolves around an "immigration prayer challenge" that enlists more than 100,000 evangelical churches nationwide to read one scripture on immigration per day during the 40-day Christian celebration of Lent. Organizers hope the campaign will help congregants better understand that passing immigration reform isn't just good policy, but is also a moral—and Biblical—imperative.
"Set aside some time each day to pray," read instructions on the campaign's website, which goes on to urge participants to continue "asking God to help you to see immigrants as he does, and also praying for elected officials, who have the responsibility of crafting public policies that dramatically impact the lives of immigrants."
This sort of prayer-based campaign might seem to be more talk than action, but pulpit advocacy has a powerful impact on the hearts, minds, and voting patterns of many religious Americans. A recent study by Gordon College found that after white evangelicals heard a positive message about immigrants from their pastor, 81.5 percent supported a path to legalization for unauthorized immigrants, compared to only 54 percent of white evangelicals overall.
The strength of appealing to religious values extends beyond evangelical circles. A recent survey conducted by the Public Religion Research Institute found that while only about half of churchgoers reported hearing about the issue of immigration in church, 69 percent of all Americans believe that following the Golden Rule—a Biblical reference that the survey defines as "providing immigrants the same opportunity that I would want if my family were immigrating to the U.S."—is a very or extremely important value for implementing immigration reform. Similarly, a full 50 percent believe that following the Biblical example of welcoming the stranger is very or extremely important for guiding reform efforts.
Institutional religious support for immigration reform isn't restricted to Christian groups. Jewish groups that support reform include the American Jewish Committee, which publishes extensive resources on the issue arguing that immigration reform is in line with Jewish values; the Religious Action Center for Reform Judaism, which issued statements backing immigration reform in recent months and has rallied Rabbis around the issue; the Hebrew Immigrant Aid Society, which sent representatives to the White House in March to discuss reform with President Obama; and the National Council of Jewish Women, which expressed support for early immigration proposals from the Obama administration.
Meanwhile, the Unitarian Universalist Association's "Standing on the Side of Love" campaign is using community activism, social networking, and traditional media outreach to build toward a nationwide mobilization during Congress's in-state district work period from March 25 through April 5. While federal elected officials are back in their home districts, Unitarian Universalist members and partner organizations plan to visit local members of Congress and make the case for compassionate immigration reform. Finally, the Muslim Public Affairs Council launched its own campaign for immigration reform in January, adding organizational heft to its 2010 policy paper titled, "Ineffective & Unjust: Fixing Our Nation's Broken Immigration System."
The ground game: Faith-based grassroots efforts
In addition to action from individual denominations and churches, ecumenical and interfaith groups are using tried-and-true community organizing methods to rally religious Americans behind the cause of immigration reform.
People Improving Communities through Organizing, or PICO, for example, recently launched a national "Campaign for Citizenship" that calls upon local faith communities to advocate for immigration reform. Their operation is robust, using a time-tested, congregation-based organizing network that boasts more than 3,000 volunteer organizers spread across 11 targeted states. These organizers, which make up the core of PICO's ground game, are highly trained in the art of advocacy: They receive careful instruction on how to meet with elected officials in more than 40 targeted congressional districts, learning skills such as how to ask strong questions and share powerful personal stories in ways that leave an impact on representatives.
PICO insists that faith is a key part of what makes their organizers—many of whom are religious leaders—so effective. "Clergy are the spiritual first responders," said Eddie Carmona, director of PICO's Campaign for Citizenship. "They're the ones who see [immigration issues] in their congregations, who have to deal with families when someone is deported."
Meanwhile, groups such as the Interfaith Immigration Coalition, or IIC, are using the power of coalitions to coordinate grassroots operations. The IIC works with dozens of religious groups, denominations, and faith-based advocacy groups—including PICO—to coordinate advocacy efforts, presenting a united, faith-led voice for immigration reform. "We want to make sure that we're plugging the faith voice into the larger struggle," said Noel Anderson, grassroots coordinator for the IIC and the Church World Service, in a personal interview. "Our goal is to show the power of faith communities coming together around immigration reform and help pass a pathway to citizenship for the 11 million [undocumented immigrants]."
The IIC bases much of its advocacy on smaller, localized organizing techniques already being used by many faith groups, encouraging religious groups and volunteer organizers to hold meetings in their churches, potlucks in their homes, family-unity prayer vigils in public spaces, and larger-scale religious services in front of the offices of political decision makers.
The actions may be small, but the coalition produces large-scale results: The IIC marked the Christian celebration of Ash Wednesday with a slew of high-profile immigration-themed events in cities across the country. In addition to holding an ecumenical vigil outside the Senate immigration hearing in Washington, D.C., a Florida group affiliated with the IIC lit 1,120 candles to symbolize the number of people deported every day from the United States, and activists in the northeastern United States marched from Ellis Island to a detention center for undocumented immigrants in Elizabeth, New Jersey. Similar events—many of which, despite being based around a Christian holiday, included non-Christian voices—were held in San Francisco and Dallas, effectively trumpeting the religious case for immigration reform from every corner of the country.
"I believe in this cause, and I believe in God, so I'm taking the risk of speaking out," Mariela Castano, an undocumented immigrant and one of the New Jersey activists, told the Asbury Park Press. "I'm speaking in hopes of raising the awareness of those, like the president and those in the Senate, who have the power to change this system."
These campaigns are but a few of the grassroots efforts within the larger faith-based push for immigration reform. In addition to forging partnerships between religious groups and secular organizations such as the Alliance for Citizenship and the American Civil Liberties Union, or ACLU, thousands of individual churches, synagogues, mosques, and temples are calling upon their faith as an organizing force for America's undocumented immigrants. Despite being separated from Washington, D.C., by hundreds or even thousands of miles, religious groups are finding ways to make a difference. Instead of waiting idly for politicians to take up the bully pulpit for immigration reform, faith-based organizers are working hard to galvanize the power of those in the pews.
Conclusion
Although attempts at immigration reform have failed in the past, 2013 looks to be a transformative year in the struggle for immigrant justice. As advocacy organizations gear up for a final push to support America's 11 million undocumented immigrants, faith groups appear poised to be key players—if not pivotal leaders—in attempts to achieve the longstanding goal of passing comprehensive immigration reform. Backed by solid institutional support, organized behind an expansive grassroots ground game, and rooted in deeply held values, faith groups are an undeniably powerful force in support of undocumented immigrants and their families.
United by purpose, pluck, and prayer, religious supporters of immigration reform are already making themselves difficult to ignore in Washington. Lawmakers would do well to heed the call of millions of religious Americans, as they demand a change in our broken immigration system and a road map to citizenship for America's 11 million undocumented immigrants.
Jack Jenkins is a Writer and Researcher with the Faith and Progressive Policy Initiative at the Center for American Progress. For more on this initiative, please see its project page.
The positions of American Progress, and our policy experts, are independent, and the findings and conclusions presented are those of American Progress alone. A full list of supporters is available here. American Progress would like to acknowledge the many generous supporters who make our work possible.
Authors Jack Jenkins
Senior Religion Reporter, ThinkProgress