Urging Family Policies to Focus on Fathers of Color
Urging Family Policies to Focus on Fathers of Color
With Father's Day right around the corner, policymakers should focus on implementing ideas that can help fathers of color and low-income fathers improve their and their families' lives.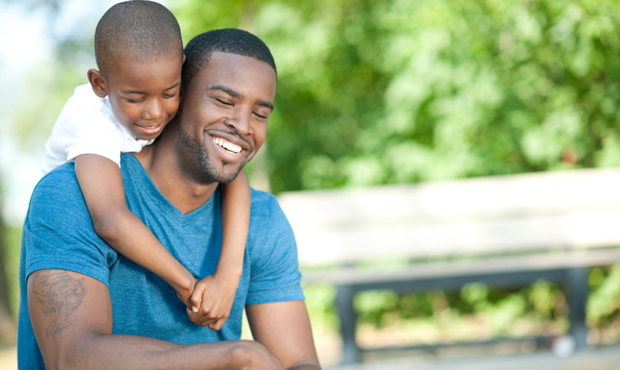 As we celebrate Father's Day on Sunday, it is worthwhile to reflect on the importance of fathers who too often go unrecognized in family and social policy: low-income fathers of color, who are frequently dogged by negative stereotypes.
More than two-thirds of Latino fathers reside in the same household with their children, cohabitating at rates on par with the national average of 68.6 percent. Although black men are the demographic group least likely to live with their children, noncustodial black fathers participate in their children's upbringing at rates nearly double that of noncustodial white and Latino fathers, and their children are more likely to report positive contact and relationships with their fathers.
Improvements in a father's economic security better prepare him to provide financial support to his children, who need to be lifted and kept out of poverty. Leaders from across the country, including President Barack Obama, are supporting efforts such as the Center for Urban Families, or CUF, in Baltimore, Maryland, which offers low-income fathers parenting and workforce-development services. These valuable community assets are providing ladders of opportunity, generating significant progress in helping low-income fathers improve their economic standing, and shifting the narrative on fathers of color.
More policy attention, however, must be paid to their needs and those of all low-income fathers. In terms of employment, health, housing stability, incarceration, and mental health, low-income fathers fall far behind other fathers, as the data presented below demonstrate.
Employment
Despite steady declines in the overall unemployment rate, disproportionate joblessness persists in low-income communities and communities of color. To avoid the long-term consequences of disparate economic distress, investments in jobs, as well as education and training, are critical supports for communities currently being left behind in the recovery. Assistance and services that improve work opportunities for disconnected men also support the well-being of children, women, and families.
President Obama's proposed Pathways Back to Work Fund includes $8 billion for subsidized employment, as well as $2 billion to provide job training for low-income people and the long-term unemployed. CAP's recently released report, titled "It's Time to Hit the Reset Button on the Fiscal Debate," includes this fund as a critical approach to faster long-term growth.
Health
The Patient Protection and Affordable Care Act, or ACA, will significantly improve access to health care coverage for millions of low-income men. Even when black and Latino men have coverage, however, they are less likely to receive consistent quality care and preventive services.
Sick fathers or fathers who die prematurely are unable to provide for their families. Low-income men of color could benefit from greater community-based outreach to boost enrollment and eliminate barriers to treatment. The ACA's Prevention and Public Health Fund, if fully implemented, will reduce health care costs through improved detection and management of chronic conditions and the promotion of wellness in underserved communities.
Housing stability
Because men of color face high levels of homelessness, unemployment, underemployment, and wage gaps, housing affordability is critically important. Housing instability negatively impacts health outcomes, recidivism, employment opportunities, and family stability, as well as the ability of fathers to be present in their children's lives. "Making the Mortgage Market Work for America's Families," a recent joint report by CAP and the National Council of La Raza, outlines opportunities to improve housing affordability, including investments in the construction and preservation of affordable rental units and the launch of a Market Access Fund to provide targeted lending to communities of color and low-income people.
 Incarceration
Given persistent incarceration disparities and the deep effect it has on communities of color, more should be done to support alternatives to incarceration and to improve community re-entry services. The removal of fathers and the wage gap they encounter upon return affects entire families. Due to workplace discrimination, returning fathers often face limits to their ability to support their children. Often in order to make ends meet, fathers will repeat the very crimes that led to their initial incarceration.
Social impact bonds provide a source of funding to support programs that lower recidivism through family planning, drug treatment, employment, and mentoring services. President Obama's fiscal year 2014 budget includes a request for $500 million to support this innovative funding approach.
Mental health
Most Americans with a mental illness remain untreated or receive poor treatment, and this is especially true for men of color, who are less likely to be connected to mental-health services. One significant but particularly overlooked cause of mental illness in men is sexual violence, including rape. Male victims suffer from similar mental-health disorders as women who are sexual assault victims, but men are far less likely to disclose the assault. Consequently, it is highly likely that they must cope with the psychological impact on their own.
Untreated mental illness in fathers means the whole family is likely to suffer, as fathers are severely incapacitated in their ability to parent when dealing with mental trauma. The president's requested $235 million provides critical resources to improve mental-health detection and train and expand the mental-health workforce.
Conclusion
Fathers of color need increased access to vital wraparound services. Programs such as the Center for Urban Families in Baltimore are critical to addressing the challenges mentioned above and should be supported on a much greater scale. Additionally, to ensure progress for our nation's fathers of color, policymakers and program directors must eliminate systemic barriers that actively prevent fathers from supporting their families.
A number of proposed policies offer significant opportunities to improve the circumstances of fathers of color and low-income fathers. This Father's Day, our leaders should seize the opportunity to move beyond the stereotypes and protect and strengthen economically vulnerable fathers, their children, and their families.
Zach Murray is a Bill Emerson National Hunger Fellow with the Poverty and Prosperity program and Progress 2050 project at the Center for American Progress.
The positions of American Progress, and our policy experts, are independent, and the findings and conclusions presented are those of American Progress alone. A full list of supporters is available here. American Progress would like to acknowledge the many generous supporters who make our work possible.