Unemployment Is About Families, Too
Unemployment Is About Families, Too
A Look at Low-Income Men and Unemployment
Today's job numbers don't tell the full story of how high unemployment disproportionately affects low-income men and their families, writes Joy Moses.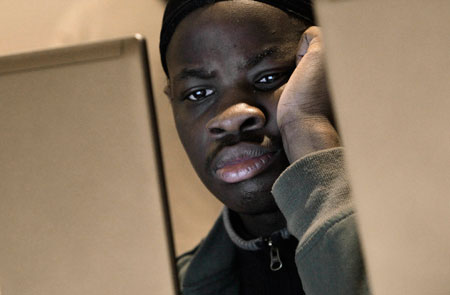 The economy continues to show some signs of being on the mend as the economy benefits from the American Recovery and Reinvestment Act, but today's unemployment numbers continue to demonstrate how badly workers are faring—especially if they are low-wage or low-skilled men. Those with the least amount of education had an unemployment rate of 15.6 percent in February as compared to the general rate, which remained static at 9.7 percent. The unemployment extension that was signed by President Barack Obama earlier this week and the pending jobs bill should provide some relief. But low-income men are facing serious challenges that reach beyond the recession and affect their children and families, as well.
Antipoverty programs are often built around serving women and children, leaving many low-income men out in the cold. Policies focused on children and families must include a greater focus on men, being mindful of the fact that many of these men are fathers who can and do make positive contributions to their children's lives while also helping to lift the economic burden from the backs of low-income women who far too often bear the majority of the costs associated with childrearing. This is simply a statement of the obvious for some. But many Americans continue to carry negative stereotypes about poor men, especially if they are people of color, lack stable employment, face difficulties providing for their families financially, have a criminal record, or struggle with a combination of these factors.
Federal policies should be comprehensive and aimed at reconnecting the disconnected. Far too many men, and especially African-American men, are disconnected from employment, but also from society and their families.
These employment disconnections require continued recession-related job-creation efforts, long-term labor market solutions, investments in adult learners and community colleges, and meaningful ways of addressing employment barriers tied to race and criminal records. Special attention should be paid to reaching men as early as possible, while they are still young and have fewer challenges to overcome. This has particular implications for K-12 education and youth-oriented second-chance programs such as Youth Corps and YouthBuild, which are focused on a combination of job training and education completion for those who are not meaningfully involved in school or work.
Societal disconnections are evident in our nation's history of mass incarceration that currently claims a disproportionate number of African-American and Latino men, and 1.7 million children of prisoners. Family relationships are hindered by separations and the challenges associated with re-entry. Placing men in prison or jail deprives many families of their income. This harm continues upon release as criminal records hurt a man's earning potential. Given that mass incarceration produces diminishing returns related to public safety, governments should reconsider their approaches and expand the use of alternatives such as community detention. Continued investments in the Second Chance Act, a federal law that aims to promote former prisoners' successful reintegration into society, and related efforts are also needed.
Family disconnections are rooted in a number of concerns. Joblessness and economic pressures put stress on families and couples, sometimes leading to separations. Incarceration doesn't help. And separations for many low-income people are not accompanied by the dispute resolution services and formal visitation orders that are common among those with greater financial resources. This can create a greater wedge between men and their children.
Family disconnections provide additional reason for addressing employment disconnections. The federal government should fund fatherhood program innovations, consider relationship supports, and place new investments in access and visitation services that result in family dispute resolution and visitation orders.
Addressing all of low-income men's disconnections will require policymakers and the nation to move beyond temporary job-creation efforts or a simple focus on unemployment numbers. This approach is more likely to improve the quality of low-income men's lives. It will also equate to a greater ability to financially provide for their children either through contributions to their household income or via child support payments. This will help to lift many children out of poverty. Both fathers and children will benefit from stronger bonds. Addressing the disconnections experienced by low-income men is good poverty policy and good family policy.
Read also:
Joy Moses is a Policy Analyst with the Poverty & Prosperity program at American Progress.
The positions of American Progress, and our policy experts, are independent, and the findings and conclusions presented are those of American Progress alone. A full list of supporters is available here. American Progress would like to acknowledge the many generous supporters who make our work possible.
Authors Joy Moses
Senior Policy Analyst