Trump's War on Oceans Continues
Trump's War on Oceans Continues
The Trump administration's oceans agenda remains focused on maximum extraction and minimum oversight, jeopardizing America's marine resources and national heritage.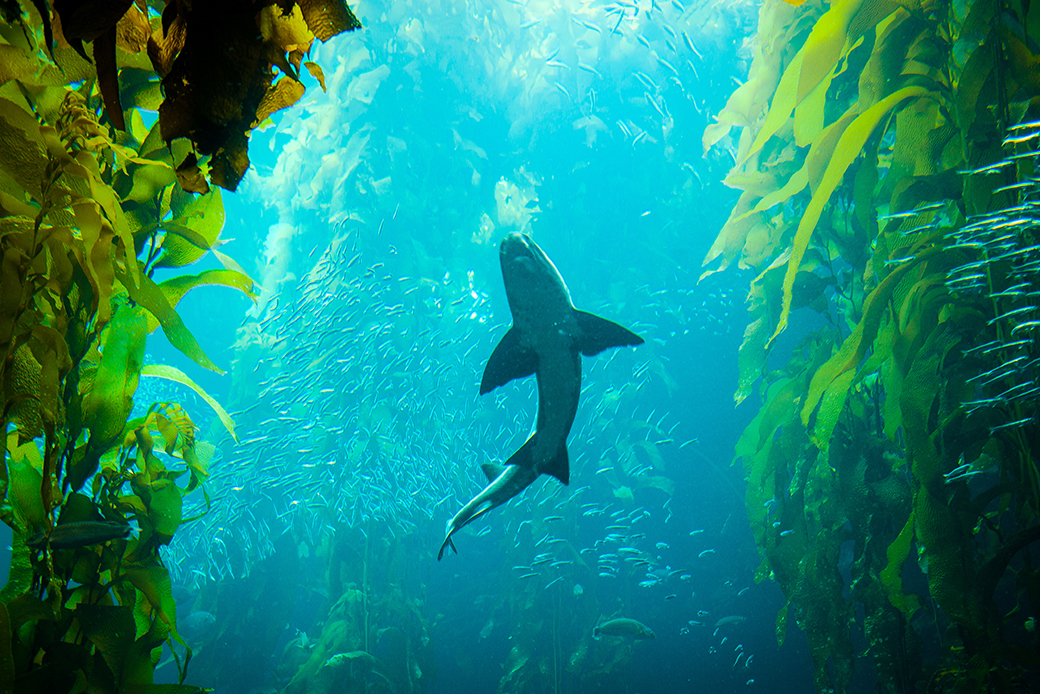 In just his first six months in office, President Donald Trump undertook a range of actions that gravely undermined common-sense stewardship of America's oceans—enough for the Center for American Progress to conclude that he had launched a "War on Oceans." His attacks included withdrawing from the Paris Agreement on climate change; signing executive orders aimed at reckless expansion of offshore oil drilling; direct attacks on the spectacular wildlife protected within national marine sanctuaries and marine national monuments; and proposing draconian cuts to the budget of the National Oceanic and Atmospheric Administration (NOAA). Altogether, these rollbacks amount to an attack on America's coasts and oceans the size of which has not been seen in decades.
And President Trump's war on oceans has not stopped there: Since June 2017, this onslaught has continued largely unabated. As citizens and advocates for ocean conservation convene in Washington, D.C., this week for Capitol Hill Ocean Week and the first-ever March for the Ocean, the Trump administration is accelerating its rollbacks of basic safeguards and pollution controls for the marine environment, as well as the sell-off of oceans to special interests.
This column details the ongoing attacks on U.S. oceans since last June.
Radically expanding dangerous offshore drilling
In the wake of Trump's 2017 executive order directing Secretary of the Interior Ryan Zinke to develop a new Five-Year Outer Continental Shelf Oil and Gas Leasing Program, the U.S. Department of the Interior has proposed a radical expansion of offshore drilling that would allow oil companies to drill offshore of every mainland coastal state.
Amid this push to sell off more of America's oceans for drilling, Secretary Zinke also launched rulemaking processes to eliminate safeguards established during the Obama administration to prevent a repeat of the catastrophic Deepwater Horizon oil spill, which killed 11 workers and cost more than $60 billion to clean up. In yet another example of how many of the Trump administration's policies benefit industry, The New York Times reported that these safety rollbacks were linked to lobbying from the oil and gas companies most prone to spills and accidents.
Not content to stop at more drilling with fewer safety regulations, the Trump administration has also turned its sights to protections for ocean wildlife. On October 25, 2017, Commerce Secretary Wilbur Ross released a report identifying what he called the "regulatory hurdles" for offshore oil and gas drilling within NOAA. As a result, the department pledged to review "unnecessary delays and lengthy permitting and licensing processes" under the Endangered Species Act, the Marine Mammal Protection Act, the Magnuson-Stevens Fishery Conservation and Management Act, and the National Marine Sanctuaries Act. These bedrock environmental laws help protect fish, wildlife, their habitats, and fishing grounds from oil spills and other common accidents associated with the offshore oil and gas industry. Yet in his report, Secretary Ross failed to explain why these long-standing safeguards are a problem, particularly given that U.S. offshore oil production hit an all-time high in early 2018 while all these so-called hurdles were still in place.
Removing protections for marine protected areas
On December 5, 2017, despite receiving millions of comment letters in support of preserving federally protected sites established by past presidents, Interior Secretary Zinke released a report that called for gutting protections for 10 national monuments. His list included three marine national monuments: Northeast Canyons and Seamounts, Pacific Remote Islands, and Rose Atoll. The report, intended for the president, called for modifying the boundaries of the Pacific Remote Islands and the Rose Atoll National Monuments, leaving previously identified resources unprotected. It also called for allowing industrialized commercial fishing in all three of these wildlife-rich monuments, an action as antithetical to the conservation of American wildlife as allowing mining in the Yosemite Valley.
Removing science from fisheries management
Contrary to a science-based ruling made previously for the Gulf of Mexico by the fishery commission in that region, in June 2017, Secretary Ross extended the length of the red snapper fishing season in federal waters from 3 days to 42 days. He did this despite clear evidence that it would jeopardize the health of the fish stock; in fact, internal memos released in the course of litigation revealed that Commerce Department officials knew it would result in overfishing of the red snapper stock by 40 percent. One month later, Secretary Ross overruled another science-based fishery quota established by the 75-year-old Atlantic States Marine Fisheries Commission and allowed recreational fishermen in New Jersey to land what scientists concluded is an unsustainable quantity of summer flounder. It was the first time in the commission's history that the secretary of commerce overruled its science-based policy determination. American fisheries are broadly considered the best-managed in the world, due largely to 2006 legislation that enshrined science as the basis for fisheries policy. These disturbing policy moves put that fisheries leadership—and American fish stocks—at risk.
Conclusion
For a year and a half, the Trump administration's policies have represented a dangerous war on America's oceans, putting coastal communities, pristine ocean, and priceless wildlife at risk. No attempt by the administration to put a positive spin on these dirty actions will clean them up.
Margaret Cooney is the campaign manager for Ocean Policy at the Center for American Progress. Shiva Polefka, associate director for Ocean Policy at the Center for American Progress, and Sally Hardin, research analyst for the Energy and Environment War Room at the Center for American Progress Action Fund, also contributed to this column.
The positions of American Progress, and our policy experts, are independent, and the findings and conclusions presented are those of American Progress alone. A full list of supporters is available here. American Progress would like to acknowledge the many generous supporters who make our work possible.
Authors
Campaign Manager