Top 10 Reasons Why Green Jobs Are Vital to Our Economy
Top 10 Reasons Why Green Jobs Are Vital to Our Economy
Millions of Competitive Jobs Created and Sustained
Christina C. DiPasquale and Kate Gordon detail the most important ways green jobs are critical to job creation and sustainable, competitive economic growth.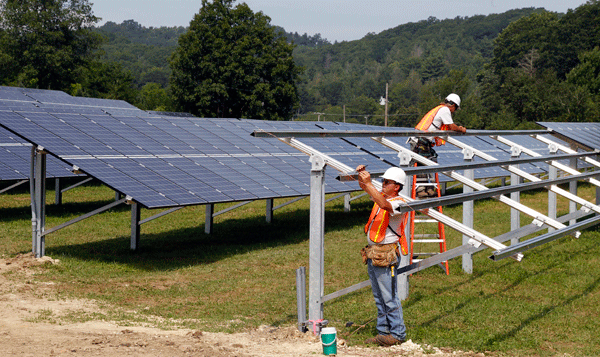 Green jobs are integral to any effort to jumpstart our economy and reduce as rapidly as possible our 9.1 percent unemployment rate. The rapid growth of green jobs will boost demand in our economy by reducing unemployment, make America more competitive in the global economy, and protect our public health—all of which will result in greater economic productivity and long-term economic prosperity. Here are the top 10 reasons why this is the case today and into the future:
1. There are already 2.7 million jobs across the clean economy. Clean energy is already proving to be larger job creation engine than the heavily subsidized fossil-fuels sector, putting Americans back to work in a lackluster economy.
2. Across a range of clean energy projects, including renewable energy, transit, and energy efficiency, for every million dollars spent, 16.7 green jobs are created. That is over three times the 5.3 jobs per million dollars that are created from the same spending on fossil-fuel industries.
3. The clean energy sector is growing at a rate of 8.3 percent. Solar thermal energy expanded by 18.4 percent annually from 2003 to 2010, along with solar photovoltaic power by 10.7 percent, and biofuels by 8.9 percent over the same period. Meanwhile, the U.S. wind energy industry saw 35 percent average annual growth over the past five years, accounting for 35 percent of new U.S. power capacity in that period, according to the 2010 U.S. Wind Industry Annual Market Report. As a whole, the clean energy sector's average growth rate of 8.3 percent annually during this period was nearly double the growth rate of the overall economy during that time.
4. The production of cleaner cars and trucks is employing over 150,000 workers across the United States today. These job numbers are likely to increase as improved car and light truck standards recently announced by President Barack Obama will require more skilled employees and encourage further investment.
5. Median wages are 13 percent higher in green energy careers than the economy average. Median salaries for green jobs are $46,343, or about $7,727 more than the median wages across the broader economy. As an added benefit, nearly half of these jobs employ workers with a less than a four-year college degree, which accounts for a full 70 percent of our workforce.
6. Green jobs are made in America, spurring innovation with more U.S. content than other industries. Most of the products used in energy efficiency retrofits are more than 90 percent made in America. Sheet metal for ductwork is over 99 percent domestically sourced, as are vinyl windows (98 percent) and rigid foam insulation (more than 95 percent). Even major mechanical equipment such as furnaces (94 percent) and air conditioning and heat pumps (82 percent) are predominantly American made.
7. We have a positive trade balance in solar power components such as photovoltaic components and solar heating and cooling components of $1.9 billion, and are exporting components to China. Contrast this with the oil industry, where in 2010 alone we imported over $250 billion in petroleum-related products. As our nation's basic manufacturing base declines, we risk losing our place in the forefront of innovation if we don't invest in advanced manufacturing in the green sector.
8. Three separate programs for energy efficiency retrofits have employed almost 25,000 Americans in three months. The Weatherization Assistance Program, Energy Efficiency Block Grant Program, and State Energy Programs have collectively upgraded over half a million buildings since the programs began to ramp up from April 1, 2011 and June 30, 2011, providing immediate new and sustainable job opportunities to tens of thousands of construction workers eagerly searching for work.
9. Clean energy jobs are better for U.S. small businesses. Specialty construction companies that perform energy retrofits show very high rates of small business participation in the construction. Ninety-one percent of the firms involved in retrofits are mall businesses with less than 20 employees.
10. An abundance of jobs in the green sector are manufacturing jobs with an upward career track. Forty-one percent of the nation's green jobs offer medium to long-term career building and training opportunities, and 26 percent of green jobs are in the manufacturing sector, compared to 9 percent in the traditional economy.
The bottom line: Green jobs being created through smart investments in our energy infrastructure are expanding employment opportunities while reducing pollution of our air and water, providing an alternative to foreign oil, and allowing us to export more American-made goods abroad.
Christina C. DiPasquale is Associate Director of Press Relations at the Center for American Progress. Kate Gordon is Vice President for Energy Policy at the Center.
The positions of American Progress, and our policy experts, are independent, and the findings and conclusions presented are those of American Progress alone. A full list of supporters is available here. American Progress would like to acknowledge the many generous supporters who make our work possible.
Authors Christina DiPasquale
Associate Director Kate Gordon
Senior Fellow