Top 10 Reasons Alabama's New Immigration Law Is a Disaster for Faith Communities
Top 10 Reasons Alabama's New Immigration Law Is a Disaster for Faith Communities
The Law Threatens Fundamental Religious Values
The law could wipe out congregations and prevent religious leaders from practicing their ministries, among other things.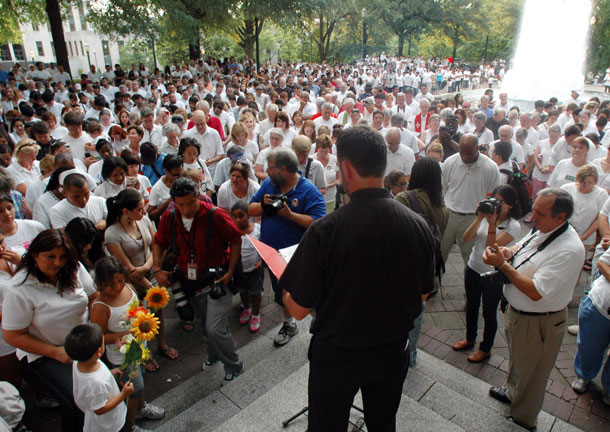 "We've already lost 20 percent of the congregation in the past few weeks, and many more will be gone by next week. It is a human tragedy. This is the saddest thing I have experienced in my 18 years as a priest."
— Rev. Paul Zoghby, St. Margaret's Catholic Church, Foley, Alabama
Alabama's new immigration law, H.B. 56, has several measures that will have a potentially devastating impact on Alabama's faith communities.
Section 13 of the law makes it a crime for anyone, including religious leaders, to conceal, harbor, or shield an undocumented person; to provide that person with transportation; to encourage that person to reside in the state; or to rent to that person. While some of these extreme parts of the law have been temporarily stopped by court order, they could go back into effect once the court makes its final ruling.
Under Alabama's H.B. 56:
1. Immigrants will fear going to places of worship. Individuals in Alabama who are undocumented or live with family members who are undocumented are afraid to leave their homes for fear of being stopped and asked for their "papers" by law-enforcement authorities. Any optional travel, even to a place of worship, makes a person vulnerable to a stop for something as simple as a broken taillight. As Rev. Zoghby stated above, fewer people are showing up to worship.
2. Religious leaders will be barred from practicing their ministries. Four bishops from the state's Episcopal, Methodist, and Roman Catholic churches already sued the state of Alabama, arguing that the new law "essentially criminalizes basic parts of Christian ministry." The bishops stated in their lawsuit that "the law will prohibit the members of these mainstream congregations from being able to freely practice their faith to minister to all of God's children without regard to immigration status."
3. Religious programs and services will require "papers please." Religious institutions typically provide a variety of services to their communities, ranging from afterschool programs to English language classes to religious studies programs. Such programs might be considered to be inducements to undocumented persons to reside in the state, an activity prohibited under Alabama's new law. Religious programs also would be required to ask for "papers please."
4. Those who provide faith-related services to undocumented persons can be prosecuted for committing a felony. As mentioned above, any activity that involves concealing, harboring, shielding, encouraging, inducing, transporting, or renting and that involves 10 or more undocumented persons is a felony under H.B. 56, even if the activity is conducted by a religious institution or leader.
5. Giving a person a ride to worship will be a crime. The new law makes it a crime to provide transportation to an undocumented person. While temporarily stopped by the court, this provision would make it illegal for any person to give an undocumented person a ride to worship. And any transportation of 10 or more undocumented people, even by a church, synagogue, temple, or mosque bus to a religious activity, is a felony under the new law.
6. Providing food at a church dinner will be a crime. Community meals typically provided by religious communities could be considered an encouragement or inducement to undocumented persons to reside in the United States and therefore a crime.
7. Providing shelter will be a crime. The new law expressly prohibits any rental agreement with an undocumented person, even for housing owned by a religious institution. Religious institutions that provide housing assistance, temporary or long-term shelter, or that build and operate their own apartment buildings, will be forced to ask each person seeking assistance for "papers please" and will be in violation of the new Alabama law if they rent to a single undocumented person.
8. Performing a marriage or baptism will be a crime. The four bishops who sued Alabama over the new law say that it interferes with their ability to enter into and facilitate contracts between undocumented individuals. The bishops state in their lawsuit that they have reason to fear that administering religious sacraments and performing marriages and baptisms for undocumented persons would be criminal acts under the new Alabama law.
9. Religious values will be undermined. One of the most fundamental religious teachings is respect for the dignity of every human being, and the related mandate to care for the least of those among us. As the Jewish and Christian scriptures teach, "You shall treat the alien who resides with you no differently than the natives born among you; have the same love for him as for yourself; for you too were once aliens in the land of Egypt" (Leviticus 19: 33–34). Alabama's new law makes it a crime for religious institutions to act on these fundamental religious values. This is why Jewish, Muslim, and Christian faith leaders have all spoken out against the new law.
10. Religious institutions will be forced to decide between their faith and the law. Alabama's new law puts religious institutions on a collision course between their faith and the law. As Bishop Henry N. Parsley Jr. of the Episcopal Church's Alabama Diocese and Bishop William H. Willimon of the United Methodist's North Alabama Conference stated, "We will continue to provide food, shelter, transportation, housing, and the church's sacraments to all of God's people, regardless of race, class, or citizenship status." And as Scott Douglas of Greater Birmingham Ministries put it, "In the 60s, it was the black churches that rejected discriminatory practices. It is significant that today black churches, white churches and brown churches are coming together to overturn this unjust law that threatens our community."
See also:
The positions of American Progress, and our policy experts, are independent, and the findings and conclusions presented are those of American Progress alone. A full list of supporters is available here. American Progress would like to acknowledge the many generous supporters who make our work possible.