This Week in Congress: November 30 – December 4, 2009
This Week in Congress: November 30 – December 4, 2009
This week Congress begins debate on a health care bill, considers extending the estate tax, and holds hearings on U.S. policy in Afghanistan.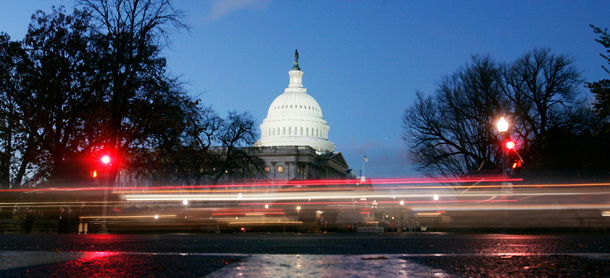 Health care
The Senate will begin debate this week on the Patient Protection and Affordable Care Act, the Senate's version of comprehensive health care overhaul legislation. A cloture vote on the motion to proceed to the bill was successful on November 21 by a vote of 60-39. Although the Democratic Caucus was able to remain united on the vote to proceed to the bill, several senators remain opposed to various provisions in the bill. Negotiations will continue over the course of the week between wavering senators, leadership, and the White House. Roll call votes on amendments are possible as early as Tuesday, and the Senate is expected to spend this week and the following two weeks considering the health care bill.
More from CAP:
Taxes
The House this week will consider H.R. 4154, the Permanent Estate Tax Relief for Families, Farmers, and Small Businesses Act, a bill to permanently extend current estate tax provisions of a top rate of 45 percent and a per-person exemption of $3.5 million. A provision in the Bush tax cuts of 2001 will eliminate the estate tax entirely beginning in 2010, only to have the tax return in 2011 at a top rate of 55 percent and a $1 million per-person exemption. Republicans and some conservative Democrats are opposed to the estate tax entirely and it is unclear how much support H.R. 4154 will receive. If the votes are not there for passage, it is likely the House will consider a one- or two-year patch, which will prevent the expiration of the tax in 2010.
More from CAP:
National security
On Tuesday, President Barack Obama is expected to announce an increase in troop levels in Afghanistan at a speech at West Point. The increase is expected to be around 34,000 troops.
On Wednesday the House Foreign Affairs Committee will hold a hearing on U.S. strategy in Afghanistan. Secretary of State Hillary Clinton, Secretary of Defense Robert Gates, and Joint Chiefs Chairman Admiral Michael Mullen will testify.
More from CAP:
Appropriations
The House may consider conference reports to some of the outstanding appropriations bills for fiscal year 2010 this week. Seven of the 12 annual appropriations bills have not yet passed, and with three weeks left in the legislative calendar, an omnibus package containing several spending bills is likely in the upcoming weeks. The current continuing resolution funding the federal government expires on December 18.
More from CAP:
The positions of American Progress, and our policy experts, are independent, and the findings and conclusions presented are those of American Progress alone. A full list of supporters is available here. American Progress would like to acknowledge the many generous supporters who make our work possible.