The Crisis from Nowhere
No wonder Americans were shocked when Wall Street fell into crisis last week. The media had barely been covering economic issues for months.
Part of a Series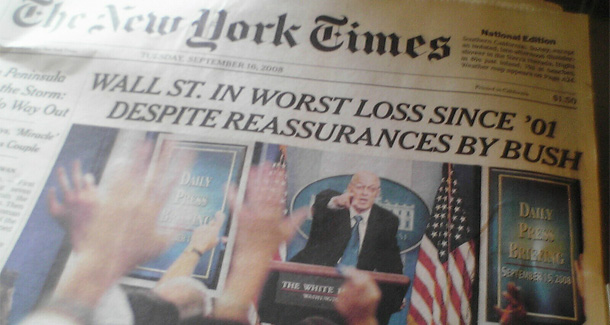 On September 15, morning newspapers greeted readers with large headlines about the sudden appearance of a financial crisis on Wall Street: "Crisis on Wall Street as Lehman Totters, Merrill is Sold, and AIG Seeks to Raise Cash," said the Wall Street Journal. The New York Times described "one of the most dramatic days in Wall Street's history…. which reshape[d] the landscape of American finance."
Why the shock? Well, unless you happened to work on Wall Street or elsewhere in the financial industry, the rest of us were dependent on a mainstream media whose members largely ignored the myriad economic issues that helped cause the crisis, particularly in the credit and housing markets.
During what the Project for Excellence in Journalism describes as "the lull before the storm," the months before the crisis were pretty much devoid of serious economic coverage of any kind—not to mention attention to these gathering storm clouds. PEJ took a broad survey of American mainstream media—network TV news, newspapers, online news sites, cable news, and radio news—and found that economic coverage plummeted starting in June, and from August 15 to September 14, coverage of the economy occupied only 4.8 percent of that "newshole"—50 percent less than the month before.
True, the symptoms were covered. High gas prices, increasing home foreclosures, brewing trouble in the financial markets, and talk of recession caused considerable consternation among citizens. Polls taken before the current crisis saw voters expressing anxiety about the economy: Forty-eight percent said economy and jobs were their top issue in judging presidential candidates, according to a recent New York Times/CBS poll. As Eric Boehlert notes, factoring in those concerned about energy and health care costs, a total of 78 percent of voters were concerned with pocketbook issues. Even during the Olympics, Americans still said the economy was the most important issue to them. In fact, Pew Research polls from June until mid-September consistently show Americans closely following stories about the economy.
But the news outlets surveyed by PEJ did not respond. In another comprehensive study, PEJ found that, "While the public considers the economy its No. 1 concern … the media have been far more interested in the presidential campaign—by a factor of nearly 5-to-1 between January 2007 and June 2008."
This disparity was most striking in the week preceding the collapse of Lehman Brothers and Merrill Lynch. During that week—September 8 to 14—Fannie Mae and Freddie Mac were literally taken over by the federal government, an ominous sign of things to come. Still, that received only 6 percent of the "newshole," according the PEJ, compared with 39 percent for the presidential campaign.
And even the campaign news was not focused on Wall Street's obvious troubles—42.1 percent of all campaign stories that week were about Sarah Palin, compared with just 4.3 percent of stories that focused on the economy as an issue. Even the "lipstick-on-a-pig" silliness garnered more coverage, with 9.5 percent of the campaign stories.
And as Boehlert notes, Newsweek devoted 16 pages to campaign coverage and one page to financial news that week, despite the collapse of Fannie Mae and Freddie Mac. Campaign-addicted journalists saw this crisis at the last possible minute—only now are stories focused on the economy dominating campaign coverage.
The economic coverage that did exist prior to the Wall Street crisis almost uniformly turned a blind eye to the danger of a collapsed housing bubble. As far back as September 2002, blogger and economist Dean Baker predicted that, "If housing prices fall back in line with the overall rate price level, as they have always done in the past, it will eliminate more than $2 trillion in paper wealth and considerably worsen the recession. The collapse of the housing bubble will also jeopardize the survival of Fannie Mae and Freddie Mac and numerous other financial institutions."
On his Beat the Press blog, Baker regularly flags news reports that now treat the burst housing bubble as an unforeseeable event. He writes: "The people who did understand the economy knew that an unprecedented run-up in house prices, with no remotely plausible explanation based on fundamentals, with no corresponding increase in rents, was a bubble. We also knew that bubbles burst. And, we knew that when bubbles in a highly leveraged asset like housing burst, that lots of debts go bad and that banks then take really big hits." Still, business reporters regularly express surprise that the bubble burst.
The mainstream media have clearly failed to offer the coverage necessary for citizens to make sense of the crisis itself, so it is incumbent on the Powers that Be that they do not continue this dereliction of duty during the bailout frenzy currently gripping Congress and the presidential campaign. "Fool me once," goes the old adage, "shame on you. But fool me twice, shame on me."
Eric Alterman is a Senior Fellow at the Center for American Progress and a Distinguished Professor of English at Brooklyn College, and a professor of journalism at the CUNY Graduate School of Journalism. His blog, "Altercation," appears at http://www.mediamatters.org/altercation. His seventh book, Why We're Liberals: A Political Handbook for Post-Bush America was recently published by Viking.
George Zornick is a New York-based writer.
The positions of American Progress, and our policy experts, are independent, and the findings and conclusions presented are those of American Progress alone. A full list of supporters is available here. American Progress would like to acknowledge the many generous supporters who make our work possible.
Authors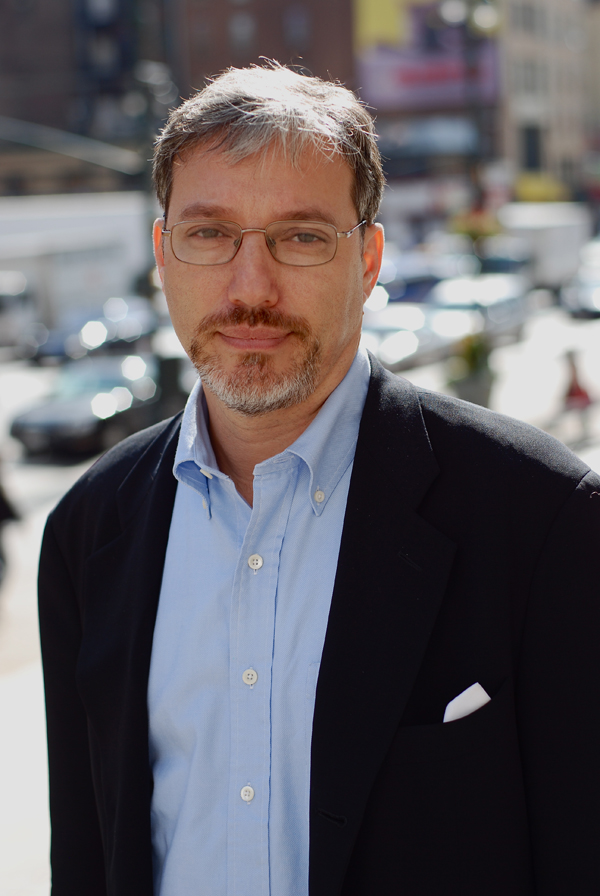 Eric Alterman
Senior Fellow
Explore The Series
Previous
Out, Out, Damned Earmark
Next
White Open Spaces, Owned by Us
White Open Spaces, Owned by Us