The Top 5 Ways Obamacare Helps Young People of Color
The Top 5 Ways Obamacare Helps Young People of Color
Supreme Court Ruling Is a Sigh of Relief for These Youth
Deanna Parrish explains how the Affordable Care Act is beneficial to youth of color.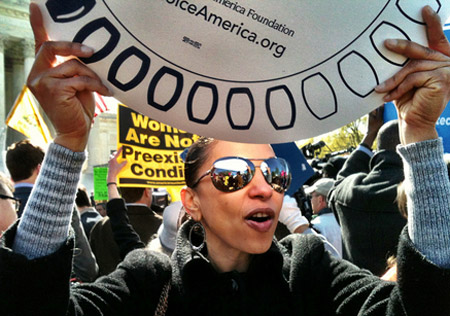 Last Thursday the Supreme Court took a leap toward justice for all by upholding the Affordable Care Act, also known as Obamacare—a policy that ensures all Americans have equal access to quality health care. Young people, especially those of color, benefit substantially from this law.
Our unequal and costly health care system disproportionately burdens underserved populations, which are more likely to be unemployed, have jobs that provide no health insurance, and have lower incomes that put higher insurance premiums out of their reach. Moreover, communities of color face racial, geographical, and social barriers to accessing affordable health insurance, making it harder for them to get care when they need it and stay healthy.
By ruling in favor of the Affordable Care Act, the Supreme Court allowed millions of young people of color to continue benefiting from a more equitable health care system. It also took their health out of the hands of politics.
Five ways Obamacare helps young people of color
Extended dependent coverage
The uninsured rate is particularly high among communities of color, people ages 18 to 34, and those living in households earning less than $25,000 a year. The Affordable Care Act helps keep young people covered by letting them stay on their parents' insurance plans until age 26. Moving away from home, getting married, graduating college, or declaring financial independence won't disqualify young adults from staying covered.
This provision is already making a difference. In the two years since the Affordable Care Act passed, more than 736,000 Latinos, 410,000 African Americans, 97,000 Asian Americans, and 29,000 American Indian/Alaska Natives under the age of 26 have gained access to health insurance and benefited from its important trickle-down effects. Where these young people live, the work they pursue and the passions they follow are no longer decided by limitations on how or where to find health insurance.
Jobs, jobs, jobs
The Great Recession of 2007–2009 hit people of color particularly hard: Many work in low-skilled fields or small businesses where layoffs have been severe and benefits are few. For example, in 2010 non-Hispanic whites experienced 71 percent more employer sponsored health insurance than Latinos and 48 percent more than African Americans. People of color are also more likely to be excluded from higher education and technical training, and make up a disproportionate amount of the "unskilled" labor force, where jobs are more prone to layoffs, getting fired, and instability. Frequently changing jobs also means that youths of color may not be at one employer long enough to meet the waiting period required of new employees before accessing insurance benefits.
Facing a turbulent job market and waning economy, the extended coverage provision also creates an opportunity for young people to get a job without having to worry about how to pay for or stay covered by insurance. This is of particular importance for youths of color in rural communities, where population decline is largely driven by youth leaving to find jobs that will provide the benefits they need.
Increasing primary and preventive care
By helping youths of color access higher-quality primary and preventive care services, the Affordable Care Act also encourages more frequent doctor-patient relationships among populations that historically seek medical attention less frequently. Those with pre-existing conditions can access the care they need immediately through the Pre-existing Condition Insurance Plan, which includes coverage for primary care. To date, more than 50,000 Americans have enrolled in the program.
Further, those in public health plans and most private plans now have access to many crucial preventive services without any cost, including immunizations, well-woman and well-child visits, and health screenings. This was an important benefit for Latinos, who pay more out of pocket for medical bills not covered by insurance than any other group: 42 percent of Latinos say that paying out of pocket for medical bills is a "very serious" problem—more than twice the proportion of non-Hispanic whites.
Sexual and reproductive health
The act also gives young women of color more choice about when and how to reproduce: Most insurance plans are now required to provide no-cost coverage of FDA-approved contraceptives.This directly benefits Latinas, who experience twice as many unintended pregnancies as their white counterparts. By removing the financial hurdles to obtaining contraception, the Affordable Care Act helps women of color experience healthy and planned pregnancies.
Additionally, young people, minorities, and women bear the brunt of sexually transmitted diseases in the United States: Almost half of the approximately 19 million STDs reported each year affect people 15 to 24 years old. Moreover, in 2007 African Americans and Latinos accounted for 87 percent of all new HIV infections among 13-to-19-year-olds even though they represent only 32 percent of the population. The Affordable Care Act empowers teens of color by providing $75 million in annual funding for fact-based sex education and teen pregnancy prevention, dedicated to driving these statistics down.
Expansion of Medicaid
Finally, the Affordable Care Act expands eligibility for Medicaid—the government health insurance program for low-income people—to cover U.S. citizens and eligible immigrants with incomes of up to 133 percent of the federal poverty line. More individuals will receive higher-quality health care through this expansion.
For many people of color, Medicaid is a lifeline. In 2009 the U.S. Census Bureau found that 26.4 percent of Latino adults and almost half of Latino children access health care through Medicaid and/or the Children's Health Insurance Program, or CHIP. And as of 2010 there were an estimated 8 million uninsured children in the United States—5 million of these youth were in families living below 200 percent of the poverty level.
Revoking Medicaid's expansion would have trapped these young people in cycles of poverty: The uninsured have higher rates of illness and disproportionately suffer the effects of lost educational, employment, and other social and civic opportunities.
Conclusion
Youths of color have gained significantly from the Affordable Care Act since its passage in 2010, and would have faced substantial losses if the Supreme Court had overturned the law. Repealing or defunding the Affordable Care Act—as conservatives are now trying to do—would take important coverage guarantees and consumer protections away from the vulnerable communities who are experiencing the policy's most important benefits.
Deanna Parrish is an Ethnic Media intern at the Center for American Progress.
See also:
The positions of American Progress, and our policy experts, are independent, and the findings and conclusions presented are those of American Progress alone. A full list of supporters is available here. American Progress would like to acknowledge the many generous supporters who make our work possible.