Climate Change
When taken as a moral issue, efforts to combat climate change find supporters across the religious spectrum.
Part of a Series
For years, polling analysis on the environment has been grouped with other policy concerns like the economy and national security, rather than with "culture" issues such as same-sex marriage and abortion. But when the idea of environmental stewardship and care for the earth is articulated as a moral concern, this takes priority with voters above those traditionally listed culture issues. For their part, faith groups on both sides of the aisle are becoming bolder in their commitment to tackling climate change as a moral issue.
All faiths work for a healthier planet
There is no doubt that the economy is the first priority of this election. But a grassroots movement at the nexus of science and faith has been growing across party lines in an effort to tackle climate change.
Due in large part to economic concerns, climate change, energy, and environmental issues had declined somewhat in priority among polled Americans since 2008. But numbers are rebounding, and the organizing energy at the grassroots—especially among faith groups—helps tell us why.
Unified faith-climate activism has recently been in abundance—from the more than 60 religious leaders putting themselves at risk of arrest in Washington, D.C., at the Keystone XL protest in August 2011 to faith groups kicking off the first-ever nationwide antifracking rally in July 2012. Earth Week 2012 boasted meetings, rallies, lobbying, and services from interfaith and multifaith action groups as well as denomination-specific conferences and prayer breakfasts. And new coalitions have sprung up this year—among them the Young Evangelicals for Climate Action and the Interfaith Moral Action on Climate—that represent newly energized faith communities and a new willingness to work across different political and religious sensibilities in tackling the common challenge of climate change.
Many mainline denominations have advocated environmental stewardship for decades, but polarizing political rhetoric and misconceptions in some conservative circles¾arguing that caring for the earth is a substitute for religion¾has kept this issue highly divisive among America's faithful. In the past this has often resulted in religious groups attempting to address environmental stewardship while shying away from any hint of partisanship and struggling to agree on substantive policy goals.
But as extreme weather continues to dominate headlines, a collective sense of urgency has energized existing and new multifaith contingents who look to both the church and the government for leadership and are unafraid to demand specific action on climate change from Congress and the Obama administration. Many of these groups feature an impressive roster of civil rights, social justice, environmental, and public health-minded faith leaders, and their demands—from preventing pipeline construction and ending Appalachian mountaintop removal, to capping carbon emissions, to dramatically reducing energy consumption and increasing energy efficiency and renewables—are increasingly rooted in climate science.
In addition, more and more nonreligious climate groups are framing energy and climate concerns through a moral lens. Initiatives from 350.org, the National Climate Ethics Campaign, and the Chesapeake Climate Action Network, for example, are couched in values language and stress compassion, care for the poor, and protection of future generations as a common purpose.
It is this attempt to link social justice issues to the amplifying effects of climate change that may prove the most decisive factor in keeping climate change and green energy solidly on the "values voters" map. Faith communities have a long history of engagement in human rights issues at home and abroad, and for many, the challenge of climate change isn't skepticism—it's relevance. Jacqui Patterson, director of the Climate Justice Initiative at the NAACP and emcee of the antifracking rally in Washington, D.C., explained in an interview:
I ask, "How many in your church are on oxygen machines? How many of you live in food deserts? How many of your kids have asthma?" And when I explain how the climate affects every one of these things – when we connect folks with these stories – this brings a whole new sense of understanding.
And at a White House briefing in April, Dru Ealons, director of the Office of Public Engagement for the EPA, helped connect the dots for the Christian students in attendance:
We all care about stewardship. Destructive environmental practices cause massive public health concerns, and health affects education and the economy – for many of us, these things translate into moral issues.
At an Earth Week interfaith action service held by IMAC at the New York Avenue Presbyterian Church in Washington, D.C., in April, Rev. Lennox Yearwood recalled scenes of devastation in New Orleans after Hurricane Katrina. Linking the hurricane to the larger, disturbing trend of extreme weather, he spoke out forcefully against the immorality of climate denial:
This is not a game. When grandmothers tie neighbors to trees to escape the flood waters while oil and coal executives make billions, we must know this is not a game. We must stop this madness.
Growing engagement from historically conservative faith groups and collaboration between historically divided faithful and secular activists may prove to be the bellwether for the emerging climate vote. Expect climate change to be a values issue for years to come.
Catherine Woodiwiss is the Special Assistant for the Faith and Progressive Policy Initiative at the Center for American Progress. For more on this initiative, please see its project page.
See also:
The positions of American Progress, and our policy experts, are independent, and the findings and conclusions presented are those of American Progress alone. A full list of supporters is available here. American Progress would like to acknowledge the many generous supporters who make our work possible.
Authors Catherine Woodiwiss
Special Assistant
Explore The Series
Previous
The Economy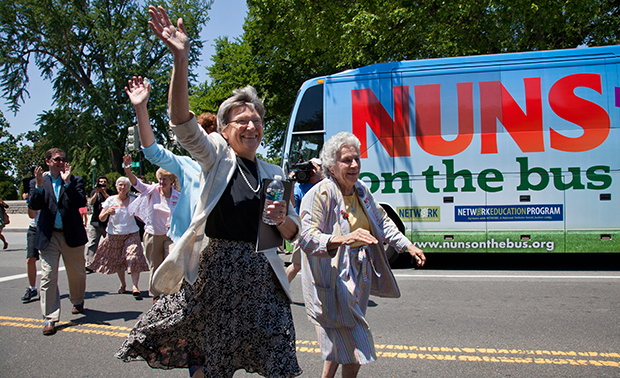 Next
Immigration