Immigration
Today's faith leaders are calling upon the nation to enact comprehensive immigration reform that reflects our nation's core values of treasuring human dignity, honoring family, and caring for our neighbor.
Part of a Series
This past March, a month that marked the 47th anniversary of the Selma to Montgomery march in 1965, faith leaders joined activists and advocates on the historic Edmund Pettus Bridge in Alabama to protest the state's anti-immigration law, H.B. 56, which has had drastic consequences on immigrant and U.S.-born families since its passage last November. Just as the 1960s' civil rights movement was inspired and championed by religious leaders who articulated the moral imperative for legal, political, and cultural reform, religious leaders today are calling upon the nation to create a common-sense immigration process that reflects our nation's core values of treasuring human dignity, honoring family, and caring for our neighbor.
Faith-based advocacy for immigrants and their families is nothing new. Yet as states continue to propose and pass anti-immigrant legislation, the chorus of faith-based voices calling for the creation of a realistic process that includes a roadmap for New Americans who aspire to be citizens has strengthened and diversified. Conservative evangelicals, Mormons, mainline Protestants, and Southern historically black churches have all stood up—and in some cases worked together—to push for policies that protect immigrant communities.
The role of faith leaders
Faith leaders see the effects of anti-immigrant policies in their congregations and communities. They witness firsthand that children are afraid to go to school, neighborhoods are afraid to report crime to the police, families are afraid of being broken up, and entire communities are targeted because of how they look and speak. Faith communities minister to immigrant communities in a variety of ways. In addition to worshipping together, they run legal clinics, deportation ministry programs, and provide housing, health, and education opportunities.
Fast facts
About half of those who hear about immigration in church say their clergy are favorable to immigrants and immigration, but nearly one-quarter say they are hearing anti-immigration messages.
71 percent say following the Golden Rule by "providing immigrants the same opportunity that I would want if my family were immigrating to the U.S." is a very or extremely important value.
Majorities of every religious group say that best way to solve the country's illegal immigration problem is to both secure the borders and provide an earned path to citizenship.
Americans with religious affiliations are more likely to strongly favor immigration reform than those who are unaffiliated.
82 percent rated "protecting the dignity of every person" as very or extremely important guides to immigration reform.
Many religious denominations have long been on record supporting federal comprehensive immigration reform. As immigrant communities continue to grow, they have begun working to build awareness in their congregations about the harmful impact of state anti-immigrant laws and the need for a federal solution. For instance, the American Baptist Churches USA, provides congregational and theological resources for their followers.
Churches are also helping to foster dialogue and build relationships among communities already impacted by demographic changes. In Ohio, for example, United Methodist churches have created programs to equip congregations to become welcoming communities. The Interfaith Immigration Coalition, a national group of more than 30 faith-based groups that has long advocated for federal immigration reform, is also now working in the states to provide local communities with resources to push back against anti-immigrant laws, including detention and deportation policies.
Building new faith allies
Support for immigrant families is expanding to faith communities that haven't historically championed immigration policy reform. In the last several years, evangelical pastors, professors, and students have gathered in the south and midwest to discuss the biblical significance of immigration. G92 Summits, which have attracted hundreds, focus on the 92 times the word "stranger" or "sojourner" appears in the Bible.
In May leading evangelical leaders made a historic move by forming the Evangelical Immigration Table to set forth key principles for immigration reform. More than 150 prominent evangelical leaders joined this effort, urging the nation's leaders to pass legislation that will respect the dignity of every person and the rule of law, protect the family unit, and create a roadmap to citizenship. According to a Public Religion Research Institute survey last year, a majority (54 percent) of evangelicals now support the creation of an immigration process that achieves these goals.
Mobilizing local leaders
As federal legislation stalled, battles over immigration moved to the states. Faith communities advocated in Arizona, Alabama, South Carolina, and Georgia where anti-immigrant legislation was enacted. They're also active in Tennessee, Mississippi, Florida, Missouri, and Virginia, where harmful legislation was proposed.
One of the harshest anti-immigrant laws, H.B. 56, is in Alabama. Local faith leaders there have been incredibly active in their calls to repeal the law. They have held vigils and rallies, organized clergy press conferences, and contacted the legislature to document the harmful impacts of the law.
After clergy in Tennessee saw the dire effects of neighboring Alabama's immigration law, they began to mobilize. Clergy for Tolerance consists of more than 220 faith leaders across the state who denounced anti-immigrant rhetoric in their state and in a public letter urged candidates in the Republican primary campaigns not to bring "highly charged and negative campaign rhetoric" into the state. Citing President Abraham Lincoln, faith leaders expressed the hope that language around immigration would touch "the better angels of our nature."
In Missouri more than 50 faith leaders signed a public letter opposing a Senate bill that would force teachers in schools to take a formal count of their students in order to report those young Americans who might not have immigration status, calling it a violation of the Constitution and of their faith. And in Mississippi Lutheran and Catholic Bishops publicly opposed an anti-immigrant bill similar to Alabama's law, HB 56.
Calling on the federal government
In addition to working at the local and state level, faith communities are pressing the federal government to enact legislation that creates a common-sense immigration process. The majority of Americans (77 percent) support these communities and are in favor of a federal approach to immigration policy. And majorities of every religious group support a comprehensive overhaul, calling for both secure borders and a roadmap to citizenship. In fact, all the religious leaders who spoke at both the Republican and Democratic national conventions this summer represented faith communities that support comprehensive immigration reform.
This was evident in June when diverse faith leaders supported the Obama administration's announcement to allow an estimated 800,000 undocumented youth who were brought to the United States at a young age to apply for Deferred Action for Childhood Arrivals, a program which allows those approved to remain in the United States without fear of deportation and makes beneficiaries eligible for work authorization. From mainline Protestant denominations to the Conference of Catholic Bishops and even very conservative leaders like Jim Daley, president of Focus on the Family, all supported administrative action as being faithful to the "biblical notion of the family."
For millions of people of faith, immigration is a values issue. Unlike issues such as abortion and same-sex marriage, which tend to divide faith communities, support for common-sense immigration policies that respects core values of human dignity and family unity comes from faith communities across the political, cultural, and theological spectrum. When they go to the polls this November, these values voters will assess which leaders will make the hopes of New Americans who aspire to be citizens into reality.
Eleni Towns is a Research Assistant with the Faith and Progressive Policy Initiative at the Center for American Progress. For more on this initiative, please see its project page.
See also:
The positions of American Progress, and our policy experts, are independent, and the findings and conclusions presented are those of American Progress alone. A full list of supporters is available here. American Progress would like to acknowledge the many generous supporters who make our work possible.
Authors Eleni Towns
Policy Analyst
Explore The Series
Previous
Climate Change
Next
Gay and Transgender Issues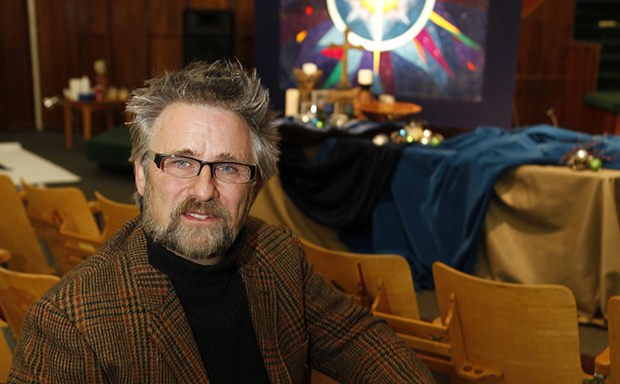 Gay and Transgender Issues