The Importance of a Homeowner Bill of Rights
The Importance of a Homeowner Bill of Rights
New Mortgage Finance Rules Are Good for Lenders, Borrowers, and Investors
Peter Swire and Jordan Eizenga detail how proposed rules for increased transparency in the servicing of mortgages will benefit all involved.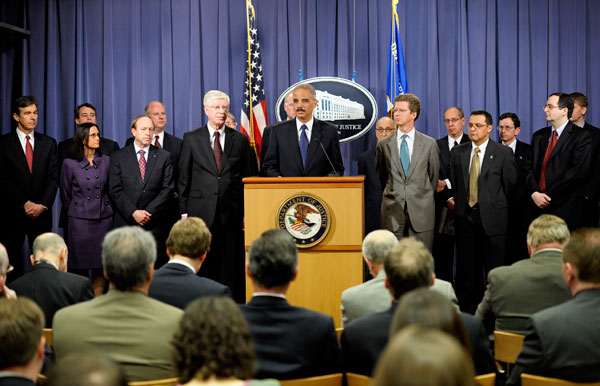 The recent housing downturn revealed how homeowners are systematically disadvantaged by the current system of mortgage finance and are in need of additional rights to be protected from abuses in the servicing of mortgages. This is why President Barack Obama's call last month for a "homeowner bill of rights" is so important.
The homeowner bill of rights provides long overdue protections for homeowners from abuses in the servicing of mortgages and is an important step toward reviving a dormant private mortgage finance industry. "As we have learned over the past few years, the nation is not well-served by the inconsistent patchwork of standards in place today, which fails to provide the needed support for both homeowners and investors," said President Obama. "A fair set of rules will allow lenders to be transparent about options and allow borrowers to meet their responsibilities to understand the terms of their commitments."
The Center for American Progress noted before that a market failure in the mortgage servicing industry developed over the past decade. Because homeowners are not the customers of mortgage servicers, these servicers have had no interest or duty to consider their needs. Instead, mortgage servicers are responsible only to mortgage investors for whom they collect principal and interest payments. This means that the issues that matter most to homeowners—whether they can remain in their home, on what terms, and for how much in fees—are of little concern to the servicing firms with which they must resolve those issues. To complicate matters, the financial regulatory reform law passed in 2010 by Congress did not specifically address mortgage servicing rights.
This lack of consumer protection against improper acts and omissions by mortgage servicers was most evident during the headline-grabbing robo-signing scandal that came to light in 2010. The practice of robo-signing involved employees of the nation's largest servicing firms routinely falsifying documents such as swearing that the key facts in the file had been checked when in fact the affidavits were signed automatically. The robo-signing problems led to the historic $25 billion settlement with the five largest mortgage servicers announced earlier this month—the largest federal-state consumer settlement in U.S. history. Importantly, the settlement also lays out certain mortgage servicing standards, ending servicing practices such as dual-track foreclosures in which a bank begins foreclosure proceedings at the same time as a borrower seeks a loan modification.
President Obama's homeowner bill of rights goes one step further. It lays out a set of principles that "ensure borrowers and lenders are playing by the same common-sense rules." Specifically, it requires:
Servicers and lenders to offer a much simpler mortgage disclosure form that clearly outlines relevant fees and penalties, so that homeowners will better understand their loan terms
Servicers and mortgage investors to develop standards that reduce conflicts of interests that ultimately harm the homeowner
Homeowners to be provided with a right of appeal in order to protect them against improper foreclosure
Better servicing rules such as these benefit not only homeowners but also mortgage insurers and investors, as well as the Federal Housing Administration and Fannie Mae and Freddie Mac—the two housing finance giants now under federal conservatorship. Private mortgage insurers experienced losses when they had to make insurance payouts for mortgages that were improperly originated and serviced. Fannie Mae and Freddie Mac have filed suit on mortgages they guaranteed but claim were fraudulently originated and serviced. And private-label mortgage-backed securities investors—those who purchased mortgage-backed securities that were not guaranteed by the federal government in some fashion—believe that servicers modified loans in ways that put their own interests first and those of investors second.
Each of these participants in the mortgage market stands to gain from the more robust set of protections in servicing.
To be sure, more details of the homeowner bill of rights will need to be worked out between regulators and the administration. But as we noted in our December 2011 response to the Federal Housing Finance Administration's request for public comments regarding mortgage servicing pricing rules, private capital will not begin to take over a larger portion of the mortgage market unless consumer interests are protected from the kind of mortgage servicing problems that have taken place in recent years.
Clearly our mortgage servicing market did not work the way it should have in the lead-up to the housing crisis. President Obama's homeowner bill of rights is one part of a broader strategy that will protect homeowners and kick-start the private mortgage market. It deserves our support.
Peter Swire is a Senior Fellow at the Center for American Progress and is also the C. William O'Neill Professor of Law at the Moritz College of Law of the Ohio State University. Jordan Eizenga is an Economic Policy Analyst at the Center.
The positions of American Progress, and our policy experts, are independent, and the findings and conclusions presented are those of American Progress alone. A full list of supporters is available here. American Progress would like to acknowledge the many generous supporters who make our work possible.
Authors Peter Swire
Senior Fellow