The Cost of Inaction Is Far Greater than the Cost of Action
The Cost of Inaction Is Far Greater than the Cost of Action
Hurricanes, droughts, wildfires, and floods—learn about the high costs of unmitigated climate change to the American economy.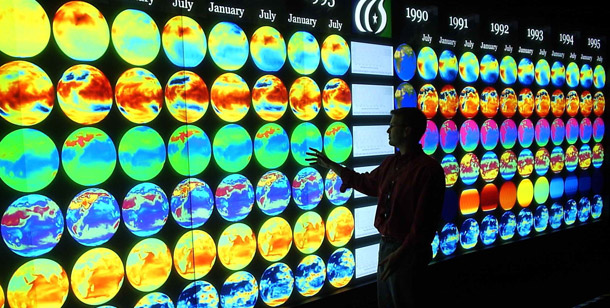 It's up to the Senate to act on climate change after House passage of the American Clean Energy and Security Act on June 26. Debate on the bill will begin in Senate committees between now and mid-September, with full Senate deliberations possible in October. As in the House there will be much debate over the costs of creating jobs, reducing oil use, and cutting global warming pollution. However, the economic impact of climate inaction is generally ignored as part of the debate. Our failure to tackle climate change head on is already costing us money, and taking action is significantly cheaper than doing nothing.
On June 16 the National Oceanic and Atmospheric Administration, or NOAA, released a report detailing the current and projected impacts of climate change on the United States. The situation is grim: "Climate change impacts appear to be increasing faster than previous assessments had suggested," forcing us to deal with changes more widespread, more dangerous, and more costly than we had ever imagined.
Physical changes to our climate and biosphere
According to the NOAA report, our nation and our planet are going to look and feel significantly less livable by 2100. Here is just a sample of effects if we don't start reducing global warming pollution reductions right away.
7 to 11°F: The average U.S. temperature increase by the end of the century according to midrange estimates from NOAA.
90°F: Temperatures of which the southern United States is projected to have more than twice as many per year by 2100.
68 percent: The increase in the projected number of red ozone alert days—when smog levels make the air unhealthy for everyone—in the 50 largest cities in the eastern United States due to global warming alone.
33 million acres: The amount of forest land in British Columbia—representing 40 percent of marketable pine trees—that has already been destroyed by the pine beetle. Climate change will further enhance its lifecycle and presence so that by 2018 over 78 percent of mature pines in British Columbia will be destroyed.
10 to 14 days: The current average number of days earlier spring arrives than it did 20 years ago, with significant negative impacts on agriculture and water supplies.
3 percent to 24 percent: The potential increase in average hurricane wind speeds by 2100 as the ocean surface warms.
Present costs to our economy
Already, our failure to shift to a clean-energy economy has proven to be an expensive gamble, threatening our public health, our infrastructure, our food and water supplies, and our national security.
$8 trillion: The amount the volatile oil market has cost the American economy from 1970 to 2005.
$700 billion: The cost of the 90 largest weather-related disasters in the United States from 1980-2008.
$439 billion: The amount of domestic wealth the United States sent overseas to buy foreign oil in 2008.
$2.6 billion, $1.2 billion, and $1 billion: The annual global losses in wheat, maize, and barley production, respectively, in 2002 because of climate trends when measured from 1981, representing diminished crop growth of 2 to 3 percent.
Climate change also threatens the existence and livelihoods of millions of people around the world.
Future costs to our economy
Between higher hurricane damages, significant real estate losses, increased energy-sector costs, and diminishing water supplies, climate change will cost the United States about $1.9 trillion per year by 2100—almost 2 percent of our projected GDP. According to the U.S. Global Change Research Program, the costs of climate change will drastically intensify over the next few decades if we don't take action soon. "Impacts are expected to become increasingly severe for more people and places as the amount of warming increases."
$200 billion: The cost of providing water to the western United States in 2020 due to intensified drought conditions caused by climate change, which will increase to more than $950 billion by 2100.
$8 billion: The projected increased annual cost of U.S. hurricane damages due to a 4.5°F increase in temperature, which is how much hotter NOAA projects it will be on average in 2070 if current emissions trends continue uninterrupted.
$1.4 billion: The projected annual cost to corn growers in the United States due to a 1.2° increase in temperature. This is how much hotter it will be in 2030 if pollution continues as usual.
Analyses from the Nobel Prize laureate Intergovernmental Panel on Climate Change suggest that taking adequate climate action globally would slow gross domestic product growth by less than a penny on the dollar—quite a contrast to such staggering human, financial, and environmental costs. The American Clean Energy and Security Act would cost the average U.S. household less than a postage stamp per day—and this does not even count the economic benefits from reducing the costly impacts above.
Congress today is faced with a stark choice: develop an innovative clean energy economy, secure our nation's energy supplies, and prevent the myriad effects of unmitigated climate disaster—or continue facing rising costs from harms to public health, infrastructure, agriculture, water supply, and national security.
The positions of American Progress, and our policy experts, are independent, and the findings and conclusions presented are those of American Progress alone. A full list of supporters is available here. American Progress would like to acknowledge the many generous supporters who make our work possible.