The Bottom Line: Apprenticeships Are Good for Business
The Bottom Line: Apprenticeships Are Good for Business
Here are the top five ways American companies can benefit from hiring an apprentice.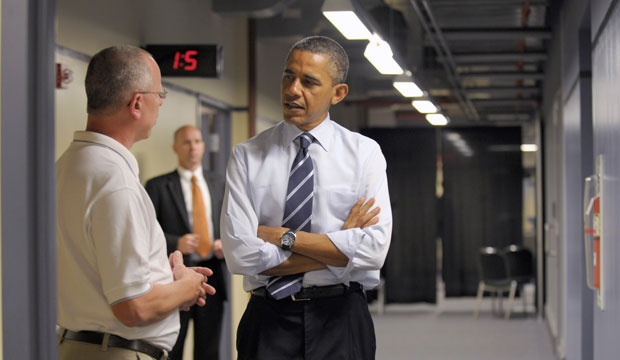 Employers are increasingly worried about finding and holding on to quality, skilled workers and economists warn of a widening skills gap. What are employers to do? Apprenticeship—that age-old worker-training model that pairs on-the-job training with classroom instruction—just may be the solution to employers' woes.
According to the Georgetown University Center on Education and the Workforce, by 2020, the United States is expected to face a shortage of 5 million workers who are equipped with technical certificates and credentials. At the same time, about half of U.S. executives at large companies say they are likely to have fewer skilled workers than they need in the short term of the next one to two years. Not surprisingly, employee retention is also a top concern for businesses that compete in the tightening market for skilled workers.
Apprenticeship is a time-tested approach to training and developing skilled labor. In the United States, a formal system of registered apprenticeship is administered by the U.S. Department of Labor. Companies register their program with the department's Office of Apprenticeship, and, in return, the government issues a nationally recognized certificate to workers at the company who complete an apprenticeship.
But the U.S. apprenticeship system is small compared to those of other advanced economies. Consider that England started 510,000 new apprentices in 2012 while the United States started 147,000, despite the U.S. population being roughly six times that of England. Meanwhile, in Switzerland, 7o percent of young people enter the workforce through an apprenticeship. Part of the reason for the disparity is that American companies are not familiar with apprenticeship or its benefits, as discussed in a recent Center for American Progress report, "Training for Success: A Policy to Expand Apprenticeships in the United States."
Research has shown that apprenticeship offers myriad benefits to employers. By investing in talent development through apprenticeship, employers gain a pipeline of loyal skilled workers, increase productivity, and improve the bottom line.
Here are the top five ways employers benefit from hiring an apprentice.
1. Build a pipeline of skilled workers
Across the economy, employers worry about their rapidly aging workforces. Consider that the average age of an advanced manufacturing worker is 56. For businesses faced with the increasing likelihood that they won't be able to rely solely on buying their talent, apprenticeship can be an effective tool to build their talent instead. In fact, more than 80 percent of U.S. companies that sponsor apprentices say that apprenticeship is an effective strategy for helping them meet their demand for skilled labor.
According to Eric Spiegel, the president and CEO of Siemens USA, his company's new apprenticeship program is "really helping to fill the skills gap that we've seen" in staffing its gas-turbine factory in North Carolina.
2. Gain workers with customized skills
Through apprenticeship, businesses have the opportunity to train workers to meet their specific standards. In England, many companies that sponsor apprentices are realizing the benefits of a specialized workforce. According to Jan Chapman, who runs the apprenticeship program at a family-owned IT consultancy firm in Cheshire, England, "A graduate or more experienced hire wouldn't have been right for us. We wanted somebody who we could mould [sic] to our needs, who wouldn't be over confident working on client systems and not ask for help or flag mistakes. As a small company, issues like this could be a real risk to our reputation."
3. Boost retention
Apprentices are loyal to the companies that invest in them. Some employers may worry that other companies will hire away their new talent after they've made significant investments in their education and training. On the contrary, not only is poaching not a top concern for American businesses that sponsor apprentices, but also employers in other countries have found that apprenticeship actually increases worker loyalty. Nearly half of U.S. employers said they did not worry about poaching at all, and just one in four cite it as an important concern. Even among employers who do view poaching as an important concern, about 85 percent would still recommend apprenticeship to others. In England, the average retention rate for former apprentices—across all industries—is 73 percent.
Moreover, a significant majority of apprenticeship sponsors report that apprenticeships actually raise productivity and worker morale across the board—not just among apprentices. This is because all workers benefit from a learning environment at work. Maggie Heap, the community projects manager at Seddon Construction Ltd, a U.K. construction company, explains that "Apprentices bring with them eagerness and enthusiasm and this can have a positive effect on the rest of the workforce."
4. Save money on wages
Because apprentices start out earning about 40 percent to 50 percent less than a fully trained employee, businesses can save money on wages by sponsoring an apprentice. These lower wages serve to offset some of the costs of offering an apprenticeship program, which can include mentor time, equipment for training, and often tuition for classroom-based instruction. More than 60 percent of U.S. employers surveyed said saving money on wages was either a "very important" or "somewhat important" benefit of apprenticeship. In the United Kingdom, a survey of employers in four industries found that the productive value of apprentices ranged from 60 percent to 90 percent of their training costs—but companies at least broke even on their investment as a result of gains in post-apprenticeship productivity.
5. Make a positive return on investment
Companies in countries with more expansive apprenticeship systems have been found to make a positive return on their investment in apprenticeship. In England, an apprenticeship is estimated to raise an employer's economic output by £214—about $366—per week. A Swiss study found that employers in their country earn a net $300 million each year from the work apprentices do while training on the job. And in Canada, a 2009 study showed that for every $1 invested in apprenticeship programs, Canadian employers of all sizes and in every province can expect to receive $1.47 in return. The Center for American Progress has proposed that the U.S. Department of Labor commission a study that evaluates the return on investment for American employers that sponsor apprentices. Given the high levels of satisfaction among U.S. employers, it stands to reason that American businesses benefit just as much as their international counterparts.
With all this in mind, it's no surprise that American businesses that do sponsor apprenticeships overwhelmingly recommend them. Eighty-six percent of registered apprenticeship sponsors in the United States say they would strongly recommend hiring an apprentice, in addition to the 11 percent who say they would recommend registered apprenticeship with some reservations. All told, a total of 97 percent of sponsors in the United States recommend apprenticeship programs.
Werner Eikenbusch, BMW's head of talent management for the Americas, has encouraged American employers to re-evaluate how they think about training. He asks, "Are you willing to think long-term and invest on the front end, because you're going to have the return on investment through the career of a successful and productive employee?"
For American employers looking for new ways to meet their talent needs, the answer to that question may be yes. As discussed in the CAP report, smart policies can promote a robust American apprenticeship system by raising public awareness, creating incentives for businesses, unifying certification standards, and improving coordination with other stakeholders, such as community colleges. Ultimately, though, apprenticeship will only take hold in the United States when businesses realize that this time-tested model can boost their bottom line.
Sarah Ayres is a Policy Analyst on the Economic Policy team at the Center for American Progress. Ben Schwartz is an intern with the Economic Policy team at the Center.
The positions of American Progress, and our policy experts, are independent, and the findings and conclusions presented are those of American Progress alone. A full list of supporters is available here. American Progress would like to acknowledge the many generous supporters who make our work possible.