Staying a Few Minutes Ahead of History
Staying a Few Minutes Ahead of History
Tom Malinowski and Brian Katulis Speak at Progressivism on Tap
Tom Malinowski and Brian Katulis spoke at Progressivism on Tap about the uprisings in the Middle East and the Obama administration's response.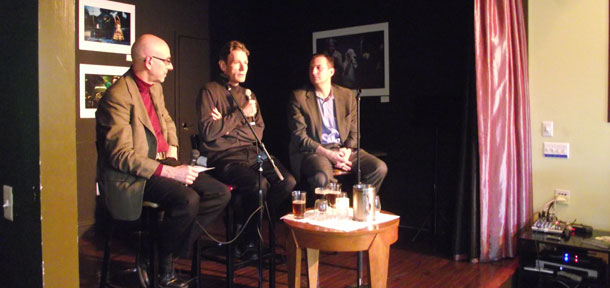 Read about more events in the Progressivism on Tap series.
Tom Malinowski , Washington Director of Human Rights Watch, and Brian Katulis, Senior Fellow at the Center for American Progress, spoke to attendees about the democratic uprisings in the Middle East and North Africa at Washington D.C.'s Busboys & Poets on April 13 as part of the Progressivism on Tap spring series.
The biggest impediment to revolution in the region before Tunisia, according to Malinowki, was the general sense of futility. Citizens felt that dictators were too all powerful—and all too willing to imprison or kill—to protest or overthrow. The uprising in Tunisia, however, seemed to light a revolutionary fire in the region that has not stopped spreading—from Egypt to Syria to Libya.
Katulis referred to it as "long, forestalled energy for change." Citizens in these countries, especially young people, had realized that the whole system was "kind of broke," said Katulis.
In the Obama administration, some senior officials look at this regional government change with fear. Others look at the "Arab spring" with hope. Katulis said this difference of perspective comes from the U.S. government's problem with risk aversion. For a long time, the United States has developed relationships with Middle Eastern and North African leaders who are dictators. This relationship can come at a steep price. U.S. leaders may frame this friendly diplomatic approach as necessary for regional stability, and that democratic freedoms must be sacrificed sometimes. But Katulis argued this is a false frame.
This is just the beginning of the story of revolutionary change in the region, though. And while Malinowski said the Obama administration had done a good job managing the Egypt uprising, and "came through at the last second" in Lybia, the U.S. government continues to struggle to "stay at least a few minutes ahead of history."
The positions of American Progress, and our policy experts, are independent, and the findings and conclusions presented are those of American Progress alone. A full list of supporters is available here. American Progress would like to acknowledge the many generous supporters who make our work possible.