Seniors Suffering
Older Americans Are Especially Vulnerable to Skyrocketing Costs and Abusive Insurance Company Practices
Seniors and older Americans are especially vulnerable to skyrocketing costs and abusive insurance company practices under the current health care system.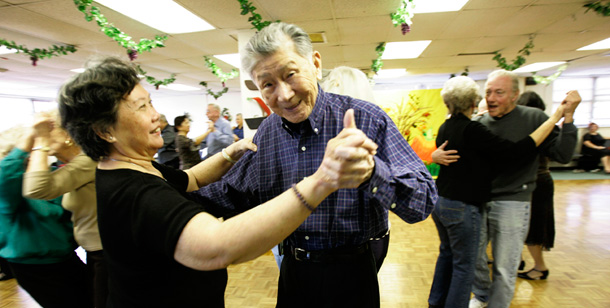 Download this memo (pdf)
Key points
Introduction
Seniors and older Americans aged 55 to 64 face unique and often daunting challenges in finding affordable, high-quality heath care. Their costs tend to be higher than the rest of the country, they are more likely to have chronic conditions, and they are more likely to be denied care when they get sick.
They also have to deal with insurance companies charging older Americans substantially more for the same coverage—sometimes as much as 11 times more. Once seniors are eligible for Medicare, these same companies engage in a form of profiteering that results in higher profits for them, but higher premiums for many seniors in Medicare.
Health reform would alleviate these problems by reining in costs for seniors, creating greater stability and security, and ending abusive insurance company practices.
Insurance companies charge older Americans more
Older Americans pay more for the same coverage that younger people get when private insurers engage in an insurance industry practice called "age rating." Age rating is simply the practice of charging older Americans more based on their age. Insurance companies in some areas charge customers 11 times more based on age. And 41 states do not even limit the amount that insurance companies can charge based on age in the individual market.
In 2006, older adults aged 50 to 64 with at least one chronic condition spent $7,377 on health care, compared to just $4,951 for their younger counterparts. According to the American Association of Retired Persons, nearly 30 percent of adults ages 50 to 64 spent at least 10 percent of their disposable income on health care in 2005, compared to 16 percent of those ages 18 to 49.
Older Americans are the fastest-growing uninsured population
Older Americans have a harder time getting coverage through their employer than other populations. The percentage of employers offering care to retirees has been declining swiftly for years, and many of those employers who do continue to offer care are cutting down on benefits.
The percent of large employers that offer employees health insurance and offer retiree health insurance has declined by more than half over the past two decades—from 66 percent in 1988, to 29 percent in 2009. And those that do receive insurance from their employer may have to pay more. The median monthly contribution for retirees ages 55 to 63 who receive health care from their former employer quadrupled from $25 in 1994 to $111 in 2004. Individuals 50 to 64 have on average $2,000 in credit card debt from medical needs.
Access to health coverage through employers or the individual market is still out of reach for some seniors who are not yet old enough to qualify for Medicare, which means they have to go without health insurance altogether. In fact, AARP reported that adults ages 50 to 64 were the fastest-growing group of uninsured. There was a 36 percent increase in the number of older Americans without insurance from 2000 to 2009. There were 7.1 million uninsured people aged 50 to 64 in 2007. And the AARP estimates that more than 8 million people in this age group will be uninsured by 2015.
Older Americans face higher costs
Those who retire from their job before they are eligible for Medicare and do not have employer coverage have to turn to the private individual insurance market. The individual market is generally much more expensive than employer coverage. Adults ages 50 to 64 who bought insurance on the individual market in 2005 spent three times more on premiums than their counterparts who received insurance through their employer. The average annual premium for older adults in the individual market was more than double the average annual premium across the entire nonelderly population.
These higher health care costs have led many older Americans to delay their retirement. According to the Urban Institute, older men who expect to have higher health care costs for either themselves or their spouses after they reach 65 work 13 months longer, on average, than men who expect to have low health costs. The difference was 12 months for women.
Insurance companies deny coverage more for older people
Insurance companies are more likely to deny older Americans coverage in the individual market on the basis of "pre-existing conditions" because seniors are more likely to have at least one chronic condition. Denial rates increase with age; according to insurance industry statistics, insurance companies in 2006 denied coverage to 17.4 percent of individuals age 50 to 54 who sought coverage in the individual market; 22.3 percent of individuals age 55 to 59; and 28.7 percent of individuals age 60 to 64. These rates were higher than rates in any other age group. Moreover, the Kaiser Family Foundation found that denial rates were three times higher for those in the nongroup market ages 60 to 64 than for those ages 35 to 39.
Even when older Americans are able to find coverage, insurance companies can attach an "elimination rider" to their policies, which is a clause stating that the insurance company does not have to cover any claim related to a pre-existing condition. These clauses are permitted in 37 states and the District of Columbia. Older Americans with "elimination riders" on their policies can still face exorbitant out-of-pocket health care expenses. And roughly 10 percent of all policies offered to older adults in 2006 included an elimination rider.
Insurance companies profiteer through Medicare Advantage
Older Americans are still vulnerable to abusive insurance industry practices even after they are eligible for Medicare due to insurance industry profiteering through the Medicare Advantage program—a practice that results in higher premiums for many seniors without improving the quality of care.
Medicare Advantage is a part of the larger Medicare program that allows beneficiaries to receive services from private insurance plans. These private insurance plans are partially funded by taxpayer money in the form of subsidies from the federal government. Medicare pays private insurers in the Medicare Advantage program 14 percent more on average than what it pays through its traditional fee for service program.
These overpayments do not result in better care, but they do provide some extra benefits to their enrollees. Yet they do so at the expense of seniors enrolled in traditional Medicare. In fact, according to a report from the Department of Health and Human Services, "a typical couple in traditional Medicare will pay on average nearly $90 more next year to subsidize private insurance companies that do not provide their Medicare benefits."
Medicare Advantage overpayments also threaten to be a fatal drain on Medicare's fiscal health. The Centers for Medicare & Medicaid Services estimate that insurance company overpayments through Medicare Advantage will push the Medicare Trust Fund into bankruptcy 17 months earlier than if the overpayments did not exist.
Seniors enrolled in Medicare Advantage are at a greater risk of seeing their out-of-pocket costs skyrocket than if they were enrolled in a traditional Medicare plan—particularly when they get sick.
The Medicare Payment Advisory Commission raised concerns in its 2004 report to Congress about the increased cost sharing to seniors in Medicare Advantage for dialysis, chemotherapy, inpatient, and other services. The report stated, "Although evidence differs across types of services, our analysis points to the provision of Part B-covered drugs (including chemotherapy) as one in which a number of plans use cost sharing like that in FFS [fee for service] Medicare while requiring relatively lower cost sharing for physician visits." The Kaiser Family Foundation's Patricia Neuman echoed this point in her testimony to Congress in June 2007. She said that seniors with inpatient and post-acute needs could pay more under Medicare Advantage than traditional plans even if the Medicare Advantage plan had out-of-pocket spending limits.
Beneficiaries under one Medicare Advantage plan risk having to pay for the entire cost of care if they fail to find out ahead of time if the service being provided is covered. According to a Government Accountability Office examination of the Medicare Advantage private fee for service plan, "if beneficiaries or their providers did not contact their PFFS plans before obtaining a service to make sure it would be covered, beneficiaries unexpectedly may have had to pay for the entire cost of the service if coverage was later denied by their plan."
Insurance companies have been cited for violations in marketing to seniors
Federal and state governments have repeatedly cited the same insurance companies receiving taxpayer subsidies through Medicare Advantage for violations against seniors.
Examples include:
Conclusion: Health reform will help older Americans
Health care reform will help America's older and senior population by reining in skyrocketing costs, providing them with more stability and security, and ending abusive insurance industry practices. It will prevent insurance companies from denying coverage because of pre-existing conditions that often affect older Americans. It will curtail insurance companies' ability to charge people more simply because of their age. And it will provide quality, affordable choices to people who do not have employer coverage or who cannot afford to purchase insurance on their own.
Proposals before Congress seek to remove insurance company subsidies to shore up Medicare's long-term solvency, measures that could generate up to $149 billion in savings over 10 years. The CBO has estimated that Medicare Advantage plans' extra benefits will shrink, but not disappear, and current enrollees are likely to remain with their plans. AARP has endorsed these measures because the current system is "unfair to the majority of beneficiaries who participate in the traditional program." The reforms being considered by Congress would also close the "donut hole" in prescription drug coverage that leaves many seniors to pay for their prescriptions on their own. It will eliminate co-payments and deductibles for preventative services in Medicare, including mammograms, colonoscopies, other cancer screenings, and screenings for diabetes.
These measures taken together will provide relief to older Americans who for too long have been at the mercy of skyrocketing costs and abusive insurance industry practices.
Download this memo (pdf)
The positions of American Progress, and our policy experts, are independent, and the findings and conclusions presented are those of American Progress alone. A full list of supporters is available here. American Progress would like to acknowledge the many generous supporters who make our work possible.