President Obama Lays the Groundwork for His Conservation Legacy
President Obama Lays the Groundwork for His Conservation Legacy
Administration Moves to Protect Historical Sites and Lands
The president and his administration took three recent steps to preserve America's natural treasures.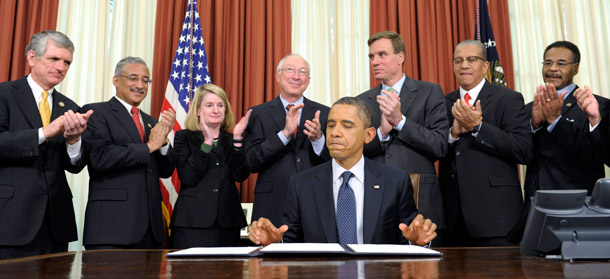 For many conservationists and lovers of the great outdoors, it was not obvious at first how President Barack Obama, with his urban Chicago roots, would make his mark on the vast expanse known as the public estate—national parks, national forests, monuments, and hundreds of millions of acres of lands that belong to all Americans. Despite his early trip to Grand Canyon National Park with his daughters Sasha and Malia, it seemed unlikely that this former community organizer would follow in the footsteps of President Teddy Roosevelt and prioritize protecting large areas of land for future generations.
But three actions in the past two weeks show how President Obama and Secretary of the Interior Ken Salazar are working from the ground up to build this administration's conservation legacy: the designation of Fort Monroe as a national monument, a new proposal for solar energy development on public lands, and recent plans to protect the Grand Canyon from mining development.
Protecting Fort Monroe
An initial insight into the administration's thinking on protecting land can be seen in the strategy and vision behind what will likely become its crowning conservation effort: the America's Great Outdoors Initiative, or AGO.
As originally announced in April 2010, AGO's purpose was to identify a conservation and recreation agenda for the administration based on the premise that "lasting conservation solutions should rise from the American people." As part of this effort, the Department of the Interior held 51 public listening sessions across the country, collected 100,000 public comments, and met with all 50 governors.
This was a careful process that didn't get a lot of attention, but we are starting to see the fruits of this labor, beginning with a place few Americans know: Fort Monroe in Virginia.
This week, President Obama exercised his authority under the 1906 Antiquities Act to designate Fort Monroe as a national monument in one of the first major executive actions coming out of the America's Great Outdoors Initiative. This Civil War site at the mouth of the Chesapeake Bay is an amazing part of America's history and undeniably in need of protection. The fort was the location of a key event in the Civil War that led to the beginning of the end of slavery, when a Union general refused to return three escaped slaves to their Confederate owners. As part of the Army's Base Realignment and Closure process, the property was scheduled to be transferred to the state of Virginia.
With the U.S. Army scheduled to officially vacate the island after the new year, Virginia's leaders, including Gov. Bob McDonnell (R-VA) and Republicans and Democrats from the congressional delegation, asked the president to use his power to protect Fort Monroe and set it on the path to becoming a national park.
This level of local support refutes talking points used by conservatives, particularly those from the West, who have introduced and co-sponsored at least eight bills designed to limit the president's authority under the Antiquities Act. Opponents of this presidential authority point to President Bill Clinton's designation of the Grand Staircase-Escalante National Monument in Utah in 1996, saying it was a federal "land grab" that hurt local communities.
We now know that the monument is a major economic driver in some of the neighboring towns. But that didn't stop Rep. Rob Bishop (R-UT) from carrying on his quest to prevent the president from looking beyond the politics of day to protect places for future generations.
Earlier this year, the House Committee on Natural Resources held a hearing on the Utah Lands Sovereignty Act, which would limit the president's authority by requiring congressional approval for any new national monument in the state of Utah. In his press release for the hearing, Rep. Bishop proclaimed that, "Radical special interest groups continue to push the administration to use the Antiquities Act."
Fort Monroe's designation as a national monument is hardly the work of "radical special interests." Instead, the hard work of the Hampton Roads community and a bipartisan group of Virginia leaders shines through as they partnered with President Obama to protect an important place in American history.
Promoting solar energy development
Next, the administration's effort to direct solar energy development to low-conflict and high-solar resource zones on America's public lands is further evidence of its collaborative and locally driven approach to conservation measures.
This effort took a major step forward last week with the release of the draft supplemental solar programmatic environmental impact statement. Rather than letting industry build haphazardly, the new strategy directs development to the most appropriate locations on public lands based on the high access to solar, transmission, and overall impact on other natural resources.
This statement has been a slow and sometimes frustrating process for all parties, including environmentalists, solar companies, utilities, and other stakeholders involved with developing this new approach to energy development on public lands. Indeed, the Interior Department held 14 public meetings and sifted through 80,000 public comments in formulating the most recent draft of the document.
Media reaction seemed lackluster, but this is actually a dramatic step for the Obama administration. It is setting the stage for a new paradigm of energy development on public lands, which takes lessons from oil and gas development.
If you peel away the bureaucratic title and process, it is safe to say that this new approach to energy development on public lands would have even made President Roosevelt proud.
Preserving the Grand Canyon
And then there's the Grand Canyon. Last week, the administration took one of the last steps necessary to protect almost 1 million acres next to Grand Canyon National Park from new mining activity.
The administration, under great pressure to slow a mining boom at the edge of the park, took one of its first conservation actions by announcing a two-year halt in 2009 to any new attempts to mine in an area neighboring one of America's greatest natural assets. With more than 4 million visitors each year, the park is a major economic engine, supporting 6,000 jobs and providing $412 million dollars in visitor spending to the Arizona economy.
Secretary Salazar could have pushed for an immediate 20-year halt to all new mining attempts. Instead, he used the two-year time-out to collect nearly 300,000 public comments and thoroughly analyze the environmental impacts of letting the mining boom continue. Even with the withdrawal in place, more than 6,000 valid existing claims by mining interests will still be allowed to go forward.
In the end, the administration is recommending a 20-year halt to new mining attempts in an almost 1 million acre area. A decision will be finalized in the next month.
A good start
So in a two-week period, conservationists have three administrative actions to celebrate: Fort Monroe (the first national monument of the Obama administration), a new approach to energy development on public lands, and protections for the Grand Canyon, one of the mightiest American symbols of our shared commitment to land conservation.
All three of these announcements are significant on their own. Together, they paint a picture of a careful, diligent, and responsive administration that is well aware of its duty to protect American treasures against special interests who seek to drill and mine public lands at any cost. While Western conservatives spend their time fighting old battles with presidents who left the Oval Office long ago, the current president moves forward with quiet victories of his own.
It was President Teddy Roosevelt's bold action that originally protected the Grand Canyon as a national monument. He famously said, "Leave it as it is. You cannot improve on it. The ages have been at work on it, and man can only mar it."
President Obama has started to carry on that conservation vision, not only by protecting the Grand Canyon, but by presenting a new approach to developing a conservation legacy one step at a time. We look forward to what the next step will be and where that path leads as future generations depend on Secretary Salazar and President Obama continuing this tradition.
Christy Goldfuss is the Public Lands Project Director at American Progress.
See also:
The positions of American Progress, and our policy experts, are independent, and the findings and conclusions presented are those of American Progress alone. A full list of supporters is available here. American Progress would like to acknowledge the many generous supporters who make our work possible.
Authors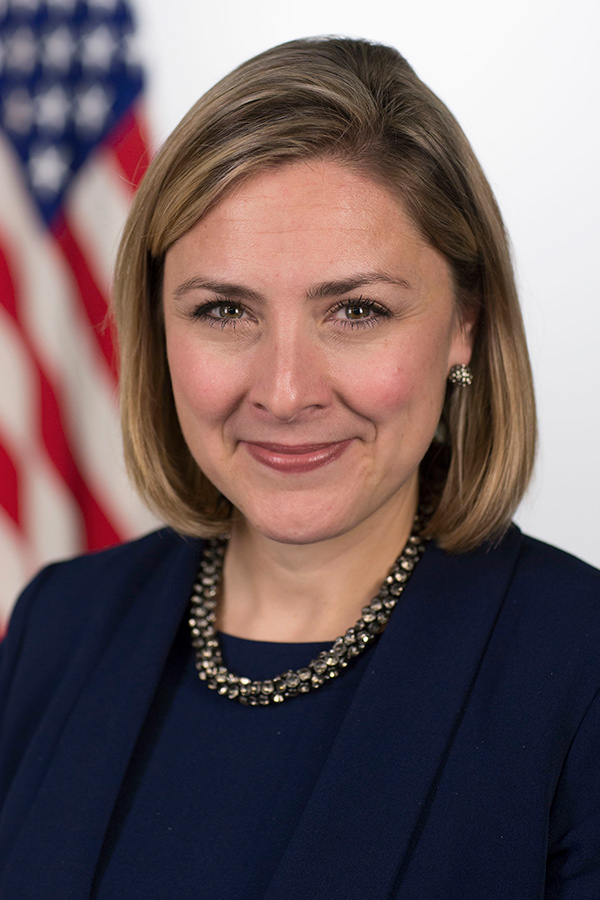 Christy Goldfuss
Former Senior Vice President, Energy and Environment Policy