Only 3 Years Old, the Affordable Care Act Is Already Having a Big Impact
Only 3 Years Old, the Affordable Care Act Is Already Having a Big Impact
The changes Obamacare is making to the way our health care is delivered and paid for benefits millions of American families.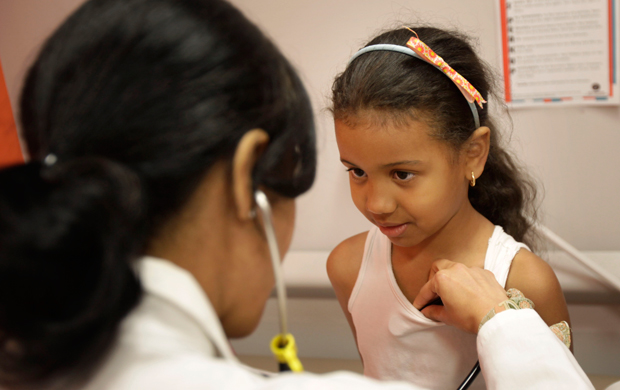 This past Saturday marked the third anniversary of the enactment of the Patient Protection and Affordable Care Act, also known as Obamacare, which includes sweeping reforms of our health care system. Although health care consumers will see some of the landmark law's biggest changes beginning in 2014, many of the law's reforms have already benefited millions of Americans.
Below we document the many ways in which the Affordable Care Act is helping millions of Americans by ensuring they have access to high-quality affordable coverage.
Improving access to health care
Increasing affordability and expanding coverage
The Affordable Care Act provides large coverage gains by allowing young adults to remain on their parents' insurance plans until age 26, which has been particularly important to American families as the economy struggles to get back on its feet. Because of this provision, more than 6.6 million additional young adults, including more than 1.3 million minorities—many of them new college graduates—had access to coverage even if they were unable to find a job. Notably, coverage gains by young adults are wholly attributable to increases in private coverage with no change to Medicaid coverage. As a result, nearly 75 percent of all young adults now has insurance coverage, with the largest coverage gains among young men ages 19 to 25. Due to the extension of dependent health coverage, the rate of coverage for this group increased from 58 percent to 72 percent.
Protecting those with pre-existing conditions
Additionally, many patients with pre-existing medical conditions—including asthma, heart disease, previous injuries, and cancer—would not have access to necessary affordable care without health reform. The health law prohibits insurance companies from charging higher premiums, limiting benefits, or denying coverage to those who need it starting in 2014. But to ensure that those with pre-existing conditions can access the care they need immediately, the Affordable Care Act created the Pre-existing Condition Insurance Plan, or PCIP, which includes coverage for primary and specialty care, hospital services, and prescription drugs. As of January 2013 more than 107,000 Americans had enrolled in the plan, a more than 800-percent enrollment increase since November 2010. Beginning in 2014 these enrollees will be able to access coverage through the health exchanges, where insurers will be prohibited from charging more or denying coverage to anyone based on their health. And because of the Affordable Care Act, health care plans are already prohibited from denying coverage to children because of pre-existing conditions.
Providing health care to children through school-based health centers
The law also includes more than $200 million in funding to support and expand school-based health centers, which provide primary care, dental care, behavioral health services, and substance-abuse counseling to youth nationwide. In 2012 the Department of Health and Human Services awarded more than $80 million to 197 centers across the country to improve children's health through important screenings and disease-prevention activities.
Supporting community health centers that provide care to vulnerable populations
Obamacare also provides support to build and renovate community health centers. According to the Department of Health and Human Services, the law has already funded 190 construction and renovation projects at health centers with 67 completely new health center sites being created and more growth planned for the next two years. More than 800 of the existing centers received support to become patient-centered medical homes, allowing them to provide more coordinated care to patients.
Increasing the number of health care providers
The law also increases the number of health care providers—including mental and behavioral health providers and those serving medically underserved communities. The National Health Services Corp, for instance—a program of the Department of Health and Human Services that provides loan-repayment assistance and scholarships to health care providers serving medically underserved communities—tripled in size over the past three years. Doctors and nurses supported by this program are providing care to 10.4 million patients across the country. In 2012 the Department of Health and Human Services invested more than $229 million in the Services Corp.
Lowering health care costs and improving quality of care
In addition to increasing access to insurance, the Affordable Care Act also contains important provisions to improve the quality of our health care while controlling rapidly rising health care costs.
Reducing costs in Medicare while improving care and lowering costs for seniors
Obamacare helped slow the growth rate of Medicare spending, putting the program on a more sustainable path—with no reduction in benefits to seniors. In fact, the law ensured that in 2012 alone, 19 million Medicare beneficiaries received at least one preventive service such as an annual wellness visit or critical health screening at no cost.
Seniors and persons with disabilities enrolled in Medicare also saved $5.1 billion on prescription drugs thanks to the law. The Affordable Care Act is working to close the Medicare Part D prescription-drug coverage gap, also known as the "donut hole." In the first 10 months of 2012, nearly 2.8 million individuals saved an average of $677 a year—and will save an average of $5,000 through 2022.
Medicare beneficiaries also realize significant savings through the health care law's competitive bidding program for medical equipment such as wheelchairs and hospital beds. Beneficiaries are seeing $133.03 in savings per year for diabetic testing supplies, for example. In its first year the program saved taxpayers and beneficiaries more than $200 million and could save up to $42.8 billion for taxpayers and beneficiaries over the next decade. The law has also allowed the Department of Health and Human Services and the Department of Justice to crack down on fraud and abuse in Medicare, saving billions of dollars for taxpayers. The departments' joint efforts have recovered $10.7 billion of fraudulent claims.
The Affordable Care Act includes $10 billion in government funding to support efforts to expand and strengthen the primary-care workforce and to improve public health through the Prevention and Public Health Fund. The fund, designed to help create the necessary infrastructure to prevent and detect disease and manage chronic conditions, creates additional primary-care residency slots and increases the number of trained nurse practitioners, among other things. Since the act was passed in 2010, the Department of Health and Human Services has invested $2.25 billion across the country to promote wellness, prevent disease, and protect against public health emergencies.
The health care law's rule on preventable hospital readmissions has also helped improve the quality of care for patients nationwide. Due to Obamacare, the nationwide rate of hospital readmissions for Medicare patients within 30 days declined to less than 18 percent after at least five years of no progress.
Additionally, the Partnership for Patients: Better Care, Lower Costs public-private initiative brings together leaders of more than 3,700 hospitals with employers, physicians, nurses, and patient advocates along with state and federal governments in a shared effort to make hospital care safer, more reliable, and less costly. The initiative aims to reduce preventable hospital-acquired conditions and preventable readmissions by 40 percent and 20 percent, respectively, by the end of 2013.
Thirty-two leading health care organizations across the country are also participating in an initiative to provide better, more coordinated care to Medicare patients with potential savings of $1.1 billion. The Pioneer Accountable Care Organizations initiative rewards care providers for improving Medicare patients' health and lowering costs through improved care coordination. The payment models that the participating organizations are piloting will allow providers to move away from a volume-based fee-for-service payment system to one based on the quality of care provided. In the past year, 106 more groups have formed accountable care organizations, or ACOs, and are now participating in the Medicare Shared Saving Program, another new accountable-care initiative in the Affordable Care Act.
Providing preventive services at no cost to patients
The law also requires insurance plans to cover important preventive services for children and adults, including critical immunizations, numerous health screenings, and counseling services, with no cost sharing. As a result, in 2011 and 2012, 105 million Americans accessed at least one preventive health service—such as a flu shot or an annual wellness visit—with no cost sharing. Beginning in August 2012, 47 million women had access to more comprehensive preventive women's care, including mammograms, well-woman visits, contraception, and breastfeeding support with no out-of-pocket costs.
Protecting consumers nationwide
Importantly, Obamacare contains far-reaching consumer rights and protections.
Prohibiting common forms of discrimination in the insurance market
In addition to prohibiting insurers from denying coverage to patients with pre-existing conditions, the law also eliminated lifetime coverage limits—a dollar limit set by insurers on spending for covered benefits over the time a patient is enrolled in a plan—for 105 million Americans, ensuring that those who need coverage the most cannot max out their health insurance. Without the Affordable Care Act, the Department of Health and Human Services estimated that nearly 40 million women and 28 million children would be in plans with lifetime limits. The law also prohibits insurers from charging women higher premiums based solely on their gender.
Increasing transparency in the health insurance market
Thanks to the law, insurers were also required to provide consumers with easy-to-understand information about their health plans and costs by September 2012. Insurers were required to have two key documents available to help consumers evaluate their health care choices: a short summary of benefits and coverage, and a standardized glossary of terms commonly used in health insurance such as "deductible" and "co-payment."
Saving consumers money by protecting them from unreasonable rate hikes and requiring insurance companies to spend money on patient care not administrative costs
Patients also enjoy greater protection from unreasonable private insurance premium hikes through strengthened rate-review laws that bring greater transparency and accountability to private-insurance rate increases. These protections saved consumers $1 billion on insurance premiums and have increased transparency in the health care system. Forty-two states, the District of Columbia, and five U.S. territories improved their rate-review processes under the Affordable Care Act. Connecticut and Oregon, for example, saved consumers money by rejecting a 20 percent rate increase and halving the rate increase by a large insurer, respectively.
Additionally, the Affordable Care Act prohibits insurance companies from spending more than 20 percent of premium dollars on nonmedical expenses such as administrative costs and marketing. If insurers violate the 80/20 standard—also called the Medical Loss Ratio—they must return the money to patients through rebate checks. Thirteen million consumers also received $1.1 billion in rebates from insurance companies—an average of $151 for each family covered by a policy—that spent less than 80 percent of consumers' premium dollars on health care in 2011.
Conclusion
Beginning October 1, 2013, millions of Americans will be able to shop for health insurance and compare plans through health insurance exchanges. In these marketplaces, consumers will be able to compare estimated plan costs and select from a range of qualified plans. Some consumers may also be financially eligible for premium tax credits and cost-sharing assistance. Approximately 9 million Americans are projected to gain coverage through the exchange in 2014, with the number covered by an exchange plan rising to 25 million by 2022.
Another 15 million Americans will also gain critical health coverage through the law's sizable incentives for states to expand Medicaid eligibility to all adults with incomes below 138 percent of the federal poverty level. The 2012 Supreme Court decision upholding the Affordable Care Act makes this expansion optional for states, however, and as of March 2013, only about half of all states announced a commitment to expand the program to cover low-income families in their states starting in 2014.
Nevertheless, Obamacare's changes to the way our health care is delivered and paid for have already benefited millions of American families. And with some of the law's biggest changes coming in 2014, the Affordable Care Act is poised to improve care for millions more American families.
Emily Oshima Lee is a Policy Analyst at the Center for American Progress. Special thanks to CAP intern Megan Knauss for her research support on this column.
The positions of American Progress, and our policy experts, are independent, and the findings and conclusions presented are those of American Progress alone. A full list of supporters is available here. American Progress would like to acknowledge the many generous supporters who make our work possible.
Authors Emily Oshima Lee
Senior Policy Analyst