On Overall Spending and Revenue, the President's Compromise Budget Offer Is to the Right of Simpson-Bowles
On Overall Spending and Revenue, the President's Compromise Budget Offer Is to the Right of Simpson-Bowles
President Obama's fiscal year 2014 budget shows his willingness to accept less revenue and less government spending than the bipartisan Simpson-Bowles plan.
President Barack Obama's compromise fiscal year 2014 budget offer to conservatives in Congress would result in spending and revenue levels that are lower than those proposed by former Sen. Alan Simpson (R-WY) and former White House Chief of Staff Erskine Bowles in 2010 in their bipartisan budget plan. The spending cuts included in the president's offer largely mirror those of the Simpson-Bowles proposal, but the overall amount of new revenue falls far short of Simpson-Bowles. If that plan is a marker for the "middle ground" in the budget debate, then the president's offer is actually to the right of center.
The president's FY 2014 budget reaffirms his willingness to accept the budget compromise that he offered House Speaker John Boehner (R-OH) in December 2012. That compromise offer entails:
$200 billion of additional discretionary cuts, bringing the total amount of discretionary cuts enacted since the start of FY 2011 up to well more than $1.6 trillion
$400 billion in health care savings
$200 billion in cuts to other mandatory programs
$230 billion in deficit reduction stemming from the switch to an alternative measure of inflation
$580 billion in new revenue
$200 billion in interest savings
When added to the deficit reduction already accomplished, the president's offer includes more than $3 trillion in spending cuts and just $1.3 trillion in revenue. In addition to the enacted deficit reduction, projections of federal spending have been reduced for a variety of other reasons, primarily the recent slowdown in health care costs. Put it all together, and the president is willing to accept overall federal spending levels that are an average of about 0.5 percentage points of gross domestic product less than those in Simpson-Bowles, and revenue levels that are a full percentage point below those in Simpson-Bowles.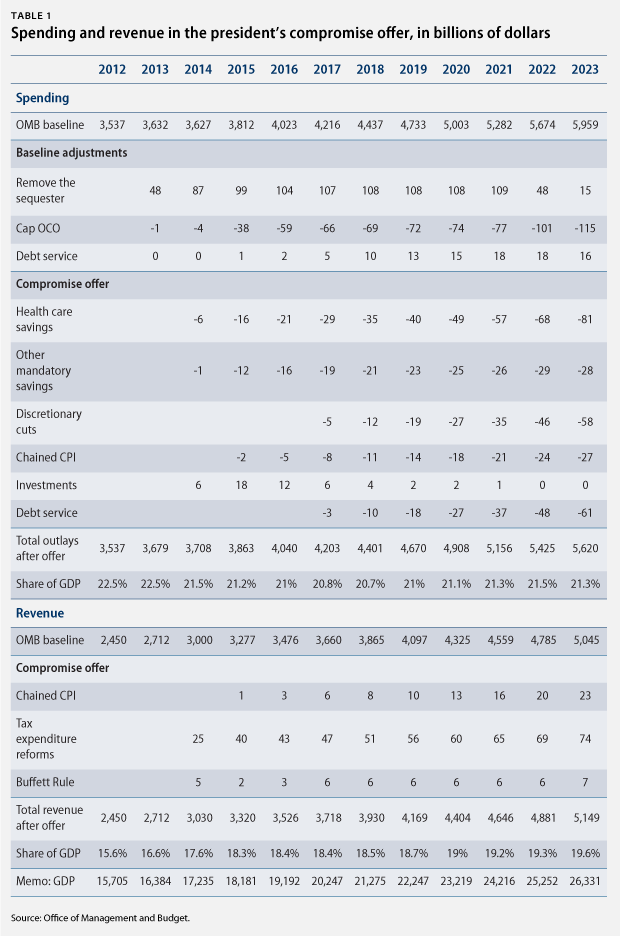 Notes on methodology
Spending and revenue levels for the president's compromise offer include only the proposals designated in the budget as "December Compromise Deficit Reduction Package." They do not include other policy proposals in the president's budget. The spending level does assume a drawdown in "overseas contingency operations" spending, however, as specified by the president's budget.
The chart above shows spending and revenue levels only through 2021 because the most recent estimates of the original Simpson-Bowles plan extend only through that year.
Michael Linden is the Managing Director for Economic Policy at the Center for American Progress.
The positions of American Progress, and our policy experts, are independent, and the findings and conclusions presented are those of American Progress alone. A full list of supporters is available here. American Progress would like to acknowledge the many generous supporters who make our work possible.
Authors Michael Linden
Managing Director, Economic Policy