Obama's Government Reform Plan
Obama's Government Reform Plan
Organizing Business and Trade Agencies for Competition
John D. Podesta applauds President Obama's plan to reshape the federal government to boost U.S. economic competitiveness.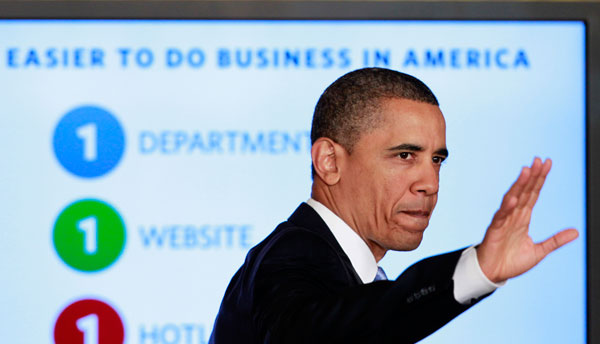 One year ago President Barack Obama charged his Chief Performance Officer Jeff Zients and Senior Adviser Lisa Brown to lead a government reorganization effort that would transform a government "stuck in the age of black-and-white television" to one that ensures U.S. global competitiveness "in the age of the iPad."
President Obama today takes a crucial step toward that transformation with a thoughtful and far-reaching plan to reshape the federal government to more effectively focus on ensuring U.S. long-term economic competitiveness. Just like any successful business, the federal government itself needs to streamline and organize for global competition—that is what this plan will do.
It starts by calling for the merger of six departments and agencies focused on business and trade. The combination of these entities will make the government's business-focused policies leaner, smarter, and more effective. It will enable a long-term strategy that ensures American businesses find more investors and customers, that more jobs are created here, and that workers enjoy a rising standard of living.
As we demonstrated in our December 2010 report, "A Focus on Competitiveness: Restructuring Policymaking for Results," the U.S. policymaking process badly needs to be better organized in order to produce a coherent and coordinated long-term strategy for our economic competitiveness. Then we need to manage to that strategy.
We are happy to see many of our recommendations echoed in the administration's plan. And we urge Congress to become a strong partner in this effort, starting by granting the president his traditional authority to streamline, consolidate, and reform the executive branch.
As a former White House chief of staff, I know how hard it is to challenge the status quo in Washington. Congressional inertia and entrenched special interests—whose specialty is often gaming dysfunctional systems—combine to make commonsense reorganizations of federal agencies a monumental challenge.
It thus shows real courage for the president to take on this challenge, but the need could not be greater. We are at a moment of national reckoning: We either marshal our collective resources to support the private sector and ensure American competitiveness, or we risk eroding our position of preeminence in the global marketplace.
The stakes for getting this right are high. Other countries are gaining on us in measures of scientific literacy, research and development, and infrastructure investment. To remain No. 1, we need to respond.
The good news is that the United States is emerging from the Great Recession of 2007-2009 still poised to be the world's most innovative, productive, and prosperous country. The attention to competitiveness in the Obama administration is boosting the prospects that our children will enjoy—and surpass—our current standard of living.
But it will take relentless and continued focus on jobs and competitiveness to ensure that we regain our ground in an increasingly competitive world, and that our prosperity is broadly shared around the globe.
John D. Podesta is Chair and Counselor at the Center for American Progress.
The positions of American Progress, and our policy experts, are independent, and the findings and conclusions presented are those of American Progress alone. A full list of supporters is available here. American Progress would like to acknowledge the many generous supporters who make our work possible.
Authors Founder