Not Even the Oil and Gas Industry Is Buying What the Trump Administration Is Selling
Not Even the Oil and Gas Industry Is Buying What the Trump Administration Is Selling
The Interior Department is shortchanging taxpayers by attempting to sell off more public lands than industry wants, accepting many bids as low as $2 an acre.
President Donald Trump's Interior Secretary, Ryan Zinke, has not been shy about his desire to sell more of America's public lands to the oil and gas industry. In October, he boasted about a forthcoming sale of oil and gas leases on federal lands in the National Petroleum Reserve: "This large and unprecedented sale in Alaska will help achieve our goal of American Energy Dominance." But the Alaska lease sale, like the Trump administration's broader 2017 federal oil and gas leasing strategy, was by all measures a failure.
The Center for American Progress analyzed the federal Bureau of Land Management's (BLM) oil and gas leasing data and found that the oil and gas industry purchased only 7 percent of the public land acres the BLM offered in 2017. (In Zinke's touted lease sale of the National Petroleum Reserve, less than 1 percent of the acres sold.) In fact, industry leased fewer acres in 2017 than it did in 2016—even though the BLM offered six times more land for auction in 2017.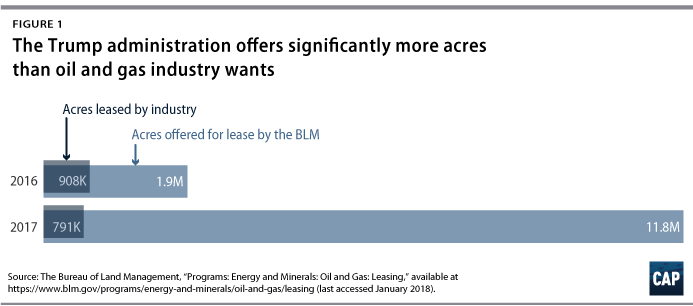 The BLM data show that the Trump administration's oil and gas leasing program is not only failing in its goal of selling more acres of public lands for drilling, but a higher proportion of those parcels are selling at bargain-basement prices, which shortchanges taxpayers of revenues from publicly-owned resources. In fact, more than one in three acres leased by the Trump administration in 2017 went for $10 per acre or less. What's more, the BLM sold more than twice as many acres for the minimum bid of $2 per acre in 2017 than it did in 2016. According to the Congressional Budget Office, industry drills a mere 8 percent of leases sold for $10 per acre or less . In other words: The oil and gas industry is using the Trump administration's oil and gas leasing program to stockpile public lands with little intention of actually drilling them. With these warehoused parcels, taxpayers are shortchanged twice: first by low bonus bids at auction and again when nonproducing leases deliver no royalty payments.

The poor business results that Secretary Zinke is delivering in the federal oil and gas leasing program are compounded by his unwillingness to diversify the Interior Department's energy portfolio. On federal lands, Zinke has taken no initiative to expand clean energy production, but is instead going all-in on oil and gas development. Basic investment principles hold that past performance does not predict future returns. In the energy sector specifically, experienced analysts anticipate a leveling off of oil and gas production. Zinke, however, is counting on such production retaining its robust growth of the past decade.
In his first year in office, Zinke has seemingly gone out of his way to please the oil and gas industry. Yet his systematic rollback of oil and gas safety measures, his opening of loopholes favorable to industry, and even his willingness to offer most any and all public lands for oil and gas drilling have not delivered what he hoped or promised. Rather, Zinke's efforts have resulted in lower oil and gas leasing and poor returns to taxpayers. Nearly one year after Zinke took office as Trump's chief natural resource manager, he has proven himself to be an unartful failure of deals.
Mary Ellen Kustin is the director of policy for Public Lands at American Progress.
The positions of American Progress, and our policy experts, are independent, and the findings and conclusions presented are those of American Progress alone. A full list of supporters is available here. American Progress would like to acknowledge the many generous supporters who make our work possible.
Authors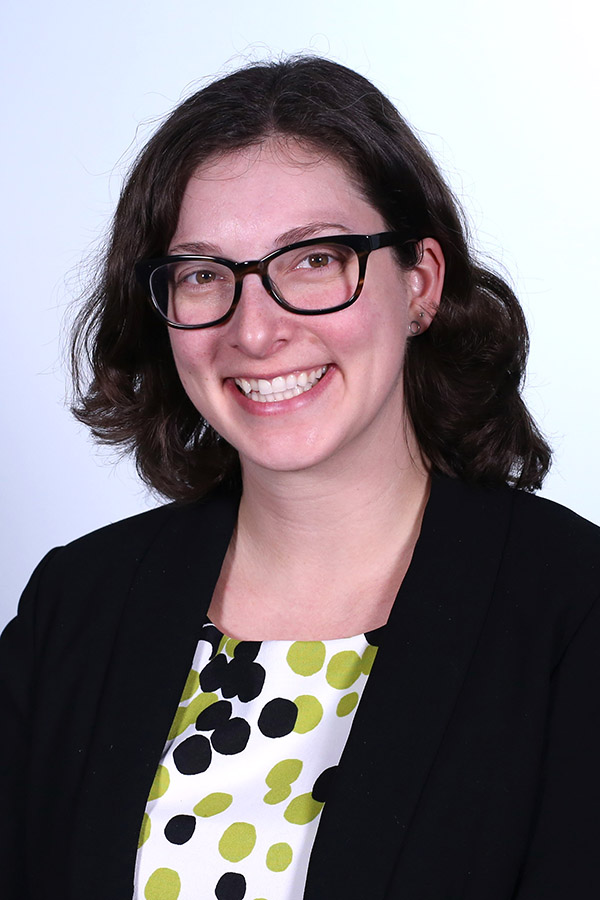 Mary Ellen Kustin
Director of Policy, Public Lands