New Protections for the Greater Sage Grouse Strengthen President Obama's Conservation Record
New Protections for the Greater Sage Grouse Strengthen President Obama's Conservation Record
The historic measures announced to protect the greater sage grouse and its habitat bolster President Obama's conservation legacy.
This summer, Pope Francis released his second encyclical, "Laudato Si," which urgently called on the global community to begin "a new dialogue about how we are shaping the future of our planet." The pope's impassioned case for action to confront climate change made headlines around the world, while his call to protect imperiled wildlife, disappearing ecosystems, and sources of clean water is inspiring renewed discussion of our relationship with the natural world. "When nature is viewed solely as a source of profit and gain," writes Pope Francis, "this has serious consequences for society."
With the pope expected to renew his call to protect the planet this week in Washington, D.C., the Obama administration on Tuesday finalized one of the largest collaborative land conservation plans ever assembled by local, state, and federal governments. The plan—which will protect the habitat of the imperiled greater sage grouse and dozens of wildlife species across the American West—will more than double the number of acres of public land President Barack Obama has protected since taking office.
Over the past two years, President Obama has accelerated his administration's efforts to conserve public lands and waters. A January 2013 Center for American Progress analysis of the president's conservation record found that the Obama administration lagged behind previous administrations in its efforts to permanently protect public lands and waters. Since then, however, President Obama has protected millions of acres of new national parks and monuments; conserved critical ecosystems and wildlife; and worked to build a park system that better reflects the diversity of our country. In so doing, the president has assembled the framework for a strong and lasting conservation legacy.
The new plan would more than double the amount of land the president has protected
In what is being called the "largest landscape-level conservation effort in U.S. history," the Obama administration on Tuesday finalized its plan to protect the habitat of the greater sage grouse. The bird's dwindling population across the western region of the country sparked a decade-long effort by states, landowners, and other stakeholders to save the species before it becomes endangered. The administration's plan will help reduce development impacts on approximately 70 million acres of public lands in the West and, in particular, will prohibit future hardrock mining claims on 10 million acres of land for up to 20 years. The administration's announcement of this major mineral withdrawal will more than double the number of acres of public land the president has protected thus far during both his terms.
Through his historic land conservation effort, President Obama has protected nearly 17 million acres of public lands through major administrative actions and legislation, including designating 19 national monuments, protecting the Grand Canyon from uranium mining for 20 years, and signing bills to protect more than 2 million acres of wilderness. Figure 1 shows the significant uptick in the president's land conservation efforts since 2013 through the designation or expansion of national parks and monuments, wildlife refuges, and wilderness areas—as well as through major withdrawals of lands from future mineral and energy leasing.
In addition to the 10 million new acres of land that will be protected from new mining claims, the president has responded to a growing number of calls from local communities to conserve nearby public lands. In fact, 15 of his 19 national monument designations have come within the past three years and have permanently protected millions of acres of iconic landscapes and historic sites across the country. Most recently, the president permanently protected more than 1 million acres of public lands, using his authority under the Antiquities Act to designate the Basin and Range National Monument in Nevada, Berryessa Snow Mountain National Monument in California, and Waco Mammoth National Monument in Texas.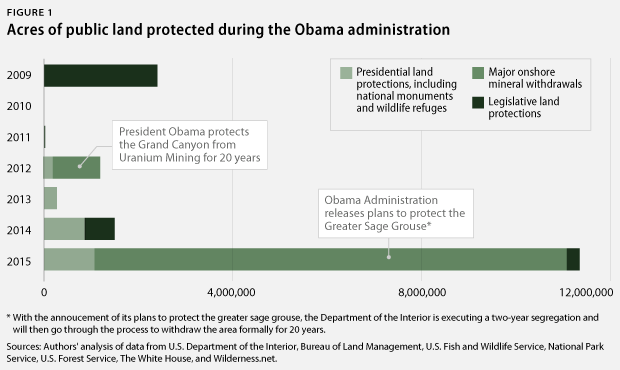 President Obama has preserved more acres of land and water than any other president
Over the past two years, President Obama has also taken landmark steps to protect America's oceans. In September 2014, he expanded the Pacific Remote Islands Marine National Monument, making it the largest network of protected marine areas in the world. The 261 million acre monument helps protect endangered species of sea turtles, whales, birds, and sharks; Figure 2 below shows the more than 300 million acres of ocean ecosystems that President Obama has protected.
In addition to expanding the Pacific Remote Islands Marine National Monument, the president withdrew 9.8 million acres of sensitive areas in the Beaufort and Chukchi Seas off the coast of Alaska from consideration for future oil and gas drilling earlier this year. When accounting for both land and ocean conservation efforts, the Obama administration has "set aside more public lands and waters than any administration in history."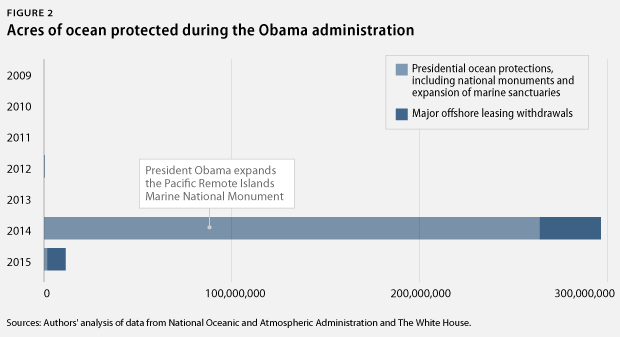 Opening a second century of conservation
President Obama has not only used his executive authority to conserve public lands and waters for future generations, but he has also pressed Congress to do its part to advance America's conservation traditions and has encouraged more Americans to get outdoors. For example, his administration has launched a new initiative to encourage every fourth grader to explore public lands and waters; empowered local communities in decision-making about new marine protections; fought to save the Land and Water Conservation Fund, America's best parks program; and pushed for legislation that would protect U.S. wilderness and parks.
President Obama's efforts—along with the millions of acres he has protected over the past three years—have energized a national effort to protect and invest in public lands and waters to benefit local communities, restore critical ecosystems, and ensure that our national treasures are preserved for generations to come. As the 100th anniversary of America's national park system quickly approaches in 2016, the president should continue to lead the way on conservation and forge a bright future for the next century of America's public lands.
Note: Author's analysis includes acreage numbers for major conservation efforts on America's public lands and waters since January 20, 2009, including national monuments, national wildlife refuges, marine sanctuaries, major mineral withdrawals, and signed legislation.
Matt Lee-Ashley is a Senior Fellow and the Director of the Public Lands Project at the Center for American Progress. The author would like to thank Claire Moser for her analysis and assistance, as well as Meghan Miller, Kyle Schnoebelen, and Alexis Evangelos for their contributions.
The positions of American Progress, and our policy experts, are independent, and the findings and conclusions presented are those of American Progress alone. A full list of supporters is available here. American Progress would like to acknowledge the many generous supporters who make our work possible.
Authors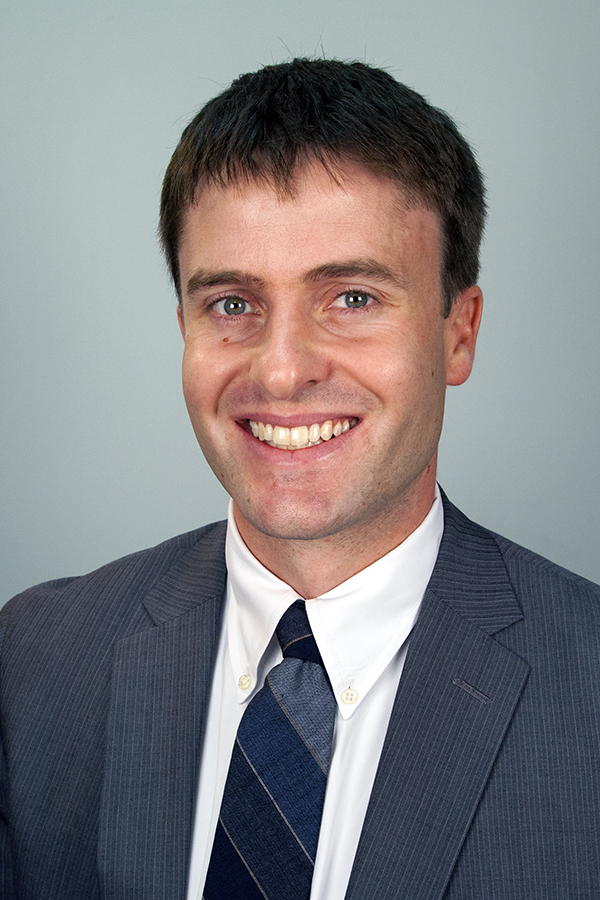 Matt Lee-Ashley
Senior Fellow