New Oil and Gas Requirements a Good Start but Could Be Better
New Oil and Gas Requirements a Good Start but Could Be Better
EPA, Interior Seek Better Handle on Fracking and Pollution
While steps to strengthen federal oversight of oil and gas development represent a good start, both the Bureau of Land Management and EPA plans have shortcomings that the agencies should address, writes Tom Kenworthy.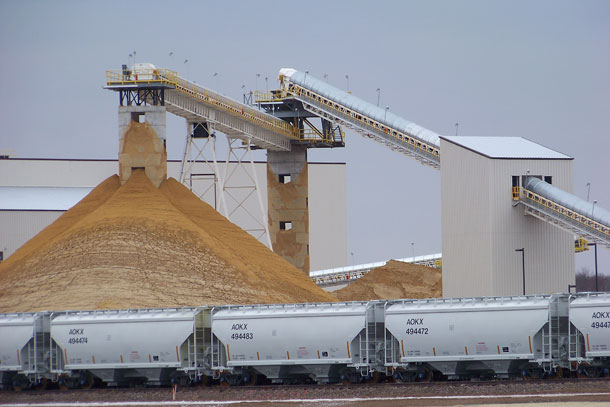 Download this issue brief (pdf)
Read this issue brief on your broswer (Scribd)
Moving on two fronts to protect public health, safety, and the environment, the Obama administration has recently tightened rules governing oil and gas development. While the directives covering drilling activities on public lands and imposing new air pollution requirements on all new wells starting in 2015 are welcome, the Department of the Interior and the Environmental Protection Agency should go even further in order to assure the public that the administration's self-styled "all-of-the-above" energy development strategy is carried out responsibly.
In his State of the Union address in January, President Barack Obama enthusiastically embraced the potential economic and environmental benefits of exploiting the nation's huge reserves of natural gas. But he also promised to "develop this resource without putting the health and safety of our citizens at risk."
Left unsaid by the president were the public concerns prompting that promise. Along with the remarkable surge in natural gas drilling, sparked by big new discoveries of natural gas and oil locked in shale rock formations, have come fears that the hydraulic fracturing technology, commonly referred to as fracking, to unlock those deposits may threaten public water supplies. In addition, new scientific studies on natural gas have called into question the conventional wisdom that gas is far superior to coal in terms of its greenhouse gas footprint because of substantial methane releases during the development of wells and the transmission of produced gas.
To help allay some of those concerns, the federal Bureau of Land Management, or BLM, has proposed new rules for drilling on public lands. Those rules are designed to bring more transparency about the chemicals used in hydraulic fracturing, to stiffen oversight of well construction to ensure the integrity of oil and gas wells, and to help ensure that liquids that flow back to the surface during the initial phase of production are properly monitored and treated.
At the same time, the EPA has proposed new directives to protect the public from air pollutants often released during oil and gas production, which will significantly reduce emissions of methane, toxic chemicals such as benzene, and volatile organic compounds that help form ozone, or smog.
While these steps to strengthen federal oversight of oil and gas development represent a good start, both the Bureau of Land Management and EPA plans have shortcomings that the agencies should address.
Fracking rules on public lands
The Bureau of Land Management, an agency in the Interior Department, manages the mineral resources on about 750 million acres of federal and tribal lands, and private lands where landowners own the surface but not the mineral rights.
Approximately 3,400 wells per year are drilled on these lands using hydraulic fracturing—the high-pressure injection of a fluid mix of water, sand, and chemicals to crack rock formations so the gas and/or oil trapped within can be easily brought to the surface. In combination with directional drilling techniques, fracking has opened up vast new reserves of natural gas and oil previously locked in underground shale formations.
The Bureau of Land Management's existing rules governing fracking date to 1982 and have not been updated since 1988, well before the widespread adoption of new technologies by the industry and the recent shale gas developments.
The rapid and large expansion of shale gas production in recent years in formations across a wide swath of the United States stretching from New York state to Texas has brought with it growing public concerns that fracking may be impacting both underground and surface water supplies. It has prompted demands that government require oil and gas companies to disclose the chemicals used in the process. Pressure has also been mounting to impose tougher requirements on well construction to ensure that those chemicals and natural gas don't escape from the well underground, and on the handling of so-called "flowback" liquids, including the fracking fluids that return to the surface when gas production begins.
The Bureau of Land Management's proposed rules would require oil and gas operators to disclose the chemicals they use, impose a range of requirements on testing the integrity of their well construction so gas and chemicals don't migrate into underground water supplies, and keep better track of flowback wastewater. But there are gaps in the proposed rules, including:
The disclosure of fracking fluid chemicals would come only after the fracturing is completed. That would prevent landowners from doing baseline testing of their domestic water wells ahead of time for chemicals that are to be used in the fracturing operation, information that could be used to help determine if there's a link between water contamination and the frack job.
Operators must report to the Bureau of Land Management how they plan to manage and dispose of flowback liquids. But they are given the option of storing flowback liquids in either enclosed tanks or open, though lined, pits. Storing those liquids in pits can more easily lead to spills and contamination of water and soils.
While the Bureau of Land Management requires testing of well integrity, it has not outlined any updated design and construction requirements.
Additionally, the White House sent a signal last week that it will be doing more to accommodate the oil and gas industry before the rules are finalized. Heather Zichal, the president's top energy and climate advisor, said the comment period on the proposed rules will be extended "in response to concerns we have heard from industry."
EPA's oil and gas air pollution rules
On the heels of a consent decree in a lawsuit brought by environmental groups, the EPA in April unveiled new regulations to cut air pollution stemming from oil and gas operations, including the first-ever federal air standards governing gas wells that are hydraulically fractured.
With nearly 13,000 gas wells being fractured or refractured each year in the United States, the industry is a major source of air pollution, producing large quantities of volatile organic compounds, or VOCs, that contribute to smog, toxic chemicals like benzene, and methane—the main constituent of natural gas—a greenhouse gas more than 20 times as potent as carbon dioxide. The EPA estimates that the oil and gas industry is responsible for almost 40 percent of all methane emissions in the United States.
Much of this air pollution comes immediately after fracking is completed and before production is underway, as flowback brings fluids, water, and gas to the surface.
The EPA's new regulations will require so-called "green completions" of wells— capturing the gases in tanks so they don't escape into the atmosphere. The agency estimates that implementation will reduce volatile organic compounds by 190,000 tons to 290,000 tons a year, cut air toxics by 12,000 tons to 20,000 tons, and methane by 1 million to 1.7 million short tons. The industry should save, by capturing and selling the natural gas and condensate, $11 million to $19 million a year.
The EPA, in a significant concession to industry, however, has given operators until 2015 to comply. Although in the interim they are required to burn off the gases if they don't capture them, and there are incentives for early compliance.
Some big players in the industry are already proving that green completions, which Colorado and Wyoming already require, make economic sense.
Bloomberg reported in April on the efforts of Southwestern Energy and Devon Energy that show green completions can mean extra profits despite claims by the American Petroleum Institute, the trade association of the oil and natural gas industry, that the requirement would cost $180,000 per well.
"We are capturing value that would otherwise be lost," Devon spokesman Chip Minty told Bloomberg. "It does make good economic sense for us." Devon captures emissions on more than 90 percent of the wells it drills. Likewise, Southwestern told Bloomberg it has cut the cost from $20,000 a well to zero and is capturing an average of 16 million cubic feet of gas per well.
In its "Leaking Profits" report released in March, the Natural Resources Defense Council said that green completions and another nine pollution reduction techniques already proven and available could save the industry as much as $2 billion a year.
Tom Kenworthy is a Senior Fellow at the Center for American Progress.
Download this issue brief (pdf)
The positions of American Progress, and our policy experts, are independent, and the findings and conclusions presented are those of American Progress alone. A full list of supporters is available here. American Progress would like to acknowledge the many generous supporters who make our work possible.
Authors Tom Kenworthy
Senior Fellow