Learning from the Past and Accepting Refugees
Learning from the Past and Accepting Refugees
The United States has faced decisions on whether to shelter refugees throughout its history and faces a similar question today. We must not repeat the mistakes of the past.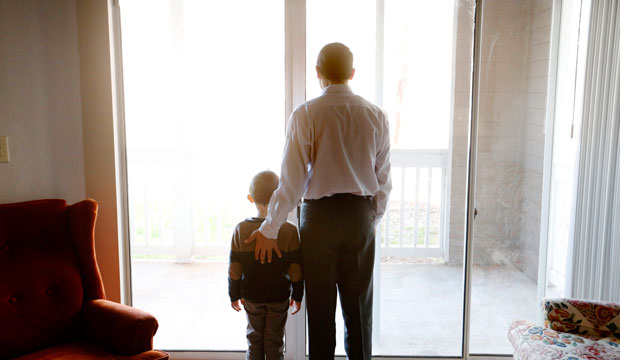 Over the past five years, more than 9 million Syrians have fled for their lives. Three million have sought refuge in neighboring countries, and 6.5 million are internally displaced. According to the U.N. High Commissioner for Refugees, or UNHCR, more than 1 million refugees traveled to Europe by sea in 2015, and more than 80,000 refugees arrived there in the first six weeks of 2016 alone.
In the midst of this largest global refugee crisis since World War II and despite the Obama administration's commitment to welcome at least 10,000 Syrians this fiscal year, the refugee crisis has sparked a conservative backlash in the United States. While there is not a connection between the terrorist attacks in Paris and Lebanon and these majority-Muslim refugees, anti-Muslim sentiment gathered steam in the wake of these incidents. By November 2015, more than half of the nation's governors had publicly opposed resettling Syrian refugees in their states, despite the fact that states have no lawful means to stop refugees from entering the country. Opposition to resettlement peaked once more following the shootings in San Bernardino, California—notwithstanding the fact that the shooters were neither Syrian nor refugees—and has resumed in the weeks following the recent Islamic State attacks in Brussels.
As the United States continues to debate how to address this refugee crisis, it must learn from its past to avoid repeating the same mistakes.
In 1938, during the events of Kristallnacht, Hitler's party officials carried out violent attacks against Jews in their homes and destroyed Jewish synagogues, cemeteries, and businesses. Nearly a year later, Hitler's army invaded Poland, which marked the start of World War II and forced hundreds of thousands of refugees to flee their homes. Many Jews sought refuge in nearby European countries and the United States, but public opinion in the United States was largely not in favor of welcoming them.
In January 1939—a few months after Kristallnacht—a poll conducted by Gallup's American Institute of Public Opinion found that 67 percent of Americans were against the U.S. government admitting even German Jewish refugee children. Government officials at the time believed that many of these refugees were really Nazi spies. Among the resettlement opponents was anti-Semitic Assistant Secretary of State Breckinridge Long, who worked hard to delay and ultimately bar Jewish refugees from coming to the United States. Because of the policies he championed, as many as 190,000 visas that could have been allocated to immigrants fleeing areas controlled by Germany and Italy during the war went unused.
The U.S. government's misguided refugee policy with regard to Jews reached its nadir in May 1939, when the MS St. Louis—a ship carrying 937 Jewish German refugees—traveled to Cuba in hopes of gaining entry to the United States. Many of the refugees pleaded to then-President Franklin D. Roosevelt to be allowed in but to no avail. The United States turned them back; 254 were eventually killed in the Holocaust.
In 1948, Congress finally passed the Displaced Persons Act, which aimed to resettle European refugees displaced by the war. By the end of 1952, more than 400,000 people were admitted to the United States. Looking back on these refugees, few would argue that the United States has been worse off because of them. Yet the United States' late reponse—delayed by misplaced fear and an unwillingness to realize the true gravity of the Holocaust—cost thousands more Jews their lives.
Today, as the Syrian people face attacks from the Assad government and the Islamic State, the United States faces a similar decision. Because of the pervasive threat of violence, many Syrians have lost their homes, businesses, and places of worship—not to mention family members—and are risking their lives daily to journey to safety.
Even with horrific images of dead children washing up ashore grasping the world's attention, polls find that a majority of Americans still oppose taking in Syrian refugees. Bloomberg Politics, for example, found last November that 53 percent of Americans want the country to accept no Syrian refugees, while 11 percent would accept only Christian refugees. Additionally, a Quinnipiac University poll from last November also found that 58 percent of respondents felt that refugees posed a threat to U.S. national security, and 53 percent opposed even admitting the 10,000 Syrian refugees in the president's commitment. And even as the Canadian government has demonstrated admirable leadership in resettling 25,000 Syrian refugees in less than four months, 50 percent of Americans polled in March 2016 by Ipsos expressed the view that Canada's efforts pose a security threat to the United States.
Governors across the country have led the opposition to these refugees on the basis of, among other things, misleading reports classifying the Paris attackers as refugees, even though none of the attackers were Syrian nationals. Furthermore, Congress has made repeated efforts to advance legislation that would block the resettlement of refugees from Syria and a number of other countries. To be clear, just as no Jewish refugees were found to be spies, there is no concrete evidence linking Syrian refugees to terrorism.
In fact, closing America's doors to Syrian refugees gives power to the Islamic State, which can turn the anti-refugee sentiment into a recruitment tool for people shunned by countries that could provide security and safety but have refused to do so. On the other hand, welcoming refugees both upholds American values and is good for national security. For example, beginning around 1990, the city of St. Louis took in tens of thousands of Bosnian refugees—mostly Muslims—who helped to revitalize abandoned South City neighborhoods and transform them into Little Bosnia, a point of pride for St. Louis. Other examples of cities revitalized by refugees include Lewiston, Maine, Utica, New York, and Buffalo, New York.
Despite agitation from Missouri's state legislature to stop resettling Syrian refugees, Missouri Gov. Jay Nixon (D) refused to bow to the pressure. In mid-September 2015, St. Louis-area residents held a rally for Syrian refugees, chanting "Syria, Syria, you're not alone! Call St Louis your new home!" This is a city that has learned from its past and understands the benefits of being an open and welcoming community.
As a model nation for the rest of the world, the United States has a moral and legal responsibility to provide a safe haven for persecuted individuals while correcting the misinformation that drives anti-refugee sentiment. Closing our doors to people who have lost everything not only puts the lives of refugees at stake, it also runs counter to the nation's best values and the lessons of history.
Sanam M. Malik is a Research Assistant for the Immigration Policy team at the Center for American Progress.
The positions of American Progress, and our policy experts, are independent, and the findings and conclusions presented are those of American Progress alone. A full list of supporters is available here. American Progress would like to acknowledge the many generous supporters who make our work possible.
Authors Sanam Malik
Research Assistant