Jordan Reaches Across the Divide
Jordan Reaches Across the Divide
Regional Diplomacy Will Be Key to Iraq Stability
Iraq will need its neighbors' support to achieve progress and stability; King Abdullah's visit is a crucial first step.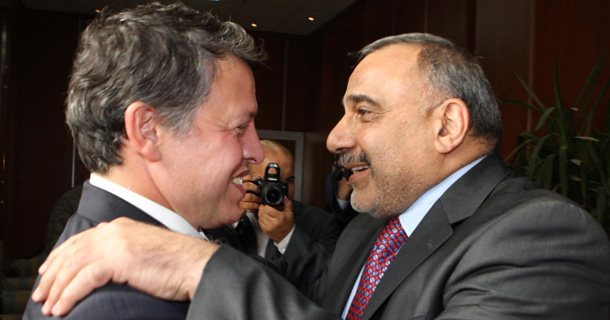 Earlier this week, King Abdullah of Jordan became the first Arab leader to visit Iraq since the U.S. invasion in 2003. This was a watershed visit—coming nearly five and a half years after Saddam Hussein's ouster. Abdullah's talks with Iraqi Prime Minister Nuri al-Maliki focused on security and economic issues including renewing an agreement to sell oil to Jordan at a discounted price and discussing Iraqi refugees currently living in Jordan, who now number half a million according to most estimates. It is in Iraq's interest to see this type of diplomatic engagement with its neighbors increase—support from its neighbors will be necessary to build on the recent declines in violence in Iraq and help stabilize the region.
The toppling of Saddam Hussein's regime was an opening to reintegrate Iraq into the region after decades of isolation, economic sanctions for most of the 1990s, wars with Iran and Kuwait, and tensions with Saudi Arabia, Syria, and others. But rather than heralding a fresh start for Iraq's foreign relations, the Iraqi regime's fall set off a wave of violence that destabilized the country and hindered efforts to normalize relations with other Middle Eastern states. The 2005 kidnapping and killing of Ihab al-Sherif, Egypt's ambassador to Iraq, most tragically demonstrated the violence's effect on diplomatic relations. Al-Sherif's murder discouraged many countries in the region from sending diplomatic representatives.
Although levels of violence in Iraq remain dangerously high, the tenuous security improvements over the past year offer an opportunity for Middle Eastern states to take a more active role in the effort to rebuild Iraq and promote its reintegration into the region. The Middle East, Iraq, and the United States must act quickly to take advantage of this moment of increased stability.
Iraq's violence since 2003 has caused a set of complex, transnational issues that require regional cooperation. Refugees flowing from Iraq into Jordan, Syria, and the Gulf states will be a potential source of instability for years. By eliminating its primary regional rival, the war has allowed Iran to emerge as a stronger regional actor. As Iranian influence in the region grows, other Arab states have an interest in ensuring that Iraq—a Shi'a Arab majority country that has a complicated history with Iran—is strong enough to maintain its own sovereignty. Reintegrating Iraq into the Gulf security picture will facilitate broader regional security and balance against Iranian power.
A survey of the regional assistance in rebuilding and reintegrating Iraq is decidedly mixed. While some states are making significant economic contributions, others are reluctant to offer token diplomatic initiatives.
One of the more promising developments has been the prospect of debt relief. The United Arab Emirates set a good precedent by cancelling all of Iraq's nearly $7 billion of debt. Saudi Arabia agreed to consider canceling 80 percent of Iraq's debt, but has yet to deliver on this offer. Despite pressure from the United States, Kuwait is resisting any relief of the nearly $15 billion dollars of debt or claims to war reparations from the 1990-1991 Gulf War. Rebuilding Iraq's economy is a central pillar to the reconstruction effort, but a growing debt is an anchor on Iraq's economic potential. Debt relief is also a low-profile path for oil-rich states to support the rebuilding effort without angering their populations who may oppose the U.S. presence in the Middle East.
Iraq's neighbors also need to be more active in engaging Iraq diplomatically. Saudi Arabia has not followed through on its pledge to open an embassy in Baghdad. Despite the reopening of an Iraqi embassy in Kuwait, the Kuwaiti government has named a new ambassador but has yet to open an embassy. Opening embassies and appointing ambassadors are significant symbolic steps toward normalizing relations with Iraq, and the improving security situation presents Iraq's neighbors with the opportunity to do so.
There are some promising signs at the diplomatic level. Since the invasion, relations with Turkey have improved. On July 10, Prime Minister Recep Tayyip Erdogan became the first Turkish leader in 18 years to visit Iraq, and it will be important for the two governments to cooperate in dealing with the PKK in northern Iraq. On June 30, Jordan appointed a new ambassador to Iraq, and on July 31, the Arab League named a new envoy to Iraq.
Iraq's relations with Iran have grown closer after Saddam Hussein was removed from power, but these relations are complicated. The Iranian and Iraqi governments are forging close economic and diplomatic ties, while the United States continues to accuse Iran of funding militias and sending arms into Iraq. Iraq and Iran should be encouraged to expand economic and diplomatic ties, but the United States, Iraq, and other Arab states must push Iran to halt support for militias and terrorist groups throughout the region.
The United States has an important role in the process of Iraq's reintegration into the region. The United States, as an ally to the members of the Gulf Cooperation Council, is in a position to pressure other Arab states to work more closely with Iraq. The GCC states rely on U.S. security assistance. The United States can make further assistance contingent on cooperation in Iraq and on reintegrating Iraq into the regional system to ensure Iraq's sovereignty. Hopefully, Iraq's neighbors took note when King Abdullah said, "All Arab countries should support Iraq."
The positions of American Progress, and our policy experts, are independent, and the findings and conclusions presented are those of American Progress alone. A full list of supporters is available here. American Progress would like to acknowledge the many generous supporters who make our work possible.
Authors Rami Hassan