Job Growth Accelerates, But Unemployed Still Left in the Lurch
Part of a Series
This column was originally published on MarketWatch.

The pace of U.S. job creation accelerated in April as employers added 288,000 jobs—the fastest job growth so far this year, according to a report released today from the Bureau of Labor Statistics, or BLS.
A strengthening labor market in April and the steady pace of employment growth seen in recent months shown in today's survey of employers sends a contradictory signal from that shown in the survey of households also released in today's BLS report. Although the unemployment rate dropped sharply to 6.3 percent in April down from 6.7 percent in March, this change was not the result of more people finding work, but rather was driven by the 800,000 people who exited the labor force last month, and the corresponding drop in the number of unemployed people by 733,000.
Comparing the pace of job growth today with that of previous economic recoveries illustrates the strength of the labor-market recovery (see Figure 1). In the current expansion, employers have added more than 200,000 jobs per month in 38 percent of the nearly five years of economic growth since the recession's bottom. Current job creation performance is stronger than it was in the business cycle expansion that occurred during the 2000s—even when a real estate construction bubble fueled growth. However, today's job creation pace lags well behind previous recent economic recoveries that saw job creation above 200,000 in about 60 percent of months. Needless to say, 200,000 jobs a month means a lot less today with a population that is more than 100 million people larger than it was in 1970.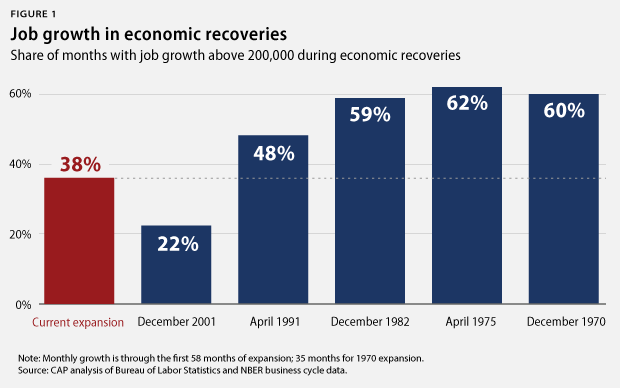 Adding to the confusion, revisions to past months' employer survey data showed job growth stronger than previously estimated. Revisions to the March and February employment growth numbers showed an additional 36,000 jobs. But these jobs came in the first quarter of 2014, a time when the overall economy nearly stalled, growing at just 0.1 percent, according to separate new data released by the Bureau of Economic Analysis this week.
Given the wide fluctuation in labor-force participation—a key indicator used in calculating the headline unemployment rate—it is instructive to look instead at the ratio of employment to the overall population. At the national level, this broad employment rate held steady at 58.9 percent of the population, up 0.7 percentage points from the bottom in November 2010, but up only 0.3 over the past year, according to today's data.
Unemployment rates for key demographic groups in the labor market, although also skewed by the sharp contraction of the labor force, remained disproportionately high relative to the national trend. For African Americans and Latinos in the labor force, 11.6 percent and 7.3 percent, respectively, remained unemployed, whereas only 5.3 percent of whites were out of work in April.
Young workers ages 20 to 24 continued to face difficulty in the job market, with 10.6 percent unemployed in April—more than double the rate for workers 25 years old and up. Older workers ages 55 and older also still face unusually high unemployment rates. Historically, economic expansions see unemployment for this group in the range of 3 percent to 4 percent, but in April, 4.7 percent of older workers were unemployed.
The number of people holding multiple jobs jumped by 133,000 from April 2013 to April 2014. Women almost entirely led this statistic, with the number of employed single mothers increased 1.4 percent over the past year.
Today's establishment survey revealed employers added jobs across a broad range of industries in the U.S. economy in April. The manufacturing sector added 12,000 jobs in April, and nearly 100,000 over the past year in a remarkable turn of fortune for this long-plagued part of the economy. Employment in the health care sector continued its steady march upward, adding 19,000 jobs in April and basically maintaining trend growth that was uninterrupted by the downturn in 2008 and 2009. This trend says more about structural change in the economy than the direction of change in labor-market conditions. In the labor-market expansion since February 2010, health care accounted for 12 percent of all jobs created.
The retail sector added 35,000 jobs in April, while accommodation and food services added 38,000 jobs, and employment and temporary help services added 28,000 jobs. These industries, where minimum-wage employment is most prevalent in the economy, accounted for 40 percent of total new private-sector job creation in April, excluding health care, and since the labor-market bottom in February 2010.
Despite widespread job growth in April, perceptions of labor-market conditions remained sour, and indicators of sustained future employment expansion were slim. The number of people quitting jobs fell by 4 percent, while the number of people re-entering or newly entering the labor force fell by 13 percent. Employers may be pausing to assess economic conditions before making new hiring plans, which is indicated by modest temporary employment hiring—often a sign of future permanent hiring—flat average work hours, and an essentially unchanged share of people working part time because they can't clock enough work hours.
Nearly five years since the U.S. economy began expanding, the U.S. labor market continues improving, but at a frustrating pace for the 10 million unemployed workers and 3 million people not counted as unemployed who still currently want a job. Ongoing elevated unemployment is not only a serious drag for those families enduring it, but it will continue to drag on the overall economy until lawmakers get serious about full employment and creating quality jobs that deepen and secure the middle class.
Adam S. Hersh is a Senior Economist at American Progress focusing on economic growth and inequality in the United States, China, and the global economy.
The positions of American Progress, and our policy experts, are independent, and the findings and conclusions presented are those of American Progress alone. A full list of supporters is available here. American Progress would like to acknowledge the many generous supporters who make our work possible.
Authors Adam Hersh
Senior Economist
Explore The Series
Previous
The State of the U.S. Labor Market: Pre-May 2014 Jobs Release
The State of the U.S. Labor Market: Pre-May 2014 Jobs Release
Next
May 2014